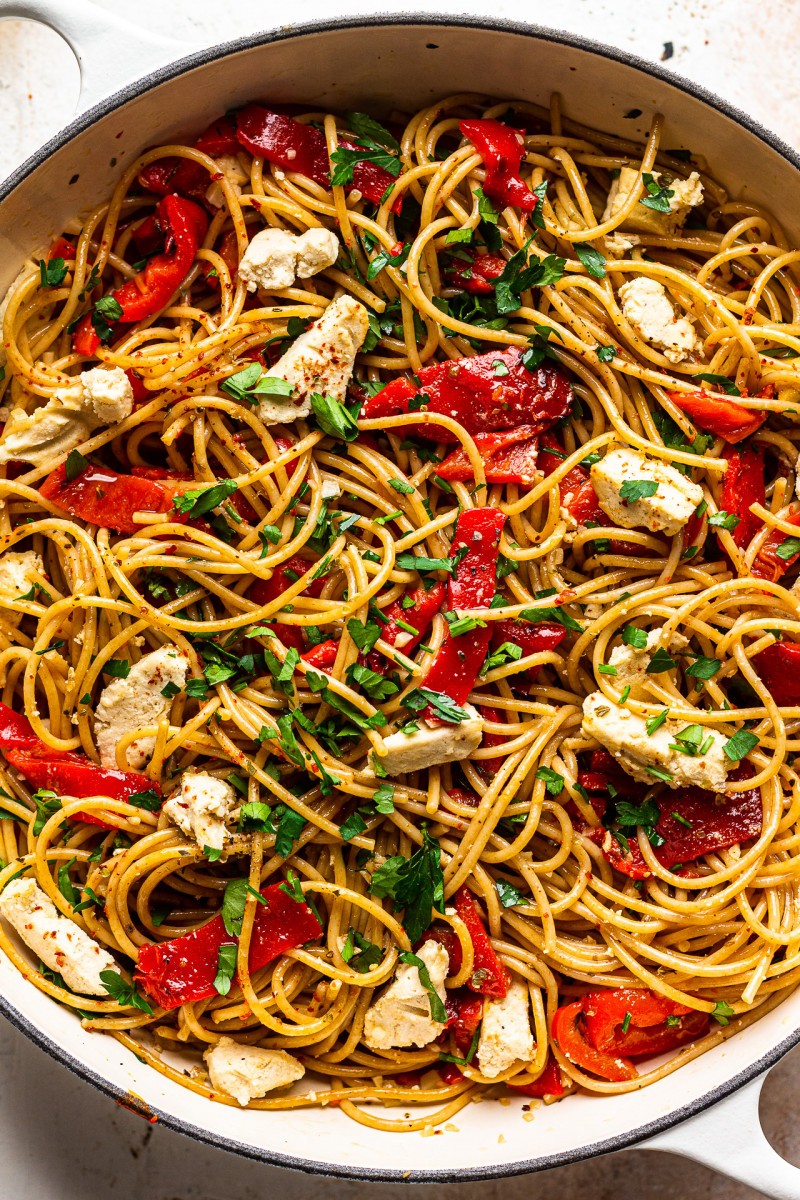 This simple roasted pepper pasta with feta was one of our favourite meals when we lived in Greece so when we decided to give up dairy, it was something we missed the most. Nowadays, I make it with my vegan feta and while it may not be exactly the same as dairy feta we used to live on, it's been so long that we can barely tell the difference. If you've been vegan for a while, I bet you can relate.
The gist of this pasta is very simple. Cooked spaghetti gets tossed in a garlicky oil alongside some roasted peppers, slices of feta and fresh parsley. It's really that simple yet insanely delicious. If you found a vegan feta you like that works well when heated use that, otherwise make my vegan feta I posed last week and use it to make this Greek-inspired pasta. Enjoy!
MORE ABOUT THE INGREDIENTS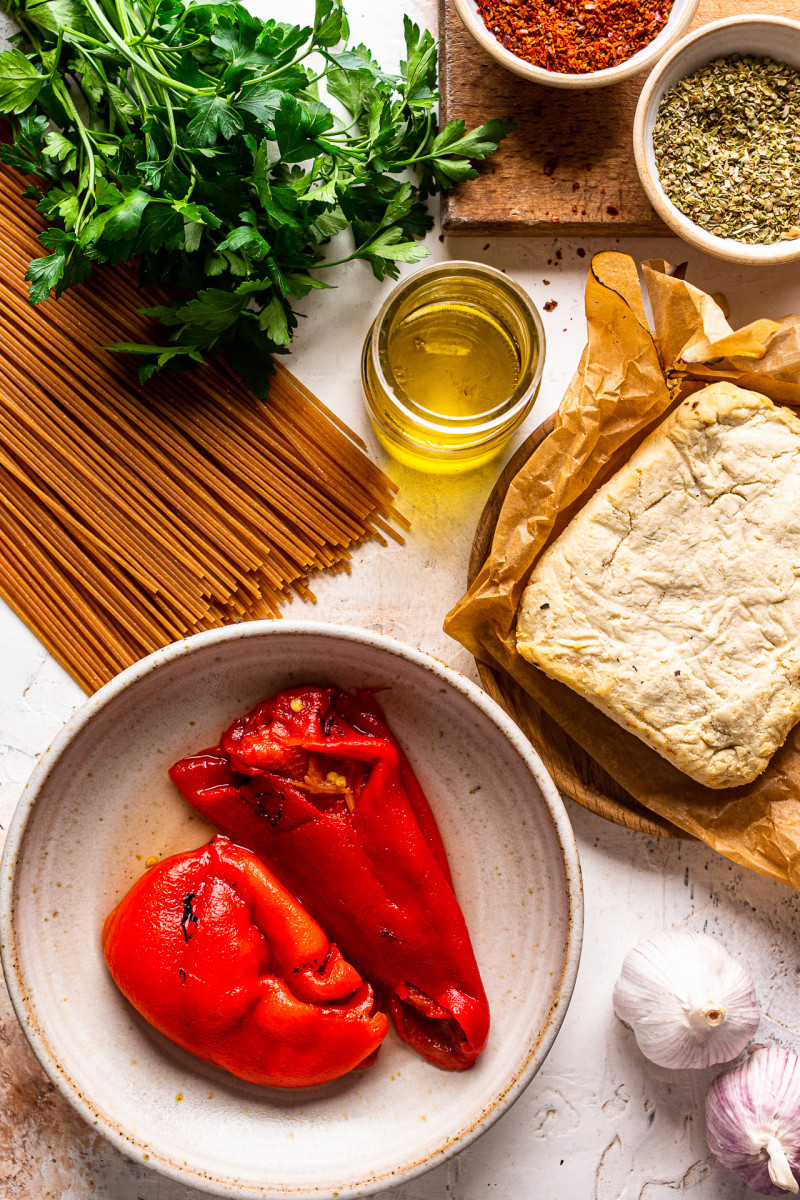 PASTA: Theoretically, you can use any pasta shape you like as long as it's smooth as this isn't one of these dishes that comes with lots of sauce. I like using spaghetti shape and I often opt for wholemeal spaghetti these days as I can be a bit of a health freak and I really don't mind the texture of wholemeal pasta at all.
ROASTED RED PEPPERS: Roasted red peppers in brine are a true staple of every Greek mini market (corner store for those of you in the UK) so this handy yet healthy convenience food has quickly become our staple when we lived there. Elsewhere in the world you can get them in most supermarkets too but you can also make your own if you have peppers going to waste. Roast cleaned and deseeded half peppers in 200º C / 390º F oven for 30-40 minutes, until soft and shrivelled. As soon as they are out of the oven, place them under an upside down bowl for about 10 minutes so that the steam loosens up their skins, deskin and use.
VEGAN FETA: For this dish I used my homemade vegan feta set with agar agar, but you can use shop-bought feta you enjoy instead. If using vegan feta that's based on coconut oil, add it at the very end as it will otherwise melt into liquid from the heat of the pan.
OLIVE OIL: Quality olive oil is what I use to create garlicky oil, which cooked pasta is tossed in and which acts as a lubricant for this dish.
GARLIC: Finely diced garlic pan-fried gently in olive oil is what infuses the sauce with a lot of flavour. Take your time with this step and keep the flame low as you don't want the garlic to brown – it will make your dish taste bitter.
DRIED OREGANO: I like to add a good pinch of dried oregano to this pasta. You can skip if you dislike it or use fresh if you happen to have any on hand.
FINE CHILLI FLAKES: I also like to add a pinch of heat to this simple pasta and for that I use mild, finely ground chilli flakes that I add directly to the garlicky olive oil. I use mild Turkish chilli flakes called pul biber as that's what I have in my spice cabinet at all times, but any chilli flakes that you enjoy will work. I personally prefer them to be finely ground for even flavour distribution but feel free to override.
FRESH PARSLEY: I sprinkle finished pasta with some fresh, very finely chopped flat-leaf parsley. You can skip this step if you wish, but I like how it adds to the overall flavour.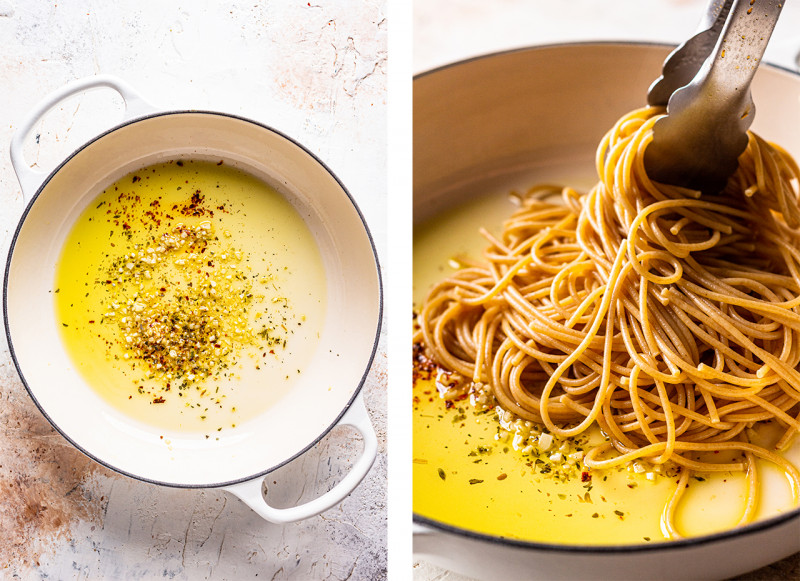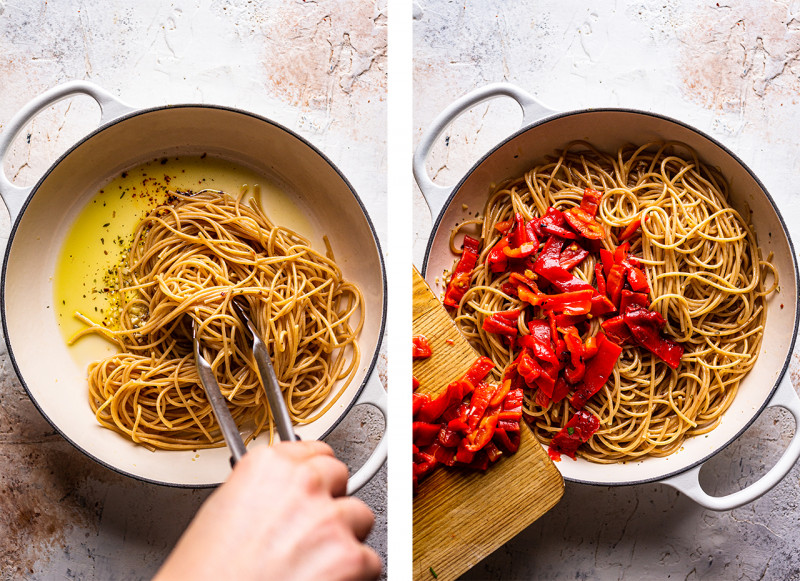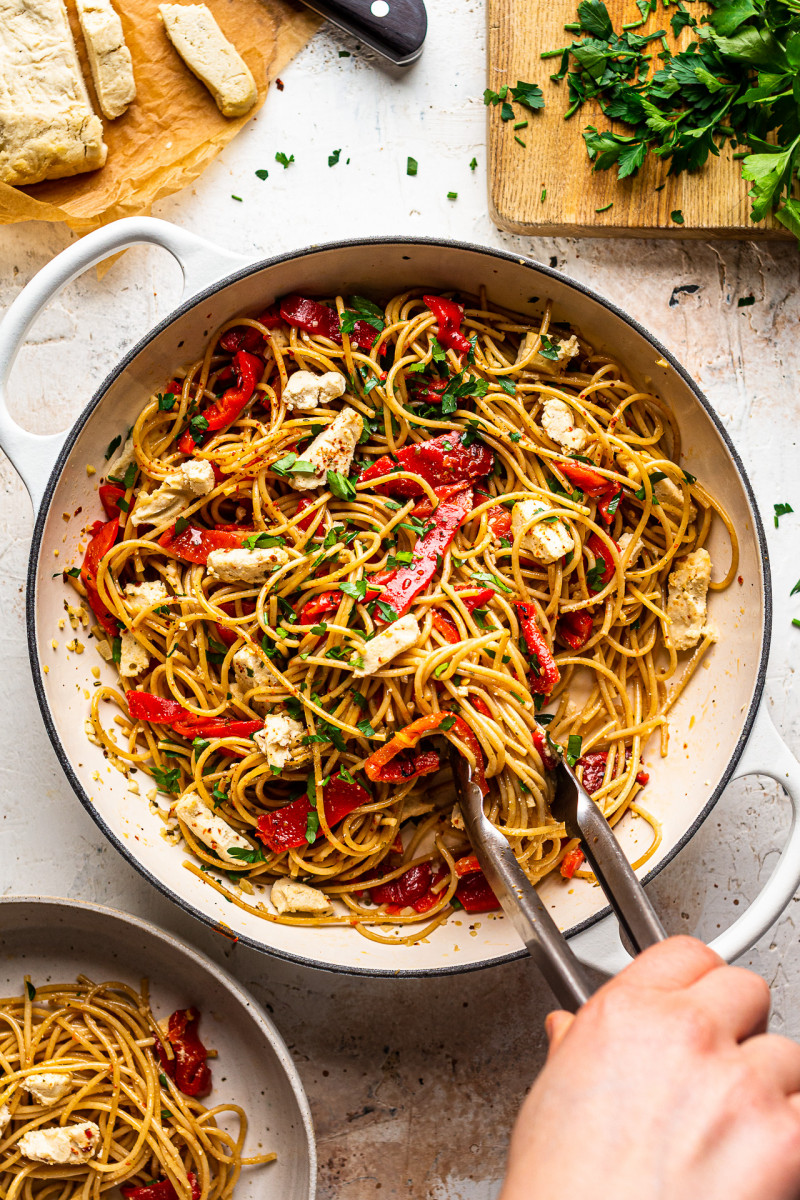 INGREDIENTS
200 g / 7 oz spaghetti* (I used wholemeal)
30-45 ml / 2-3 tbsp olive oil
3-4 garlic cloves, finely diced
heaped ¼ tsp dried oregano
a good pinch of fine chilli flakes(optional)
200 g / 7 oz roasted red peppers in brine, sliced small
100 g / 3.5 oz vegan feta (I used homemade feta)
salt and pepper, to taste
finely chopped parsley, to finish (optional)
METHOD
Cook pasta in a lightly salted pot of water until al dente.
While the pasta is simmering, preheat olive oil in a large (30 cm / 12″) frying pan.
Decrease the heat to a whisper and add finely chopped garlic. Sautée garlic on low heat until softened and fragrant – but do not let it colour – stirring regularly.
Add oregano, a pinch of chilli flakes (if using), salt and pepper to the oil, then toss cooked pasta in it to coat.
Add chopped peppers and vegan feta to the pan, just to warm up briefly. If using coconut-oil based feta, don't expose it to heat for very long as it will turn into greasy liquid.
Adjust seasoning, finish off with fresh parsley and serve.
NOTES
*SPAGHETTI: use gluten-free pasta if you want to make this dish without gluten
*VEGAN FETA: I use my own vegan feta (set with agar agar) in this recipe.