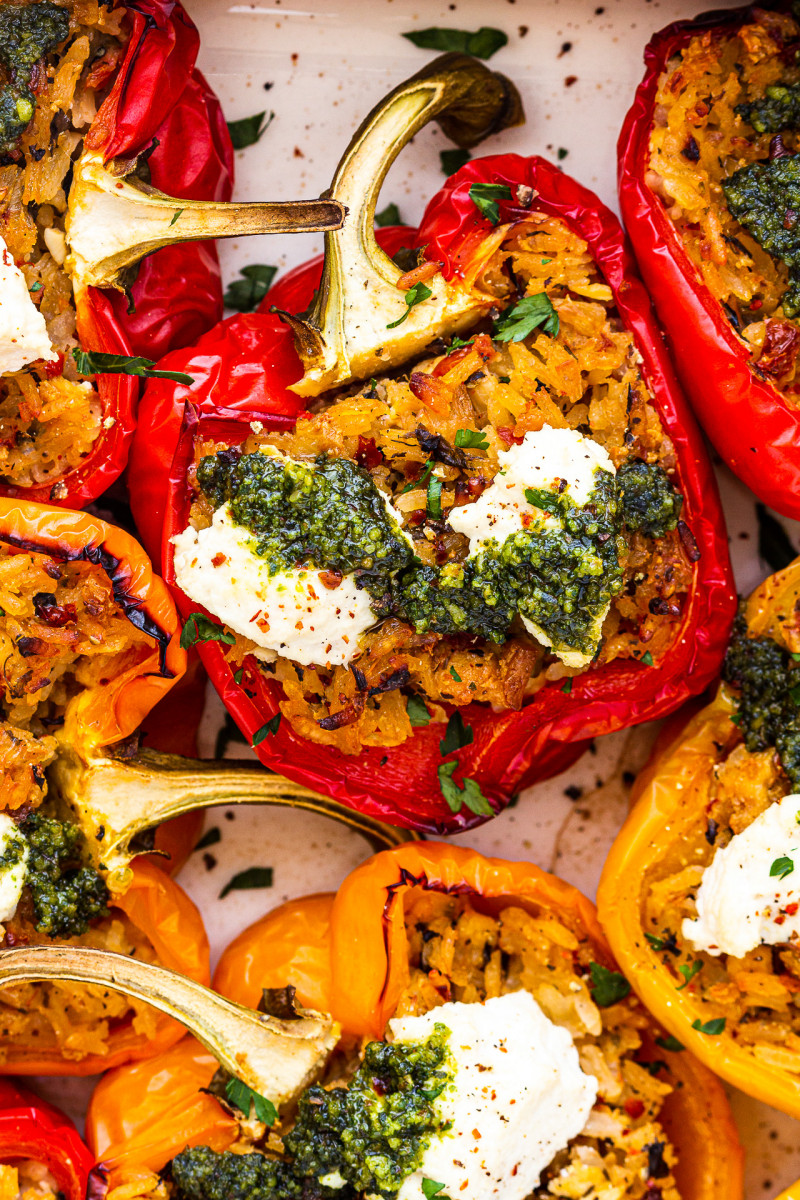 Stuffed vegetables are such a quintessentially summer dish and I've been craving them lately. While I have plenty of stuffed vegetable dishes on my blog including my take on Greek stuffed peppers which I love, I fancied making them slightly differently this time. These vegan stuffed peppers feature an aromatic filling fragrant with sundried tomatoes, basil, parsley and smoked tofu for a bit of meatiness and substance. They are easy to make and feed a crowd. They make delicious leftovers too.
MORE ABOUT THE INGREDIENTS
BELL PEPPERS: Pick fresh, roomy bell peppers for this dish, any colour you like – although I personally steer clear off green ones as I find them often bitter.
RICE: Rice is the main filling ingredient for these vegan stuffed peppers. I used long grain white rice and while you can use a different variety, other grains will cook at different rate so you may want to experiment with cooking time and/or the amount of liquid you add to the dish. If using brown rice – which takes much longer to cook through – I recommend precooking it until almost ready and letting it finish off in the oven.
SUNDRIED TOMATOES: I used umami-rich sundried tomatoes to flavour the rice and the oil they are preserved in to fry the filling in. This minimises waste and adds extra flavour to the filling.
TOFU: I used crumbled smoked tofu to add flavour and body to the filling. Tofu makes the filling more satiating and richer in plant protein, which is especially key if you work out a lot.
HERBS: To flavour the filling I used a combination of dry oregano and fresh herbs I happen to have in my fridge – basil and parsley, but feel free to improvise with whatever you like.
AROMATICS: I used shallots and garlic as the base for the filling, but onion and garlic will work just as well. Be sure to dice them both finely as you do not want big chunks of onion in your filling.
MISO I used red miso to add extra depth of flavour to the filling. If you only have white miso add that instead. Umami aside, miso contributes a punch of saltiness too so if you are sensitive to salt, you may want to hold some of it back. Personally, a teaspoon of salt on top of miso hits the spot in terms of seasoning.
WINE I used white wine to pre-cook the rice, but if you don't consume alcohol, feel free to substitute it with some veggie stock, for example. Just be mindful of the fact that if you stock contains salt, your filling may not need as much of it as is listed in the ingredient list.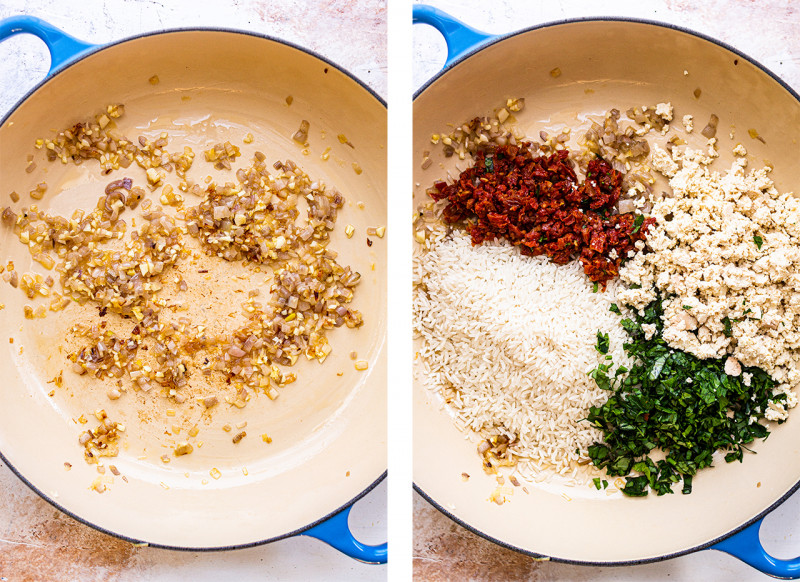 To make the filling, start off by sauteeing the aromatics in some oil until translucent and fragrant. Once done, add rice and all the remaining filling ingredients apart from liquids. Give everything a good stir.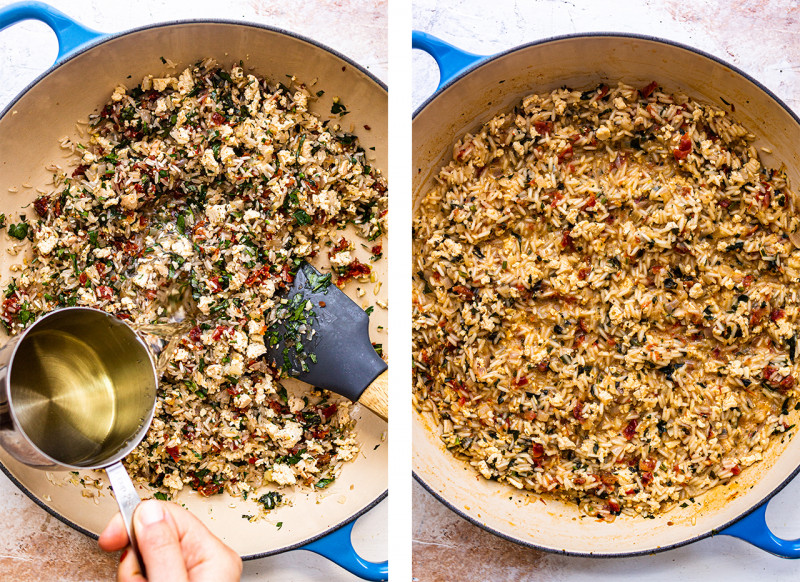 Add liquids and simmer the filling on a low heat until most of the moisture has been absorbed.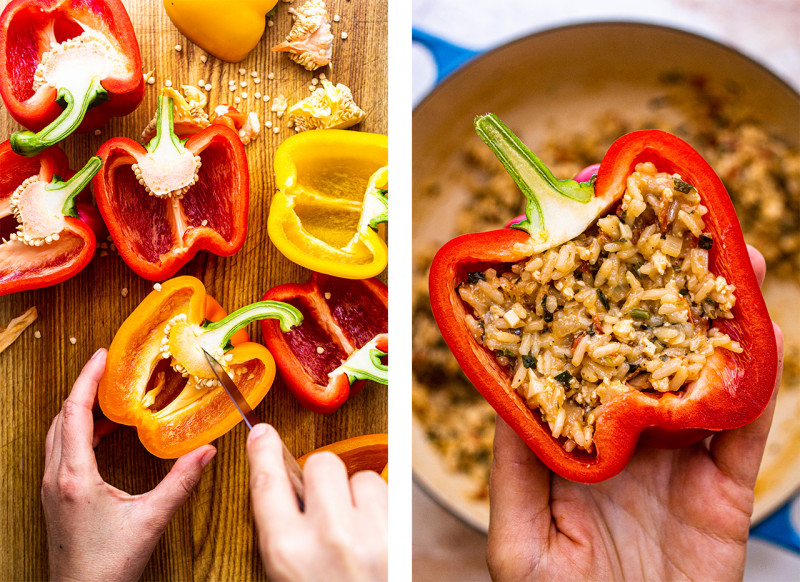 Fill hollowed out and pre-baked peppers with the filling, cover with a piece of kitchen tray and bake for 1 hour. Top with vegan cheese and carry on baking for another 5-10 minutes. Serve warm, with a drizzle of pesto dressing.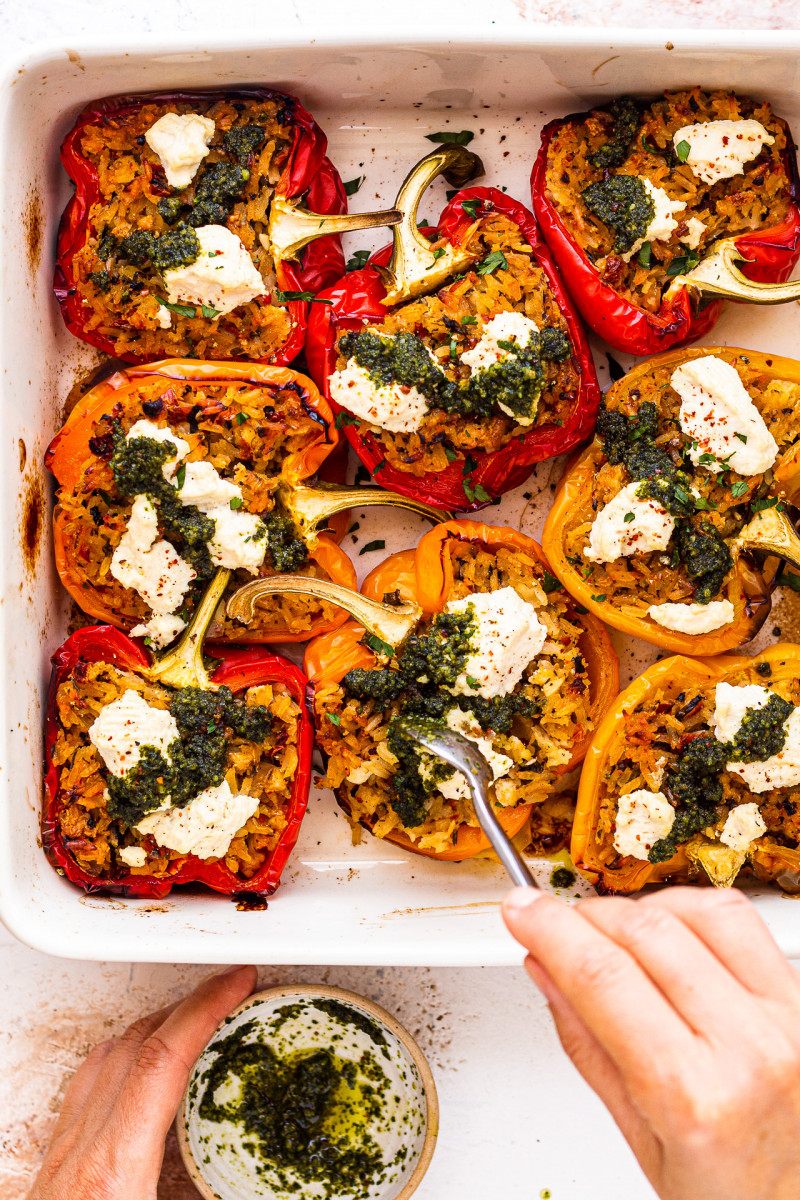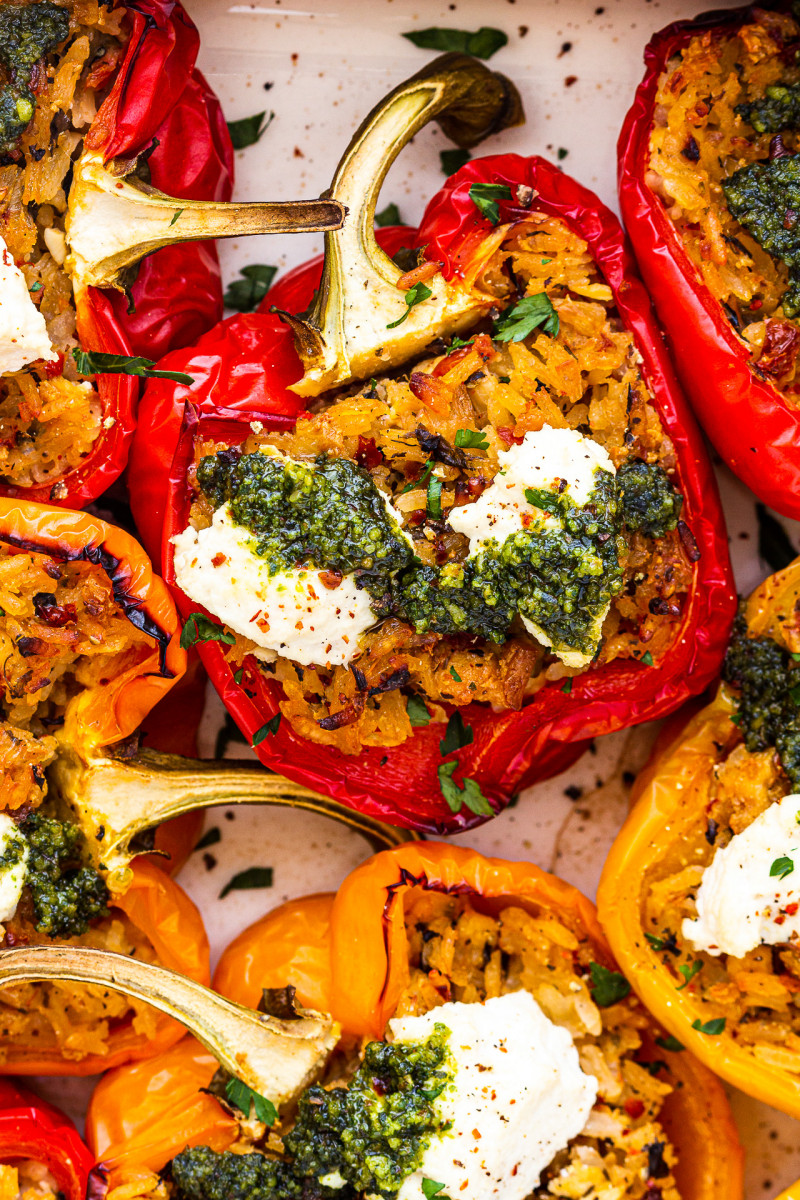 If you enjoy stuffed vegetable dishes in general, you may want to try some of my earlier recipes:
6 bell peppers
45-60 ml / 3-4 tbsp sundried tomato oil (or any oil)
3 banana shallots, finely diced
5 garlic cloves, finely diced
150 g / 5.25 oz smoked tofu*
75 g / 2.6 oz sundried tomatoes in oil
handful of basil and parsley, finely chopped
15 g / 1 tbsp red miso paste*
2 tbsp nutritional yeast
180 g / 1 cup long grain rice
1 tsp salt, more to taste
½ tsp black pepper
1½ tsp dried oregano
a good pinch of sugar
240 ml / 1 cup vegan white wine (or stock)
OPTIONAL EXTRAS
METHOD
Set the oven to 200° C / 392° F and cut peppers in half, hollow them out and brush the skins with little oil.
Place peppers, cut side down, on a baking tray and bake for 15 minutes. Take out of the oven.
Meanwhile, heat up oil in a large pan add shallots and garlic and fry, on low heat, until translucent and fragrant.
Add finely chopped sundried tomatoes, tofu crumbled with your hands, herbs, miso paste, nutritional yeast, rice, seasoning, wine and 500 ml / 2 cups of water.
Allow everything to simmer gently until almost all of the moisture has been absorbed by the rice (see photo in the post).
Spoon the mixture into the peppers and arrange them on a large baking tray (or two if needed).
Tightly cover the tray with a piece of kitchen foil and bake for 1 hour.
Top with soft vegan cheese (I used my simple ricotta) if using and return to the oven for another 5-10 minutes.
Serve topped with watered down pesto and a simple side salad if liked.
NOTES
*TOFU: if using the type of tofu that does not require pressing (like UK brand Tofoo which is much denser due to the fact that it comes pressed), use half a packet (about 110 g / 3.8 oz).
*MISO PASTE: be sure to use gluten-free miso if making this dish for gluten-free diners. Gluten-free miso pastes are based on rice, chickpeas, quinoa rather than wheat.
*PESTO: I enjoyed these with a light pesto dressing, but you can also make a simple sauce while roasting the peppers – for details see the sauce under the recipe for yemista – Greek style stuffed peppers.