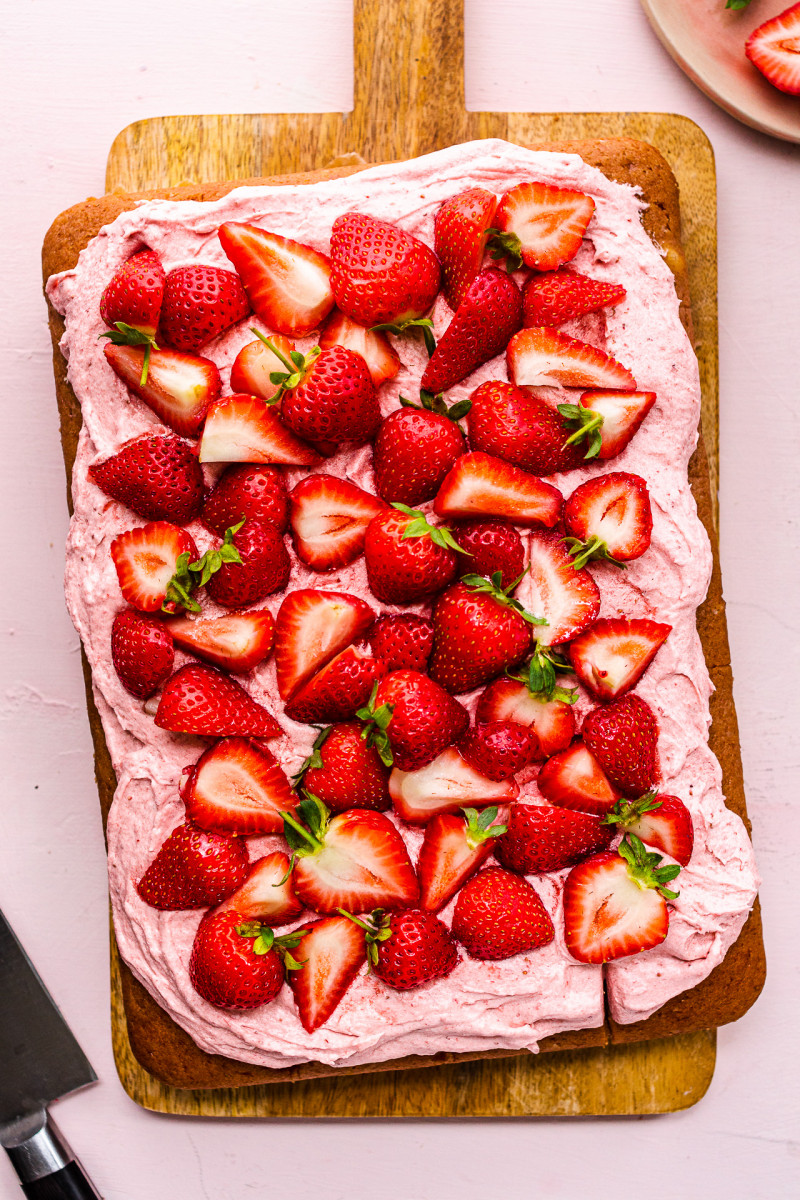 Today's recipe is a vegan strawberry cake that I have been meaning to make for ages and I suddenly realised, in a bit of a panic, that strawberry season is almost gone so I'd better hurry up. This vegan strawberry cake doesn't use any artificial strawberry flavourings but real, juicy and sweet strawberries – in abundance!
It's a great cake to make when you find yourself with a massive strawberry haul for whatever reason – you got overly enthusiastic in the fruit & veg aisle for example (that's ALWAYS me!!) and especially if your strawberries aren't maybe picture perfect anymore but are too good to throw away! This where this vegan strawberry cake comes in.
This cakes should really be called triple strawberry cake as I employed these juicy flavour bombs in three different ways. I added a portion of strawberry reduction to the batter, another to the icing and I also topped the cake with more fresh strawberries. Is there such a thing as too many strawberries – I think not…
MORE ABOUT THE INGREDIENTS
STRAWBERRIES – this cake is all about strawberries so I used them in abundance. I used fresh strawberries in both the cake and the icing but frozen strawberries should work just as well. In order to get the flavour without unwanted moisture, you need to reduce blended strawberries on the stove until thick.
OIL – I used grapeseed oil to make this cake as it's cheap, convenient (no need to melt it) and has a neutral flavour. You can use any liquid oil you have as long as it doesn't have a strong flavour. I would not use strong olive oil for that reason, but a mild variety, which is a blend of different olive oils, will work well.
SUGAR – I used a mixture of caster (superfine) sugar and demerara cake to sweeten this cake, but coconut sugar will work just as well if you prefer to use that.
PLANT MILK – any plant milk will work well here although I like using soy milk in baked goods.
AP FLOUR – I used white all purpose flour here, but I've also tested with a gluten-free flour mix this one and I found that gluten-free version needed a couple less minutes in the oven and that it benefited from the addition of xanthan gum (1½ tsp).
BAKING AGENTS – I use a combination of baking powder and baking soda to give this cake a nice rise. The latter comes into a reaction with sour strawberries and helps with aeration of this cake.
VEGAN BUTTER – I used vegan butter, the one that comes in a solid block rather than in a tub, to make a simple vegan strawberry buttercream icing. I used Violife and it works perfectly.
ICING SUGAR – icing sugar is a key ingredient in a traditional buttercream icing so that's what I used. Not only does it sweeten the icing, but it also helps to stiffen it so don't be tempted to reduce its amount too much as the icing will be less stiff. I've had some success with replacing some of the icing sugar with cornstarch (cornflour in the UK), but you can only do that up to a point (1 tbsp or so) until it becomes noticeable in the finished product.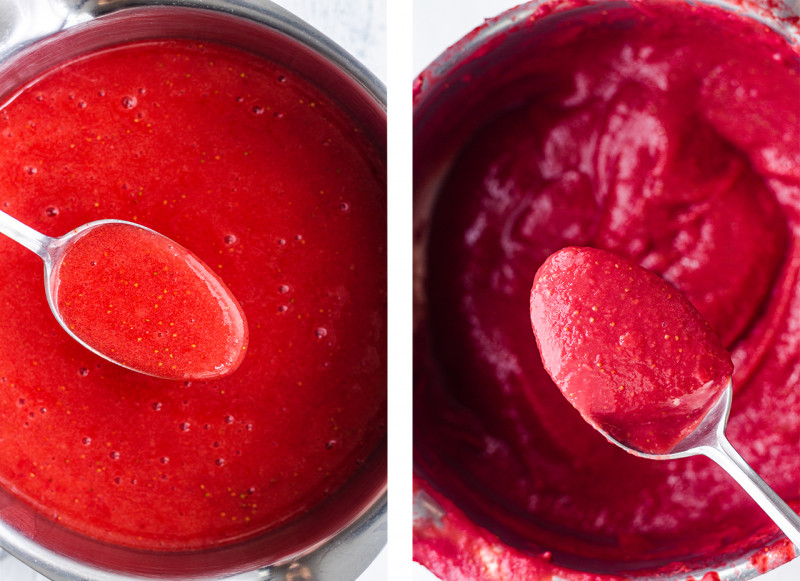 To flavour the cake and the frosting with strawberries, we need to make a strawberry reduction – i.e. simmer blended strawberries on the stove until all of the excess water evaporates and the resulting pure gets dark and thick, paste-like consistency (picture on the right).
I started off with 900 g / 2 lb / 32 oz strawberries and I cooked them down until I got 300 g / 10.6 oz of strawberry reduction. Half of it went into the cake and the other half into the icing. When picking strawberries for the reduction, pick the ones that are no longer beautiful to look at but still too good to waste and save the freshest ones for the decoration.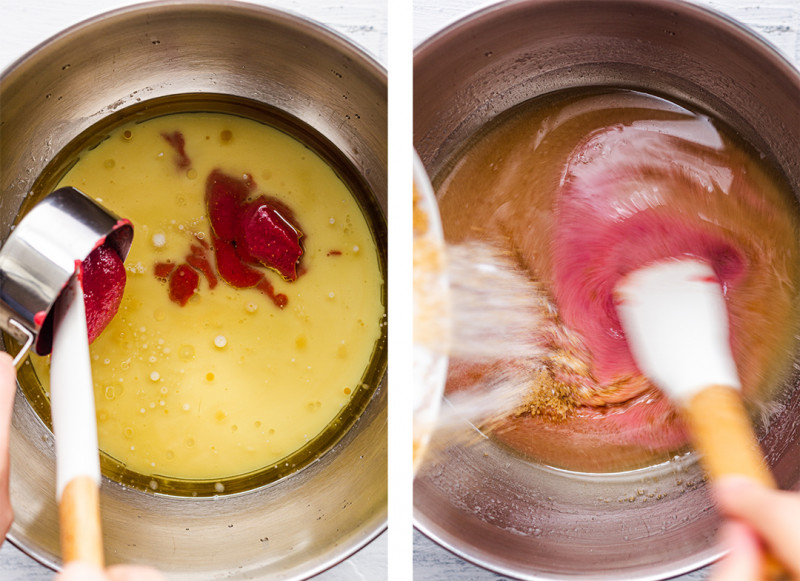 To make the cake, combine all of the wet ingredients in a large baking bowl, add sugar and mix well.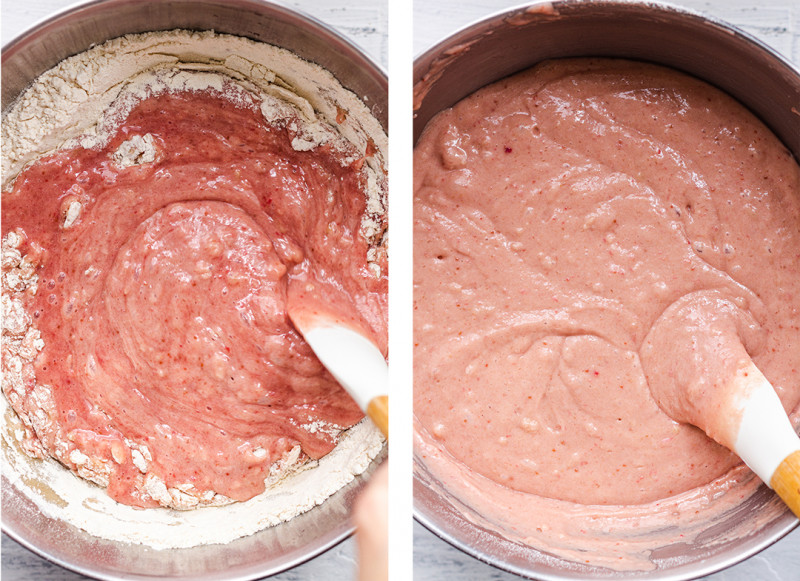 Sift combined dry ingredients into the wet and mix gently to combine. Start mixing by making small circles in the middle of the bowl to minimise lumps forming. Mix only until everything is well combined and there are no streaks of flour left – a few flour lumps here and there is ok.
FREQUENTLY ASKED QUESTIONS
HOW LONG DOES THE ICING KEEP?
The frosting can be kept in the fridge, in an air-tight container for 4-5 days. It can also be frozen for up to 2 months. If you refrigerate the icing, make sure to bring it to room temperature before whipping again and using.
THAT'S A LOT OF CAKE, CAN I MAKE IT SMALLER?
Sure you can. Divide both the buttercream and the cake ingredients in half and bake the cake in a square 20 cm / 8 inches tin instead. Start checking after 25 minutes.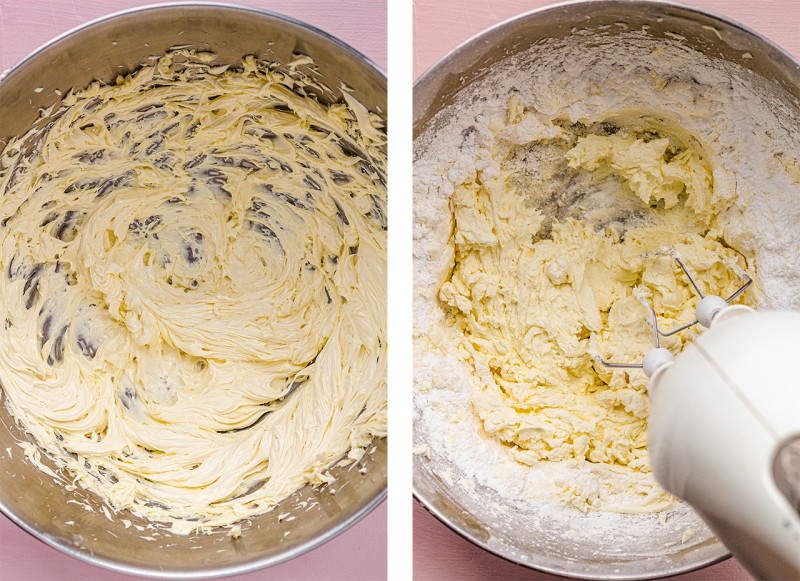 To make the icing, place vegan butter in a large bowl and allow it to soften. Once softened enough to whip, whip it until aerated and fluffy before adding most of the icing sugar in gradually.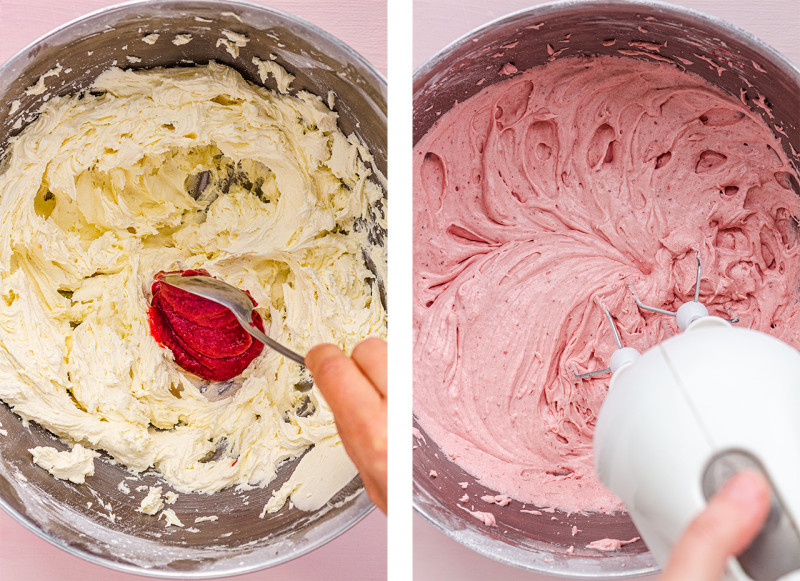 Once most of the icing sugar has been added, add cold strawberry reduction tablespoon by tablespoon, finally add the rest of the icing sugar. Refrigerate until ready to use.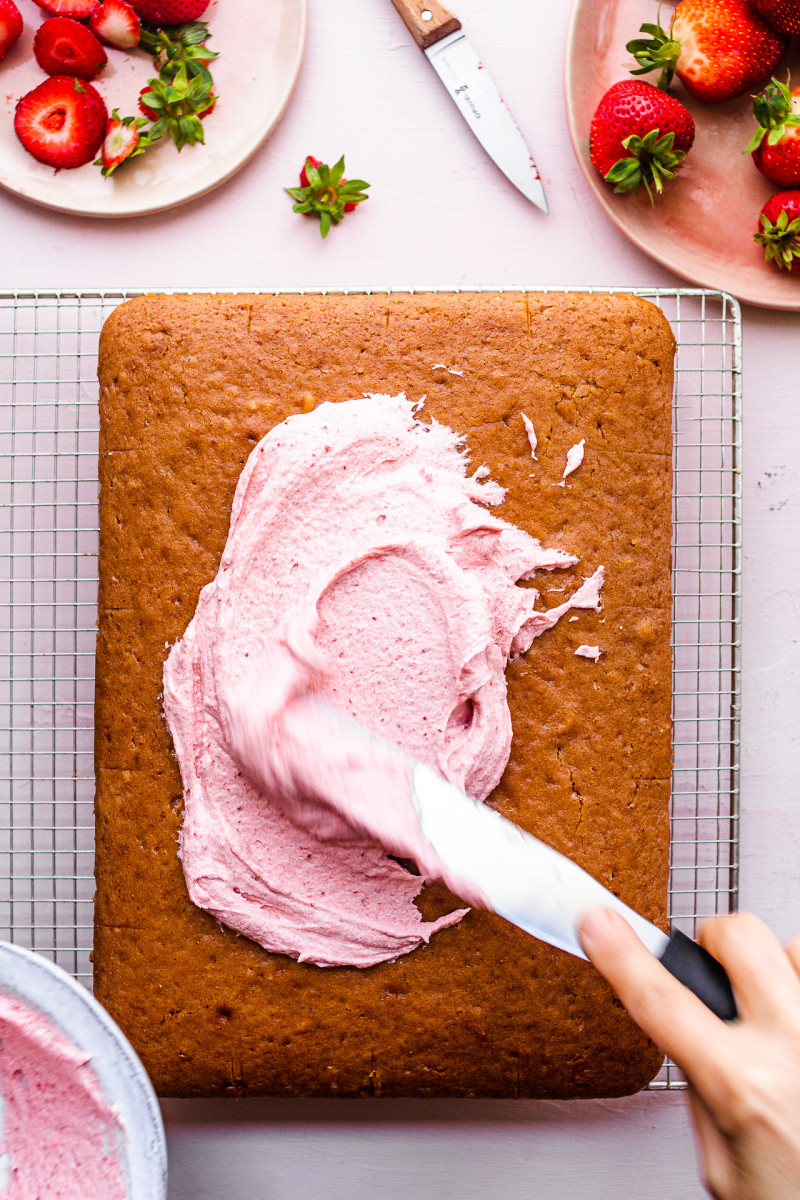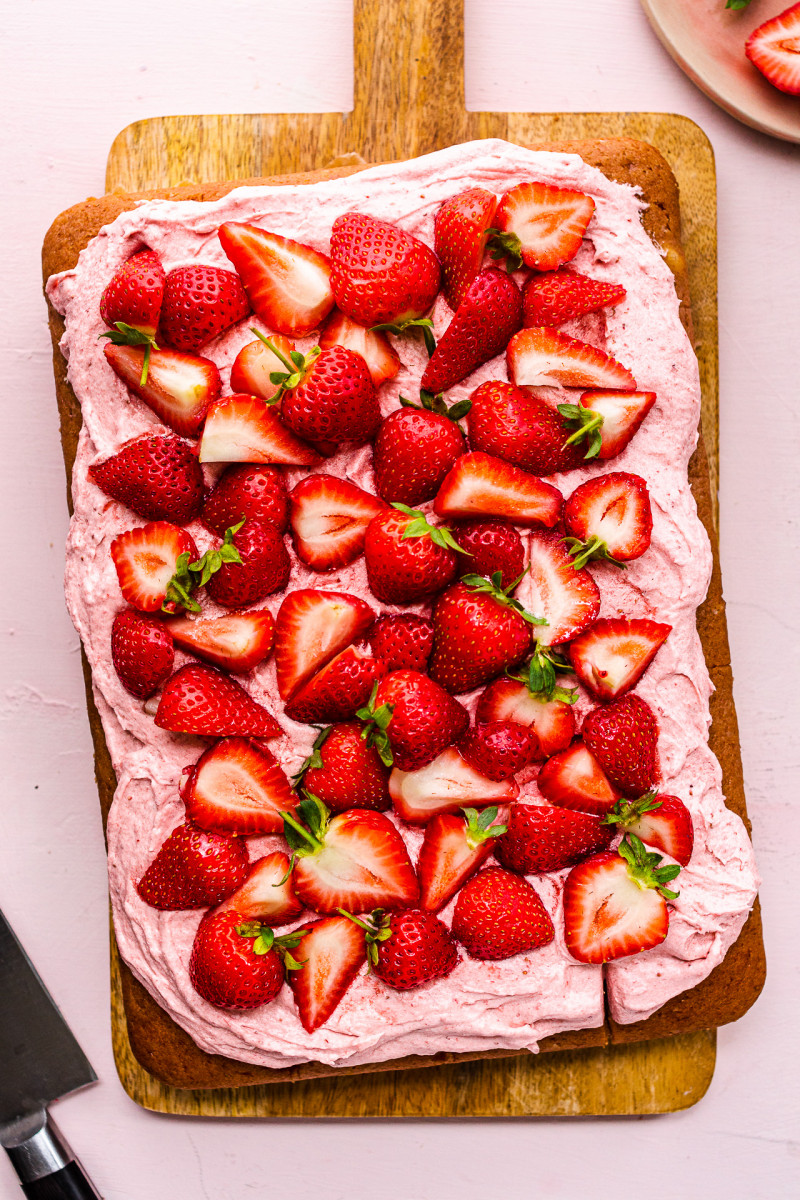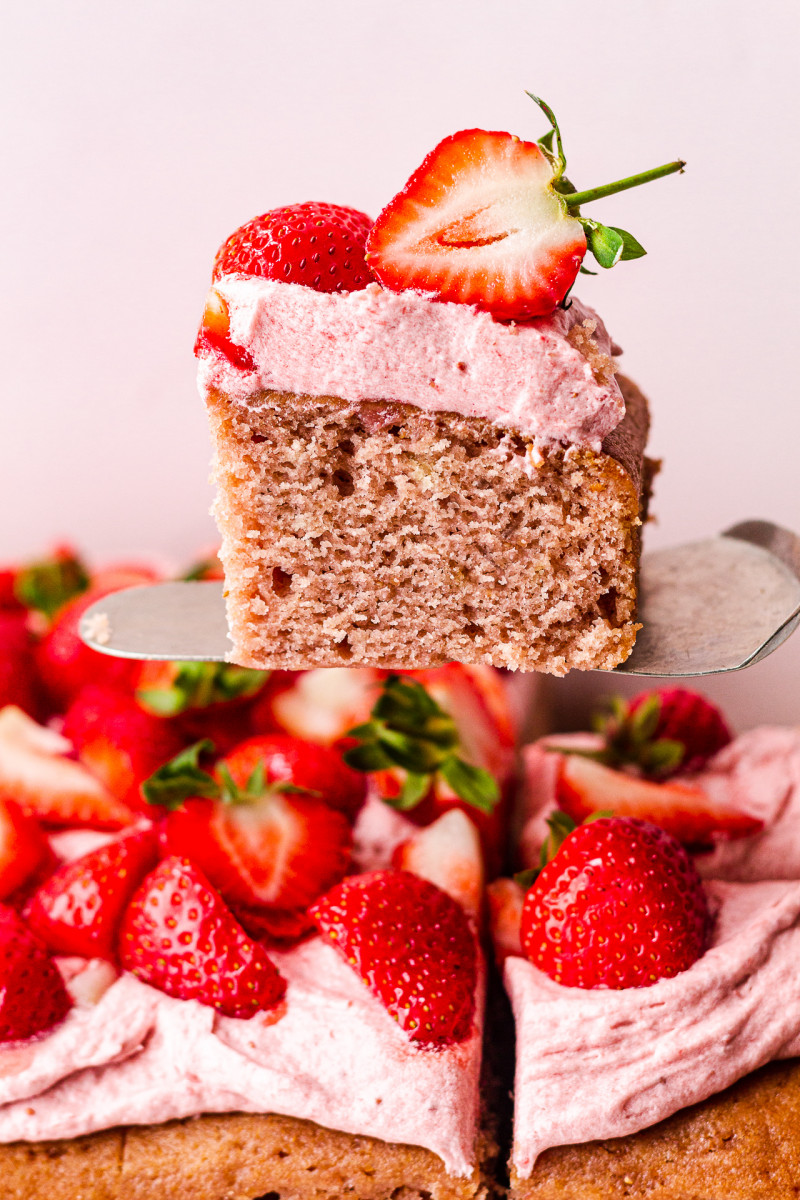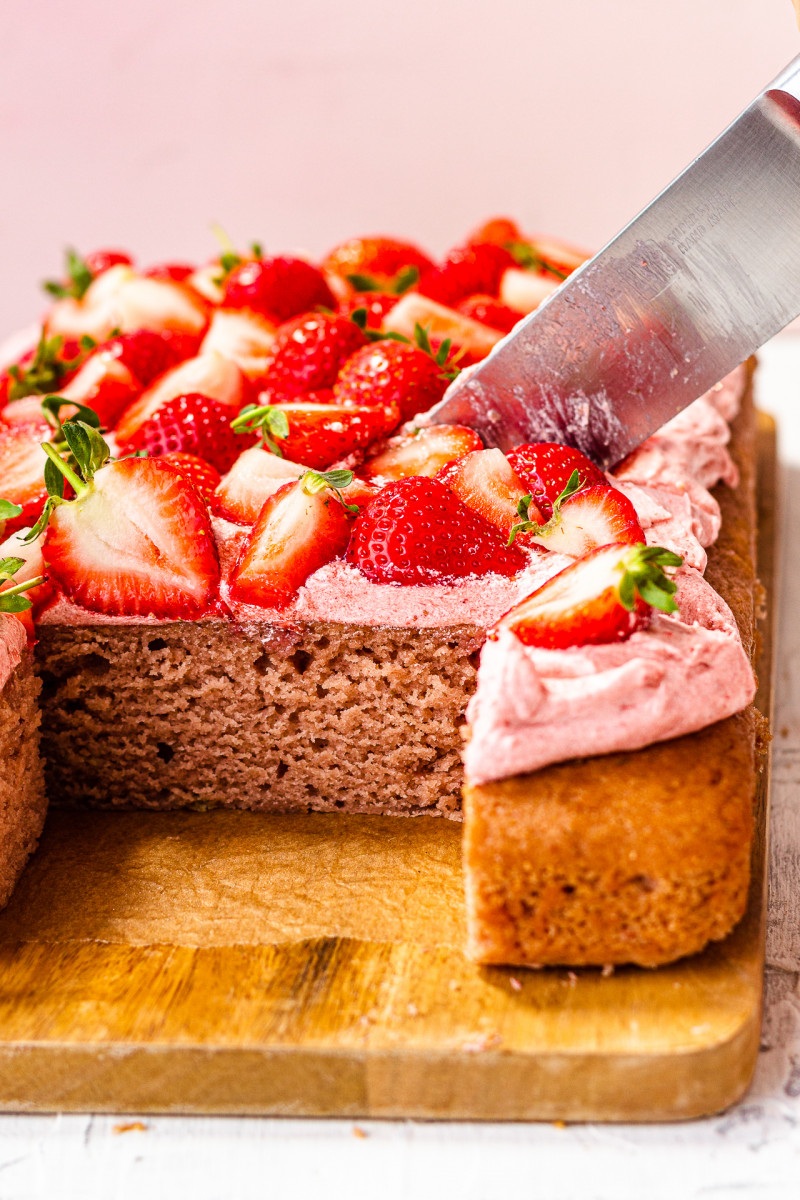 STRAWBERRY PUREE
900 g (2 lb) / 32 oz destemmed strawberries*, plus extra to decorate
WET INGREDIENTS
150 g / 2/3 cup neutral oil, I used grapeseed
300 g / 1½ cups caster sugar
360 ml / 1½ cups plant milk, I used soy
15 ml / 1 tbsp vanilla extract
DRY INGREDIENTS
500 g / 4 cups all purpose flour*
¼ tsp salt
2 tsp baking powder
1 tsp baking soda
STRAWBERRY buttercream & DECORATION
150 g / 5.3 oz (¾ cup) vegan butter, softened
400 g / 14 oz (3¼ cups) icing / powdered sugar
METHOD
STRAWBERRY PUREE
Grab a large stainless steel pot, weigh it and write the weight down.
Blend the strawberries until smooth, transfer to the pot and weigh again – write the weight down.
Set the pot on a low-medium flame and bring to a gentle simmer. Allow to simmer for about 45 minutes, keeping an eye on the pot as it likes to boil over and stirring regularly.
Stop simmering when the puree reduced to a third. My blended strawberries weighed 900 g / 32 oz and after reduction the weight was 300 g / 10.5 oz. Reduced puree should be thick, paste-like.
Divide the reduced puree into two equal portions, refrigerate one half for the icing and keep the other half at room temperature.
CAKE
Grease a 22 cm x 33 cm (9 inch x 13 inch) baking tray, place two wide (and long enough to stick out of the tin) strips of baking paper down first, then line the bottom with a rectangle of baking paper.
Preheat your oven to 175° C / 345° F (or 155° C / 310° F on a fan setting).
Combine all of the wet ingredients in a large mixing bowl, add reduced strawberry puree and mix well.
Combine dry ingredients in another bowl.
Place a fine sieve over the bowl with wet ingredients and gradually sift dry ingredients through.
Incorporate dry ingredients into the wet ones by making small circles with a spatula in the middle of your mixing bowl first (to minimise lumps). Mix gently but thoroughly until no dry pockets remain (a few lumps is okay). Transfer to the baking tin.
Bake for about 35-40 minutes – until the edges pull away from the side of the tin and toothpick inserted in the middle comes out clean. Let it cool a little then using baking paper strips, carefully remove out of the tin and place on a baking rack until cool.
STRAWBERRY ICING
Place softened vegan butter in a large mixing bowl and whisk until pale and fluffy – about 3 minutes.
Gradually whisk three quarters of the icing sugar.
Add cold strawberry puree, tablespoon by tablespoon whisking well after each addition and finally the rest of icing sugar to stiffen.
Store in the fridge (or freeze) until ready to use. Bring to room temperature first, before whipping again.
If using fresh strawberries to decorate, cut them and blot them on a piece of paper towel first and do not decorate the cake until just before serving – moisture from the strawberries will make the icing weep and look less appetising.
NOTES
*STRAWBERRIES: I used strawberry puree both in the icing and in the cake, if you want to skip the strawberry puree in the cake, you'll only need 450 g / 1 lb strawberries for the icing. Make sure to add an extra 120 ml / ½ cup of plant milk and 30 ml / 2 tbsp of lemon juice to the cake batter instead.
*GLUTEN-FREE: to make this cake without gluten, use a good GF flour mix that contains plenty of starches as they help with binding. It is also good to add a small amount of xanthan gum (about 1½ tsp) unless you flour mix already contains it.
TIN SIZE: I used a 22 x 33 cm / 9 inch x 13 baking pan (this one). To make a smaller cake, use half of the batter and bake in an 20 cm x 20 cm (8 inch x 8 inch) square tin. Start checking after 25 minutes.