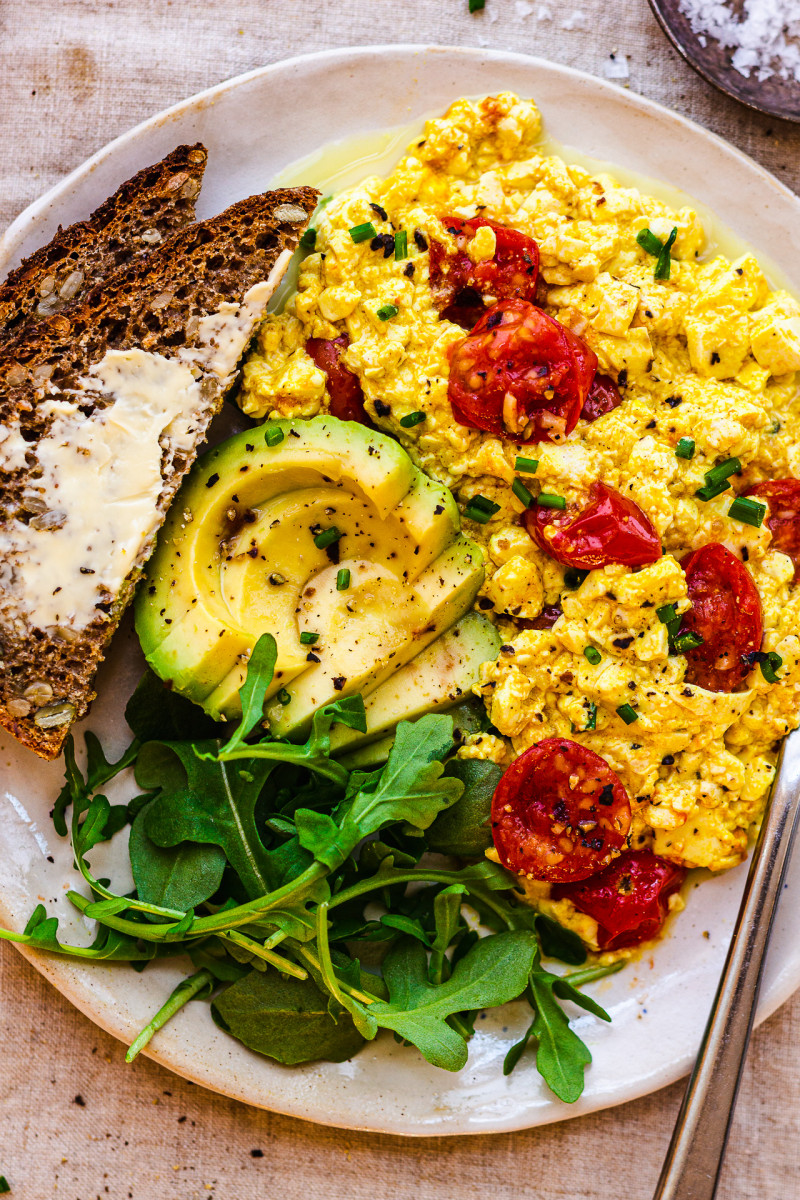 Today's recipe is a super simple one for a vegan staple – tofu scramble. It's a perfect breakfast food as it's easy to make and full of plant-based protein, which is a perfect macronutrient to start the day with. I also often make it when we come back from the gym, are famished and I want something simple yet nourishing in front of me fast. I serve it with some homemade seeded rye sourdough or pan-fried leftover potatoes instead. I also add some dark greens like spinach or rocket dressed in a little olive oil and perhaps a few slices of avocado if I have any on hand.
Tofu scramble can be made with any type of tofu depending on how set you used to eat your eggs. I was always a fan of softly set eggs when making scrambled eggs so that's why I used firm or extra firm silken tofu to make this dish. You could mix two types of tofu, silken and non-silken (known as cotton tofu although very few people know that), but it's a faff and I personally don't find it necessary.
One of my favourite childhood summer memories is tomato scrambled egg, which my mum would make when tomatoes where in season and especially when we were on holidays somewhere like Greece or Italy where tomatoes are amazing and dirt cheap in season. She used whole peeled tomatoes fried in lots of butter before cracking some eggs into the pan. I use sweet cherry toms and garlicky olive oil to give this simple dish a lovely flavour base and make it summer appropriate. If you are not a fan of tomatoes, you can skip them, but I would still encourage you to make garlicky oil (or spring onion/scallion) one for a delicious flavour boost.
I hope you'll enjoy this vegan take on my childhood's summer classic as much as we do.
MORE ABOUT THE INGREDIENTS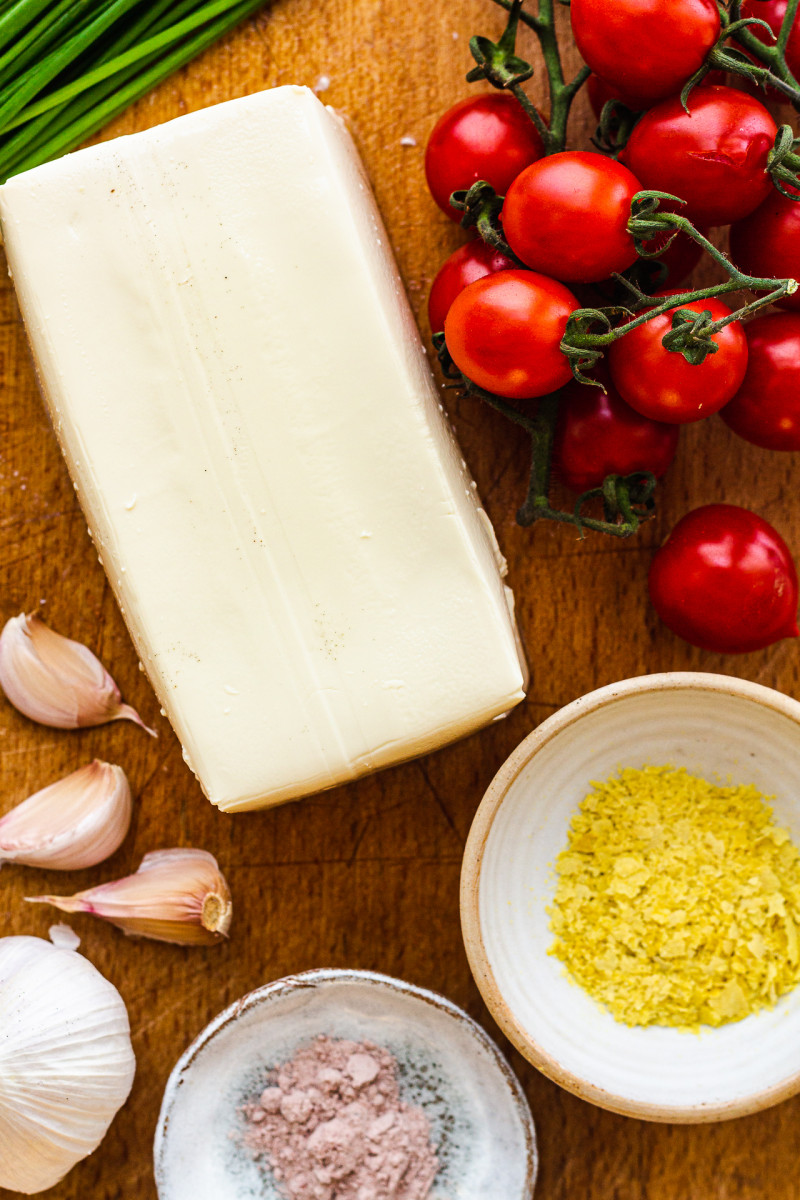 OLIVE OIL: I use olive oil to create garlicky oil, which adds only a little bit more effort and a lot of flavour to this simple dish.
GARLIC: A little garlic softened slowly, on a very low heat, adds a massive amount of flavour to tofu scramble. If you dislike garlic, use white parts of two small spring onions (scallions) instead and follow the same method.
CHERRY TOMATOES: I use sweet cherry tomatoes, which get softened in garlicky olive oil to add more flavour and nutrition to this simple dish, but if you dislike tomatoes you can skip them of course. You could also use skinned regular tomatoes, just make sure they are ripe and flavoursome.
TOFU: I used crumbled smoked tofu to add flavour and body to the filling. Tofu makes the filling more satiating and richer in plant protein, which is especially key if you work out a lot.
KALA NAMAK: Kala namak is sulphurous salt (also known as black salt) that gives tofu a subtle eggy aroma and flavour. There is no substitute for this ingredient but it's a cheap ingredient, widely available in Indian food shops and a little goes a long way.
SOY SAUCE: This is totally me, but I like to add a small amount of soy sauce to my tofu scramble for a umami boost. If you are making this dish gluten-free, use tamari instead.
NUTRITIONAL YEAST A small amount of nutritional yeast is nice to add for extra umami, but don't sweat it if you don't have it, the dish will still be delicious without it.
TURMERIC I like to add a dash of turmeric for colour and because turmeric – full of phytonutrients – is meant to be really good for you, but you can skip it if you are not a fan.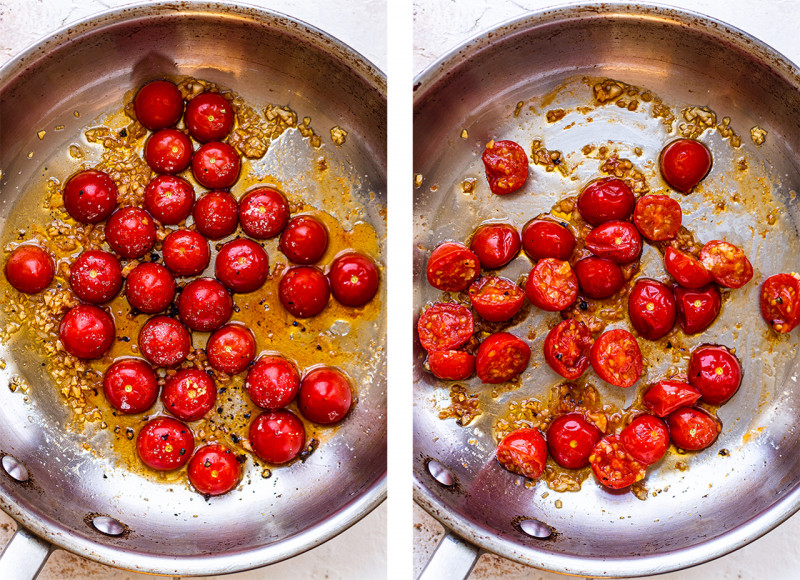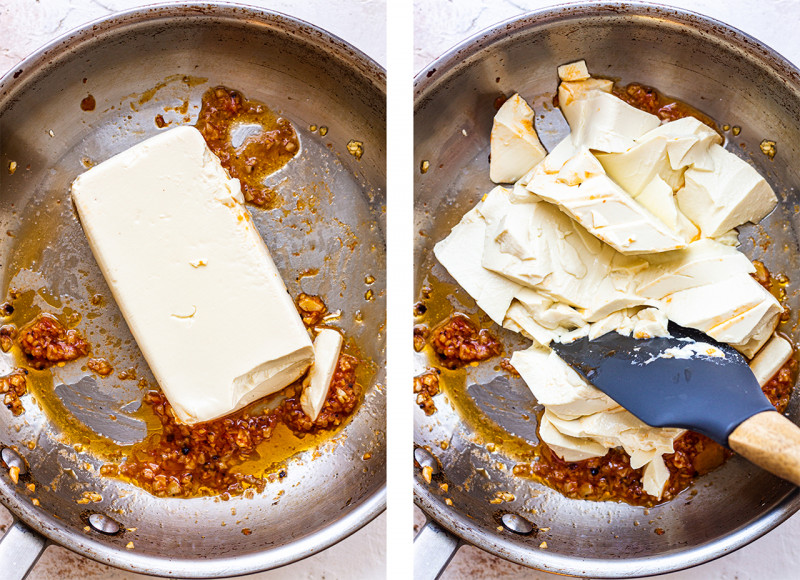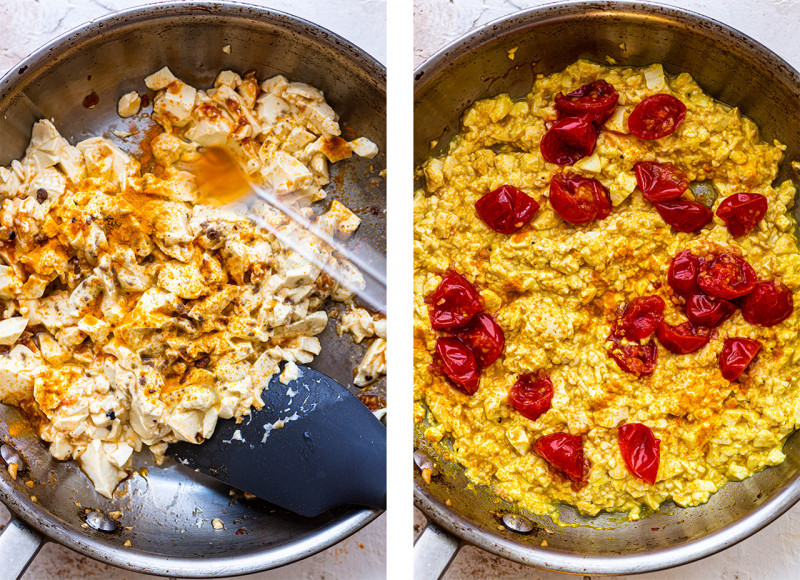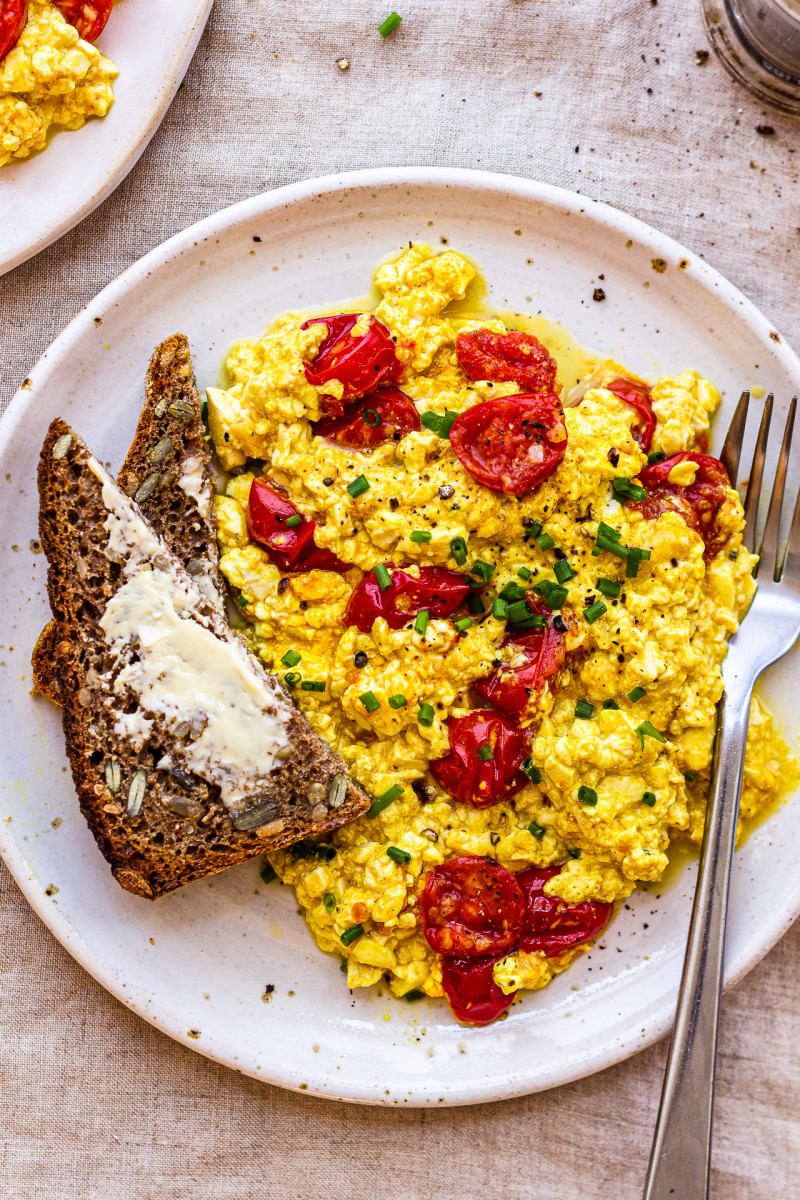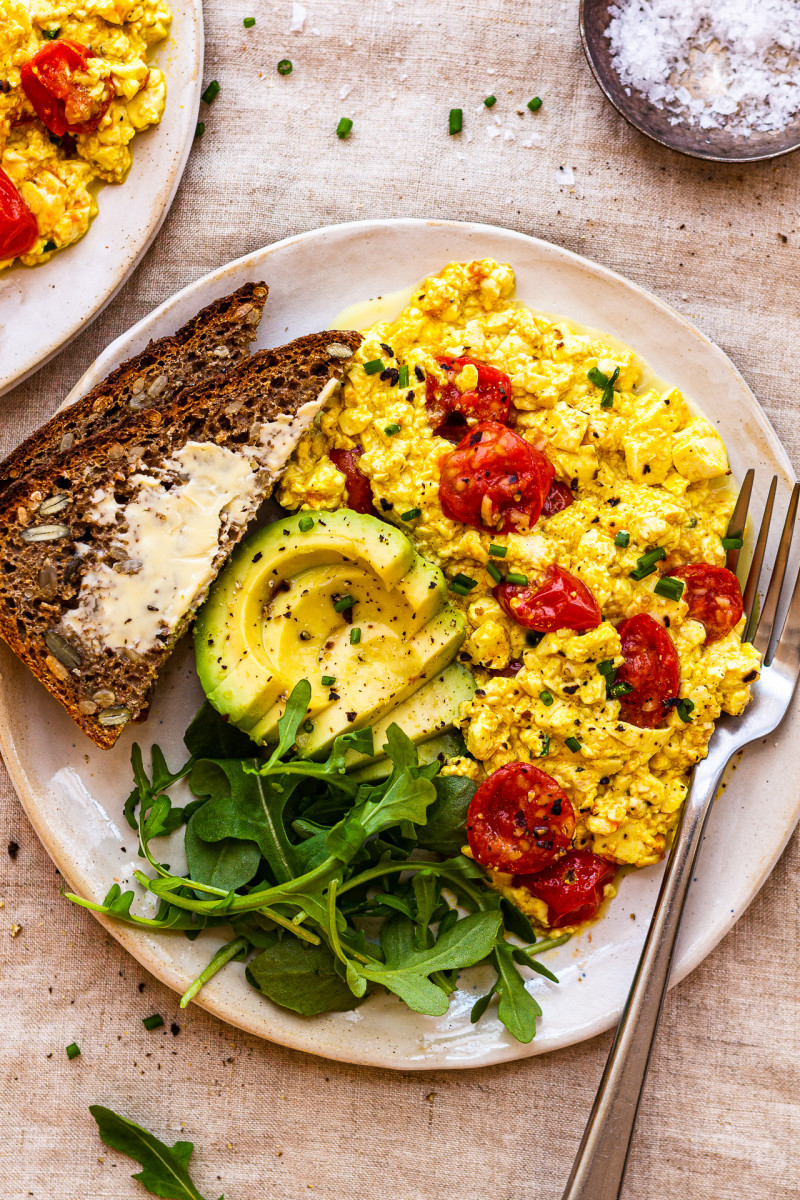 10 ml / 2 tsp olive oil
2 small garlic cloves*, finely diced
150 g / 5.3 oz cherry tomatoes (optional), halved
300 g / 10.5 oz firm silken tofu* (I use Clearspring)
7 ml / 1½ tsp soy sauce (or tamari if GF)
¼ tsp turmeric, adjust to taste
heaped ¼ tsp kala namak (has eggy taste)
1 tbsp nutritional yeast
salt and black pepper, to taste
SERVING ADDITIONS
METHOD
Heat up the olive oil in a small frying pan. Add the garlic and sauté on a whisper of a heat until cooked through and fragrant, stirring frequently.
If using tomatoes, arrange them cut side down on the pan, sprinkle with salt and cook undisturbed on a very low heat until softened on one side (about 2 minutes).
Gently remove tomatoes from the pan, keeping as much of the garlicky oil in the pan as you can.
Add drained tofu, use your spatula to break it down as much as you like, leaving some bits bigger. Allow the tofu to cook on low heat until excess water has cooked out.
Season to taste with soy sauce, kala namak, nutritional yeast, turmeric and black pepper.
Return tomatoes to the pan. Warm everything up, then divide between two plates. Serve with your favourite bread, some dark greens and a few slices of ripe avocado (if liked)
NOTES
*GARLIC: you could use white parts of 2 spring onions/scallions instead and some garlic powder to season.
*TOFU: the type of tofu you use depends on your preference. If you prefer firmer texture, use crumbled (unpressed) firm tofu and a bit of creamy plant milk (like oat or soya) to bring it together.