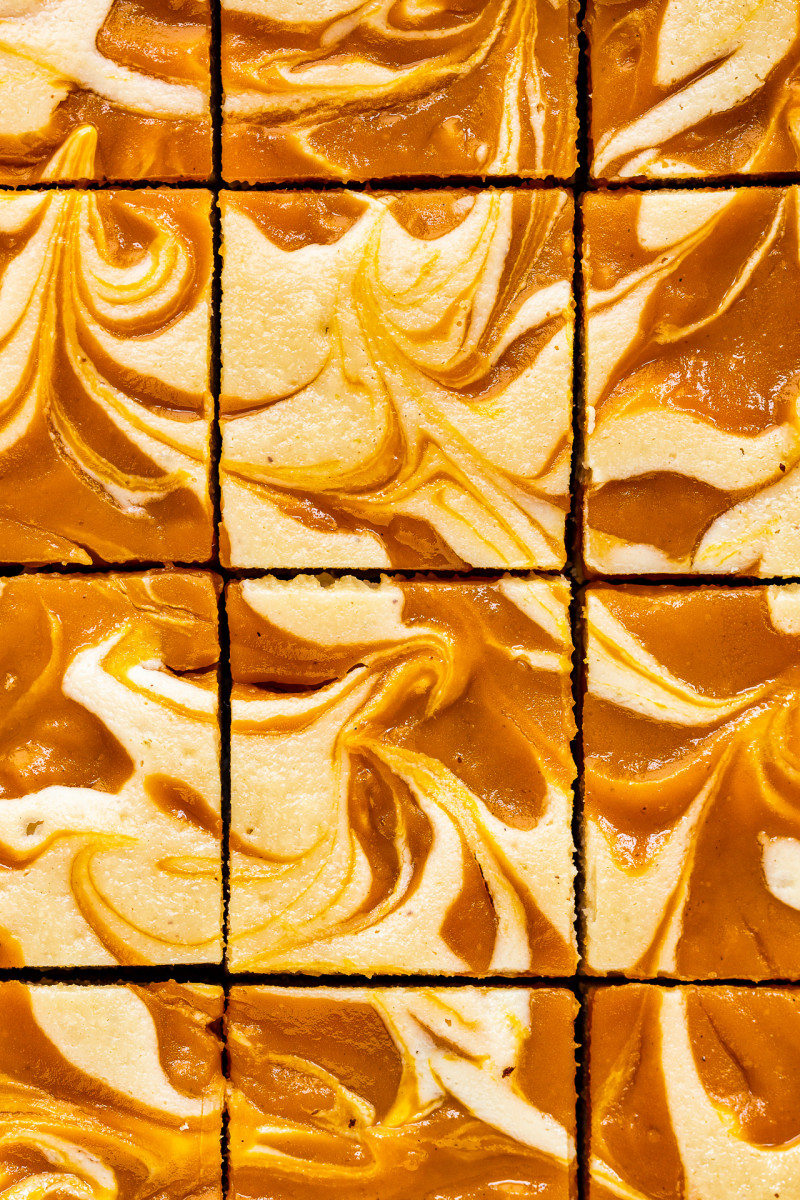 Happy weekend! I hope you are having a nice, relaxing Saturday and if you feel like baking these vegan mango cheesecake bars will definitely brighten up your weekend even more.
We are dusting ourselves off after we had our electrics updated last week after a couple of years of procrastination. It was painful to see your lovingly restored floorboards lifted, your walls tunnelled into and all the dust it left behind, but it's done now and we are relieved, we can carry on updating the house without worrying that out of date electrics will sabotage our plans.
As I was in no position to do any recipe development last week, here are some sunny vegan mango cheesecake bars that I created a while back. They are really easy to make, creamy, zingy, sweet and beautiful to look at too. The base is a simple shortbread biscuit base with the addition almond flour, which helps to keep the shortbread even more tender. The vegan cheesecake filling is decadently creamy, flavoured with lime and ginger and topped with a sweet mango swirls. It was an instant hit in my house and I hope it will be just as popular in yours.
MORE ABOUT THE INGREDIENTS
VEGAN BUTTER: I used vegan butter (I used Violife) to make the shortcrust base and to give the cheesecake layer a little more creaminess. Use the type that comes in a block, rather than spreadable kind that comes in a tub. You could also use coconut oil – refined type, like this, if you dislike coconut taste or extra virgin coconut taste if you don't.
SUGAR: I used caster sugar (which is what UK calls superfine white sugar) to sweetened both the base and the filling. You could use any sugar you like remembering that if it's dark in colour, it may make this dessert look a little less appetising and that if it isn't finely ground, it may not fully dissolve in the oven during baking (this is more of a concern for the shortbread, a little less so for the filling).
You could also use MAPLE SYRUP or a similar liquid sweetener. To use maple syrup for the base, place all of the dry ingredients in a bowl first, add 3 tbsp (45 ml) of maple syrup and enough softened vegan butter (about 40 g / 1.4 oz) to make the mixture clump together – be aware that you will end up with a less indulgent shortbread though as due to the fact that maple syrup adds moisture, you have to use less sweetener and less fat. To use maple syrup in the filling, use it instead of plant milk and you may have to take it out of the oven a little sooner as a result.
ALMOND FLOUR: Almond flour helps to keep the shortbread more tender.
PLAIN FLOUR: I used plain flour to make the shortbread, but a good gluten-free flour mix (containing a high proportion of starches) will work just as well if you want to keep this dessert gluten-free.
CASHEWS: I used raw cashews, soaked in water first so that they soften, to make the cheesecake filling. If you don't want to use cashews, I am pretty sure that hulled sunflower seeds will work just as well (they also need soaking) as I've used them in many other dishes that call for creaminess to a great effect.
COCONUT CREAM / MILK: Coconut cream is used to blend the cashews silky smooth and keep the consistency of the filling moist enough so that once the dessert is baked, it's creamy and not dry. I used coconut cream for extra indulgence and because its flavour pairs so nicely with lime, ginger and mango but coconut milk or even regular plant milk (like soy or oat) works just as well.
LIME ZEST AND JUICE: I used zest of a whole lime and a very generous amount of lime juice as I wanted this slice to have a delicious tang and to contrast with the sweetness of the mango topping.
FRESH GINGER: I used some freshly grated ginger to give this simple dessert a bit of spiciness, but you can skip this addition if you are not a ginger fan. Adjust the amount of ginger to your taste.
VANILLA: I used a generous amount of vanilla to inject even more flavour into the filling, but you can skip it if you prefer lemon flavour on its own. A small amount of freshly ground cardamom would also pair really nicely with lemon and blueberries.
MANGO PUREE: To make mango swirls, I used canned mango pulp from Kesar mango (by KTC brand). You can also make your own mango purée from fresh mangoes.
THIS IS HOW YOU MAKE THESE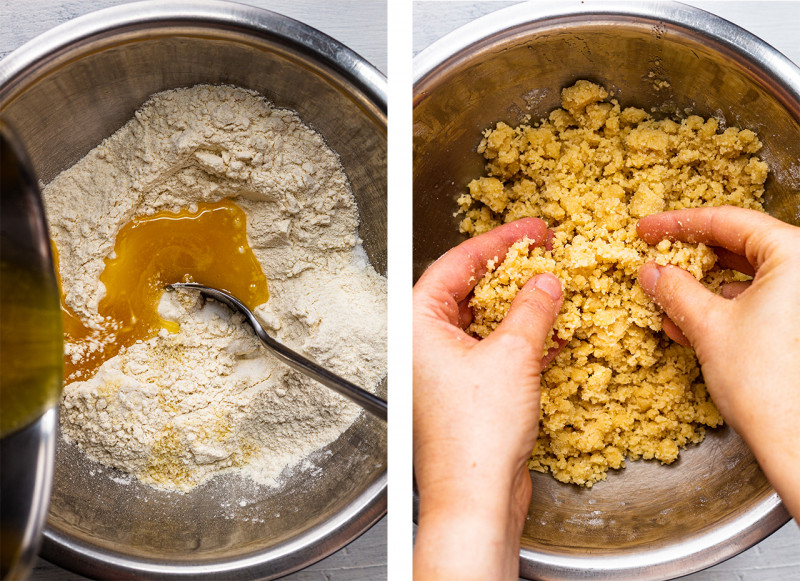 Combine all dry ingredients in a medium size bowl, add melted and cooled vegan butter and mix well until uniform in texture.
Scatter shortbread mixture at the bottom of the lined tin and shape it into a base by pressing it down with a spoon (or your fingers). Level the base using a flat-bottomed glass and prick it using a fork.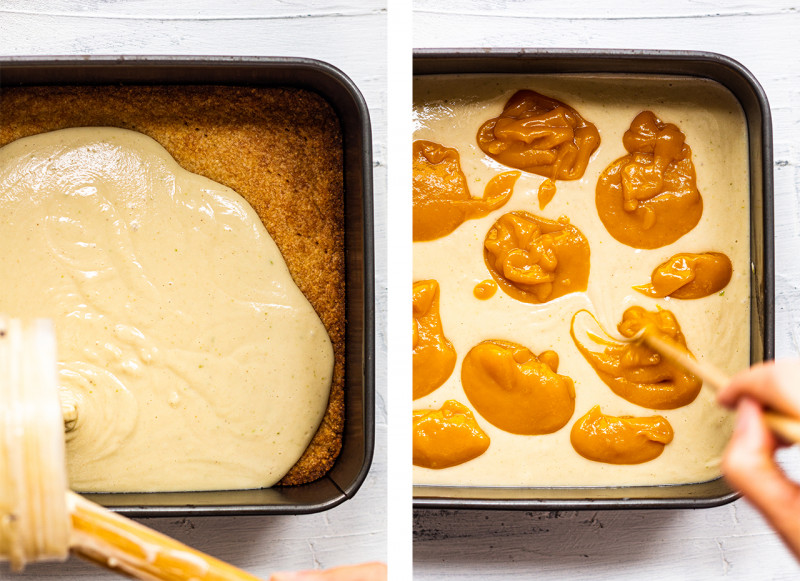 Prebake the base, pour cheesecake mixture on top and dot with mango purée. Use a chopstick or something similar to make decorative swirls in the topping, then bake until barely set.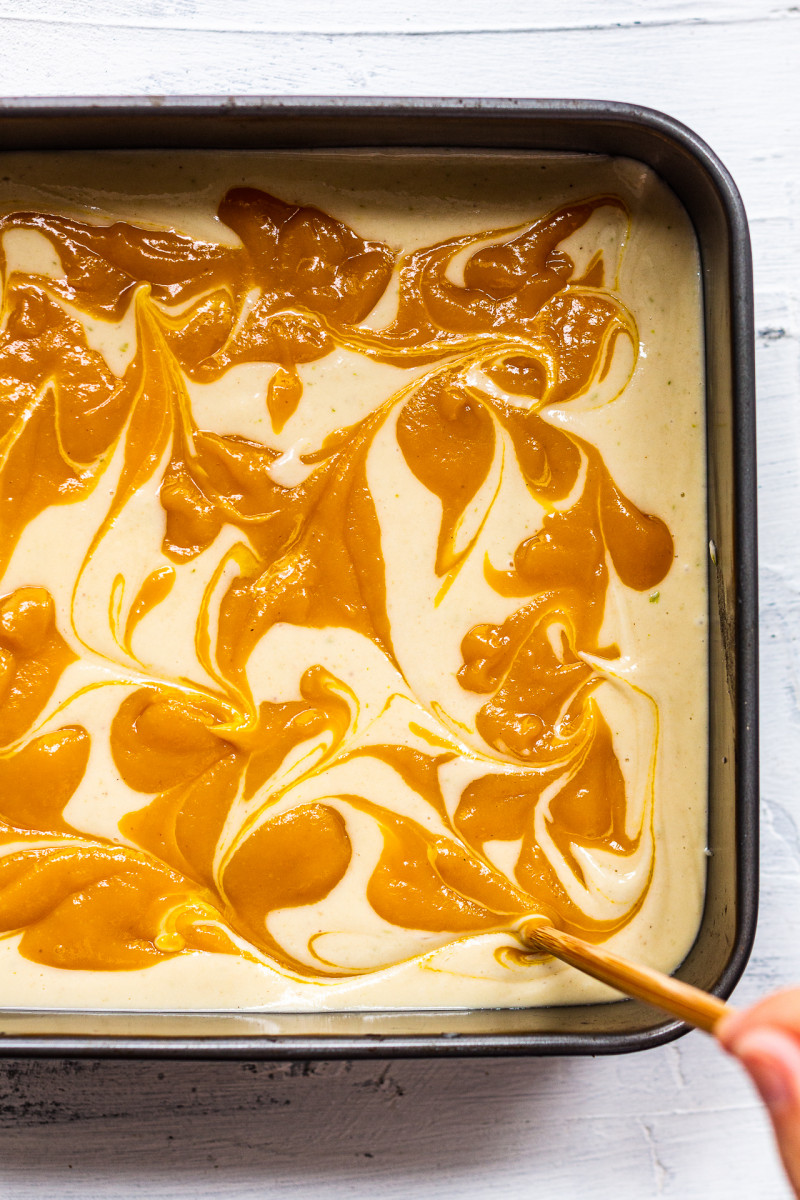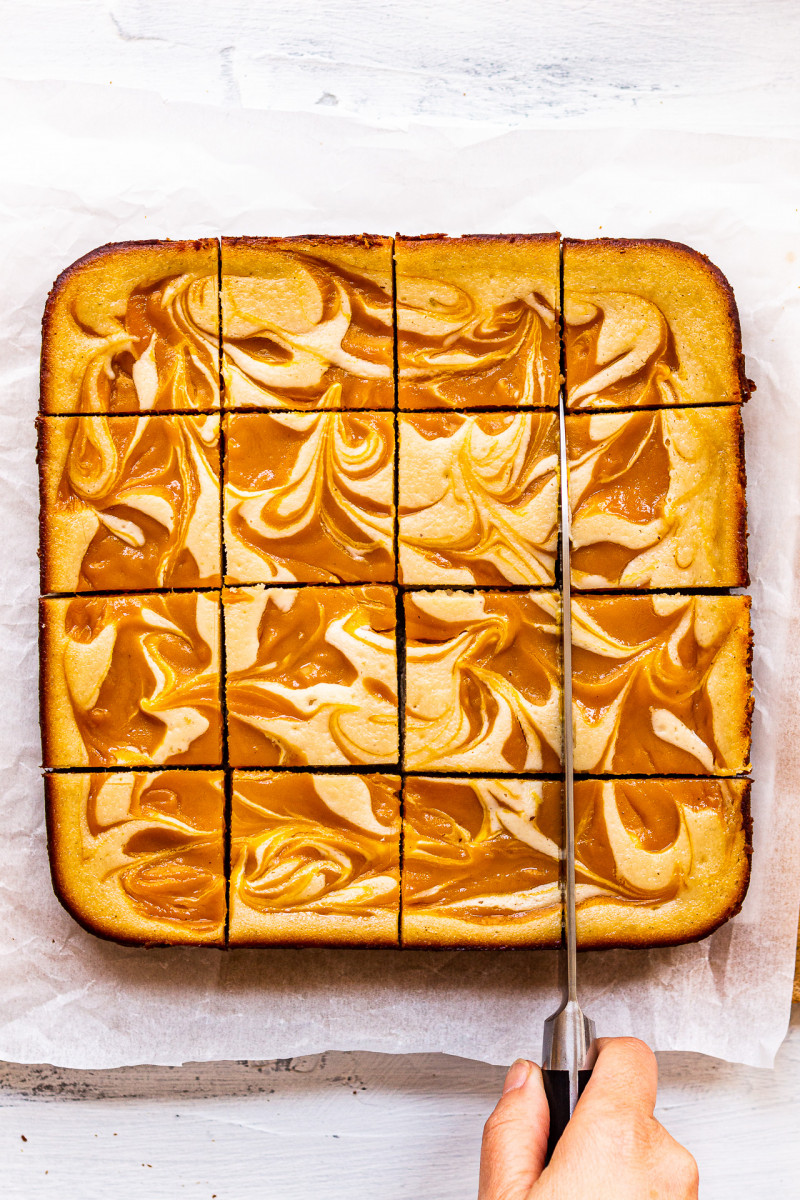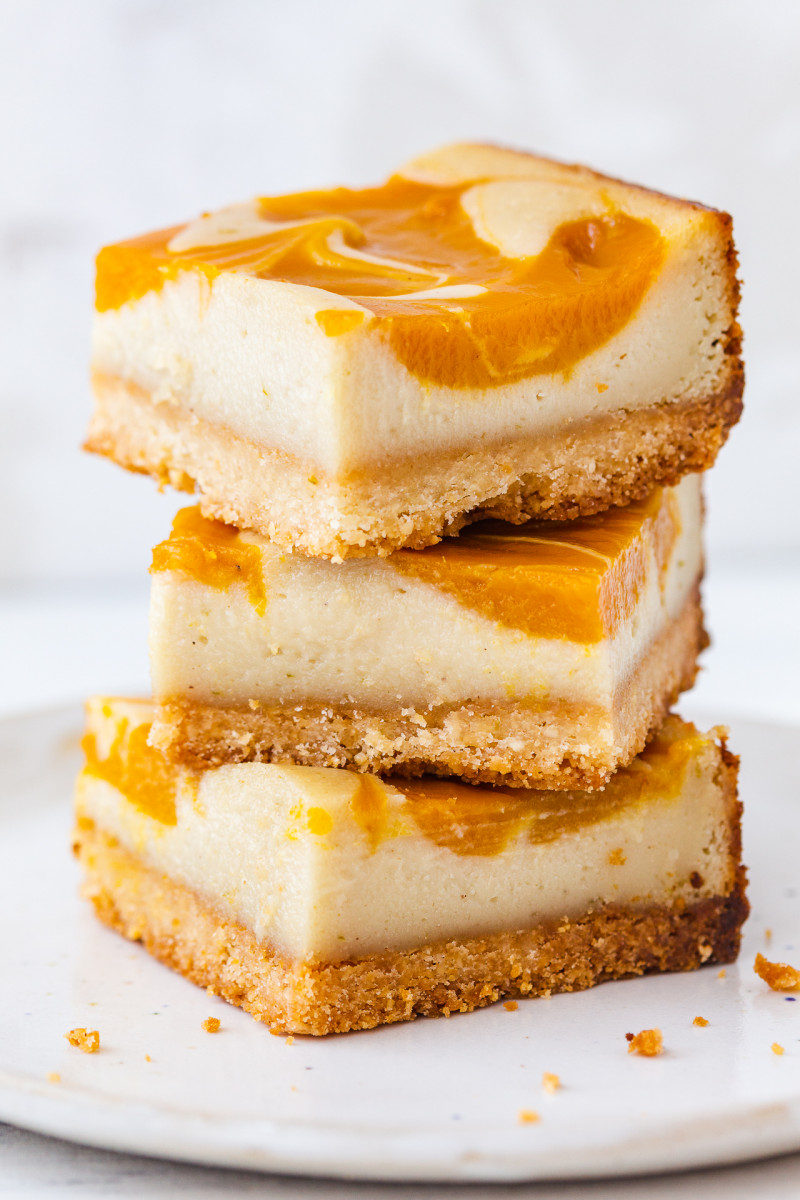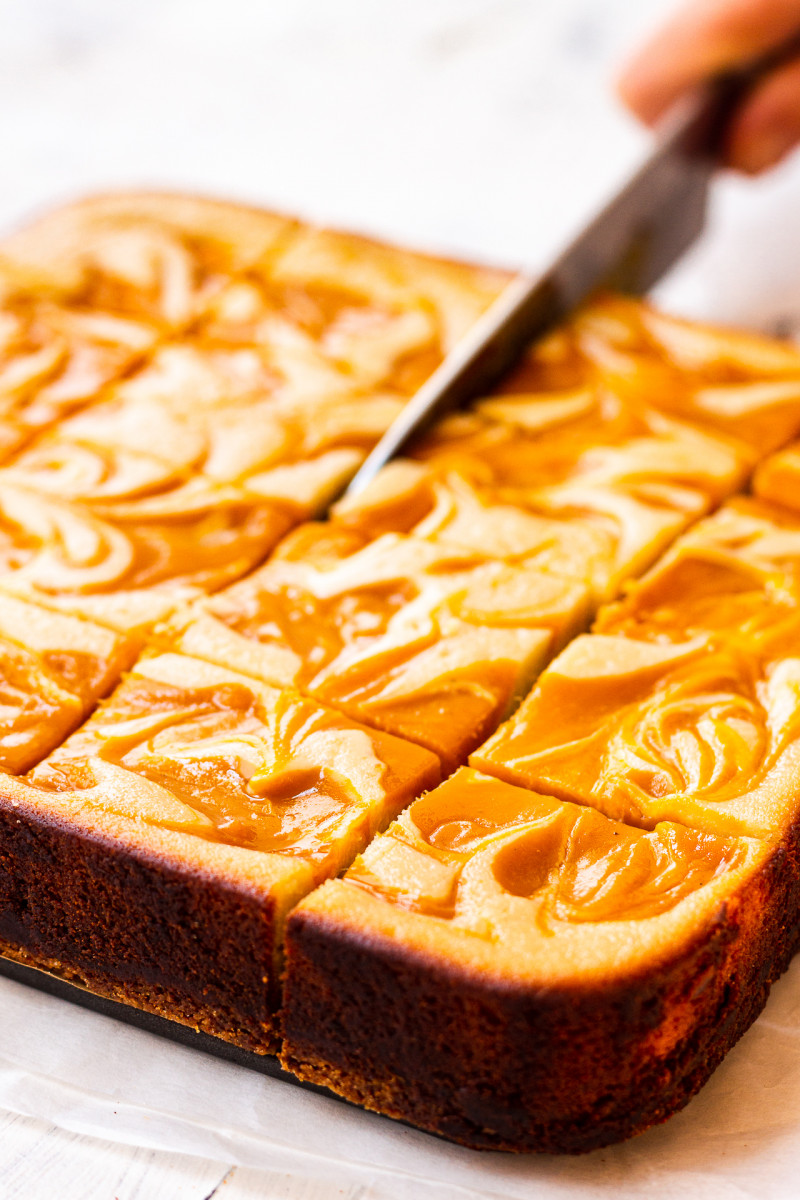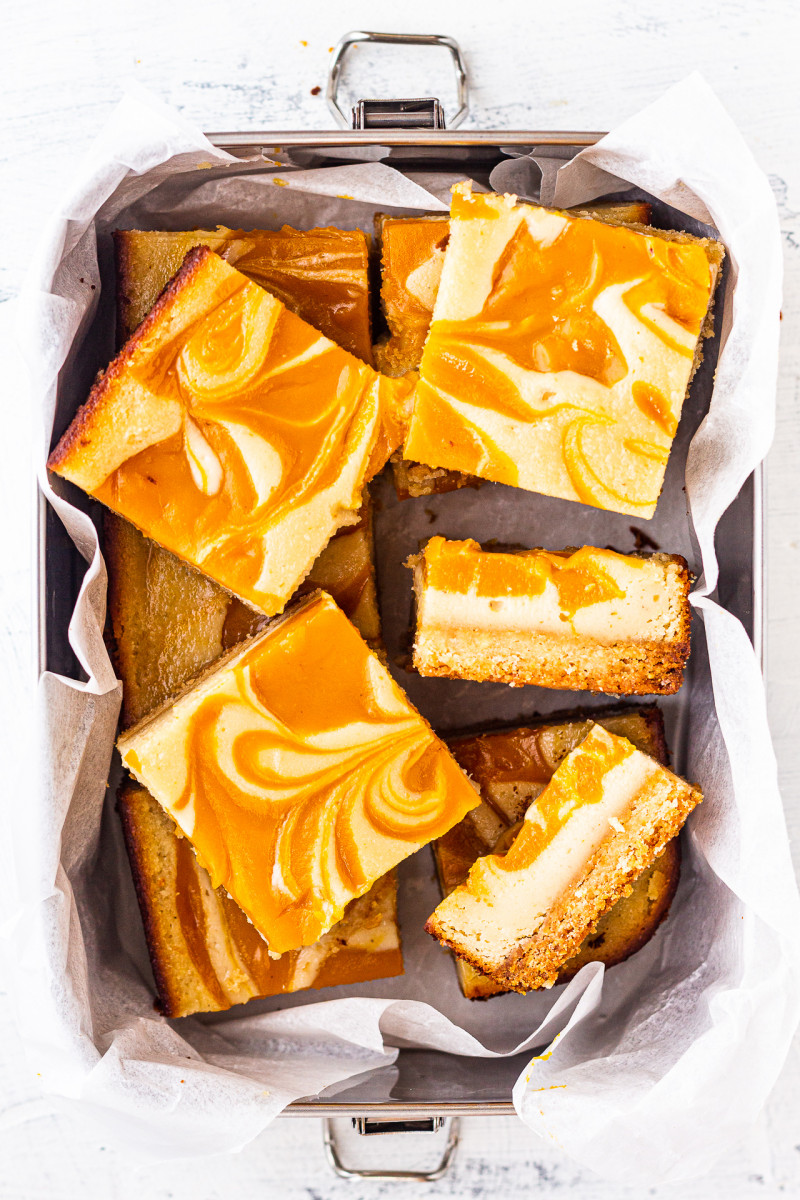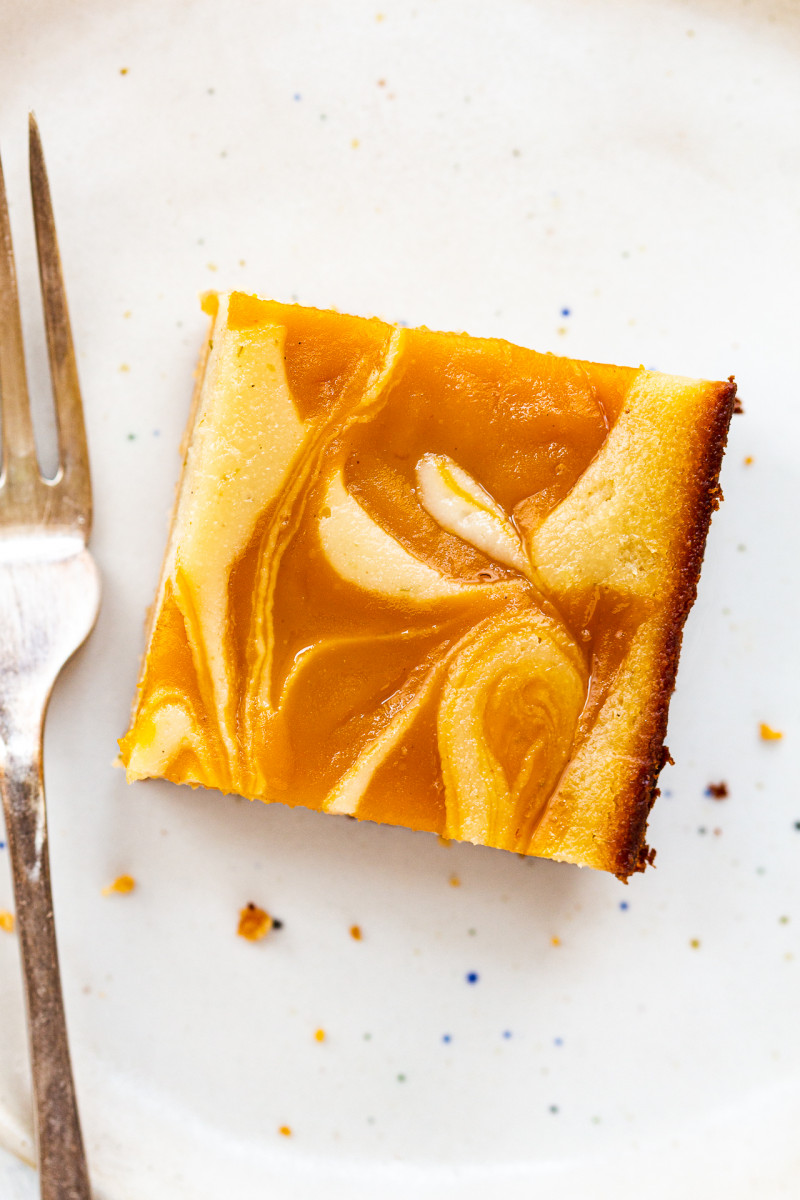 SHORTBREAD BASE
CHEESECAKE LAYER
200 g / 1½ cups raw cashews, soaked
120 ml / ½ cup coconut cream, any plant milk or mango purée*
80 ml / 1/3 cup lime juice + zest of 1 lime
125 g / ½ cup + 2 tbsp sugar* (I used caster, but coconut sugar will work too)
1 tbsp vanilla paste (optional)
40 g / 3 tbsp vegan butter*, softened
1-3 tsp grated ginger, adjust to taste
MANGO SWIRL
220 g / ¾ cup mango purée* (I used tinned Kesar mango purée)
12 g / 1 tbsp vegan butter
20 g / 1½ tbsp sugar
x g / 1½ tsp cornstarch or tapioca
METHOD
SHORTBREAD BASE
Pre-heat the oven to 180° C / 355° F (or 160° C / 320° F on a fan setting) and line a 20 cm / 8″ square tin with baking paper so that it sticks out on all sides.
Combine all dry ingredients in a medium size bowl, add melted and cooled vegan butter and mix well until uniform in texture.
Scatter shortbread mixture at the bottom of the lined tin and shape it into a base by pressing it down with your fingers. Level the base using a flat-bottomed glass and prick it using a fork.
Bake until lightly browned – about 15-20 minutes. Cool before filling.
CHEESECAKE LAYER
Soak the cashews in boiling water for 30 minutes or in cold water for several hours. Drain before using.
Place drained cashews along with the rest of ingredients in a blender (I used Ninja smoothie maker ) and blend until the mixture is super smooth. Add ginger to your taste, I used 2 tsp for a bit of a kick.
MANGO SWIRL
Place all of the ingredients in a small pot on low heat. Use a whisk to mix everything together.
Whisking the whole time, allow the mixture to come to a simmer and to bubble for a few seconds before switching the heat off. Cool before topping the cheesecake.
ASSEMBLY
Pour cheesecake filling on top of the cooled base and decorate with blobs of mango mixture. Use a chopstick to make decorative swirls on top.
Bake until the edges are set but the middle stays a little soft and wobbly, about 25-30 minutes depending on your oven and if you used coconut cream (25 minutes should be enough) or thin plant milk (you may need a couple extra minutes).
Cool completely then place in the fridge for at least 2 hours before cutting. Store in an air-tight container in the fridge for up to 5 days or freeze for up to 2 months.
NOTES
*VEGAN BUTTER: You can use coconut oil instead, I recommend using refined type, like this, which has been steamed to remove coconut taste.
*SUGAR: Any sugar will work, but dark sugar will impact the colour of cheesecake layer. You can also use maple syrup – please see MORE ABOUT THE INGREDIENTS section in the blog post for specific directions.
*FLOUR: To make these gluten-free, use a trusted gluten-free flour mix containing a lot of starches. While it's not 100% necessary, I also recommend adding ½ tsp xanthan gum to stop the shortbread from cracking. In any case, handle gluten-free shortbread especially carefully whilst warm as it's very fragile.
*COCONUT CREAM, ANY PLANT MILK OR MANGO PUREE: You can use either of these. For extra indulgent cheesecake, use coconut cream – solid part of full fat coconut milk that tends to float to the top of the can after prolonged chilling. You can also use coconut milk or even thin milk like oat or soya. Or if you want even more mango flavour, use mango purée instead.
*MANGO PUREE: For convenience, I used canned mango purée from Kesar mango by KTC brand. You can also make your own my blending ripe mangoes in a food processor. If you don't want to use mango, how about blended blackberries or pitted cherries instead?