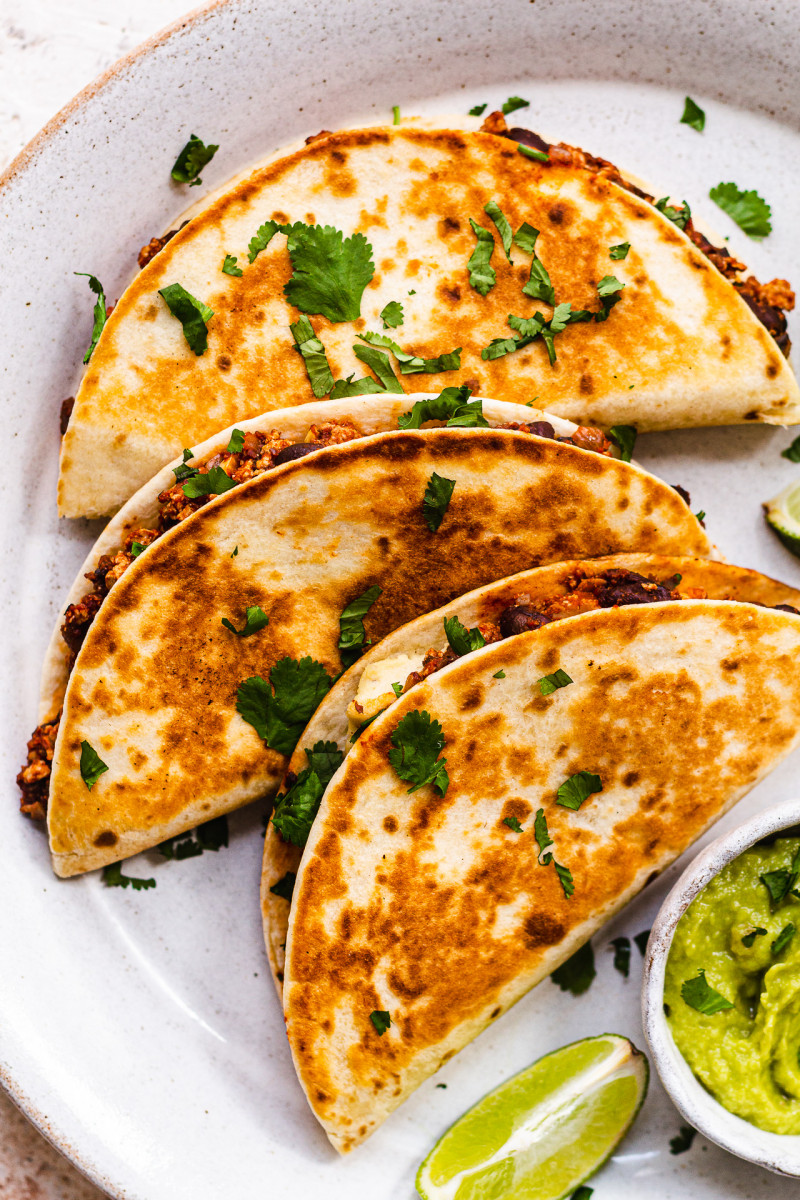 Today's recipe – vegan tacos with smoky mince – turned out to be not the easiest one to photograph but it's easy to prepare, delicious and full of nutrition.
We've been enjoying different variations of this dish a lot lately. It's the kind of dish where the bulk of it actually benefits from being prepared in advance, which is what I tend to do. I make a big portion of the filling at the beginning of the week and store it in the fridge, I buy some tortillas and guacamole on the day and dinner is on the table in 20 minutes flat. I used flour tortillas here but if you want to keep this dish free from gluten, use corn tortillas instead.
MORE ABOUT THE INGREDIENTS
AROMATICS: Onion and garlic need no introduction and as with most savoury dishes, these two are how this dish starts. I chop them both very finely and pan-fry in little oil until fragrant, softened and translucent.
SMOKED TOFU: I used roughly crumbled smoked tofu to create the filling. Not only does it contribute delicious texture, but it also offers plenty of sustenance and nutrition.
WALNUTS: Toasted, well chopped walnuts add another texture to this mince-like filling. I like to use them for flavour, texture and extra nutrition. You could also use sunflower seeds if you want to avoid nuts. In both cases, I recommend toasting them gently on a dry pan as this intensifies the flavour a lot.
MUSHROOMS: I used finely chopped chestnut mushrooms (known as cremini in the US) as a partial replacement for minced meat – tofu and walnuts are the other two components.
CHIPOTLE PASTE: Chipotle paste is what adds heat and heaps of flavour to this simple filling. I used this brand. As this paste adds spiciness, be sure to proceed with caution and adjust the amount to your personal preference.
DRY SPICES: I used my two favourite savoury spices – cumin and smoked paprika – to amp up the flavour of this dish. Both are easily accessible so you should have no trouble finding either of them.
TOMATO PASSATA: I used an entire bottle (400 g / 14 oz) of tomato passata to bring this dish together and it worked a treat. If you don't have passata you can use whole canned tomatoes but you may want to blitz them first to make sure there are no chunks of tomatoes in the finished sauce.
BLACK BEANS: I added a can of black beans (two cans would work too if you are keen to eat more beans) as it's such a hands-off way of adding another texture, as well as nutrition. The more various plants we consume each day the better.
TORTILLAS: I used 15 cm / 6″ shop-bought flour tortillas to make these tacos. I fill them, grease them with a little oil on both side and gently pan-fry on a preheated skillet until golden and crispy. If making this dish without gluten, simply swap flour tortillas for corn ones.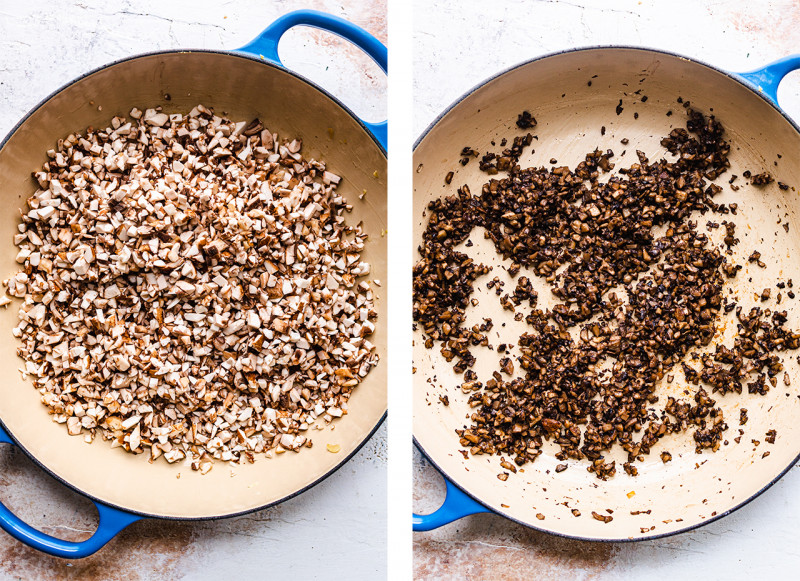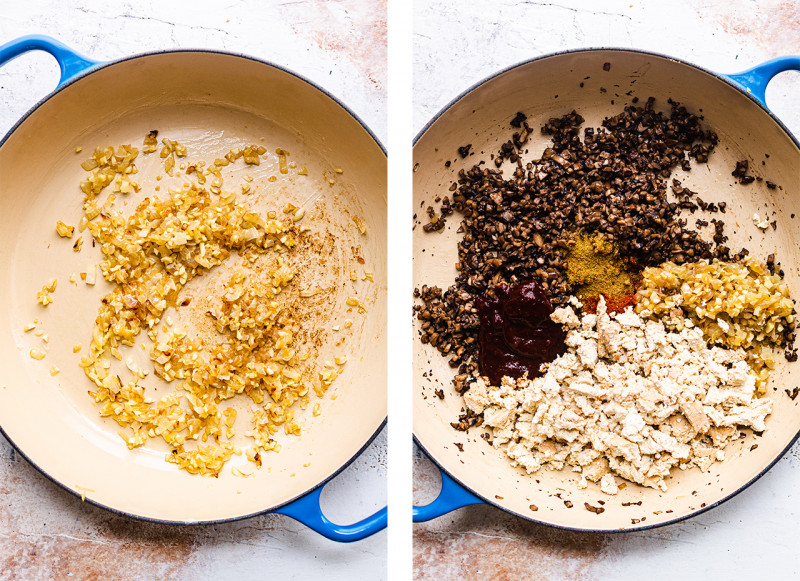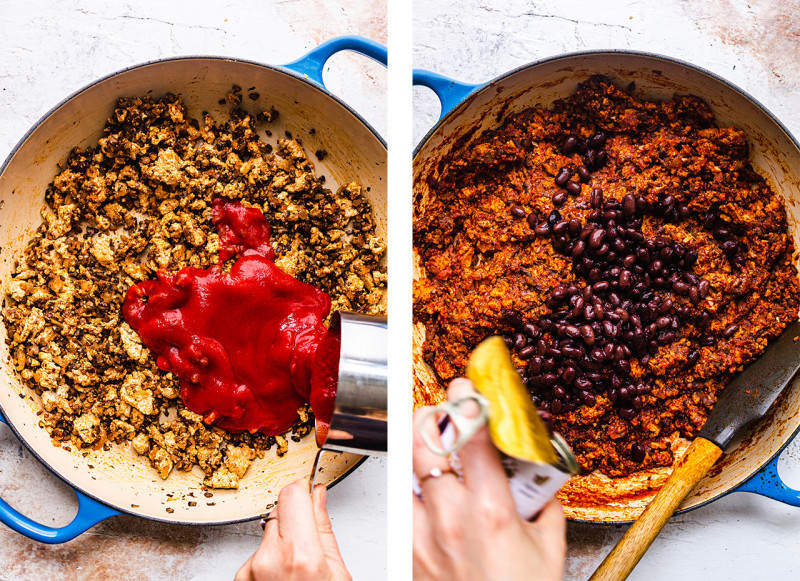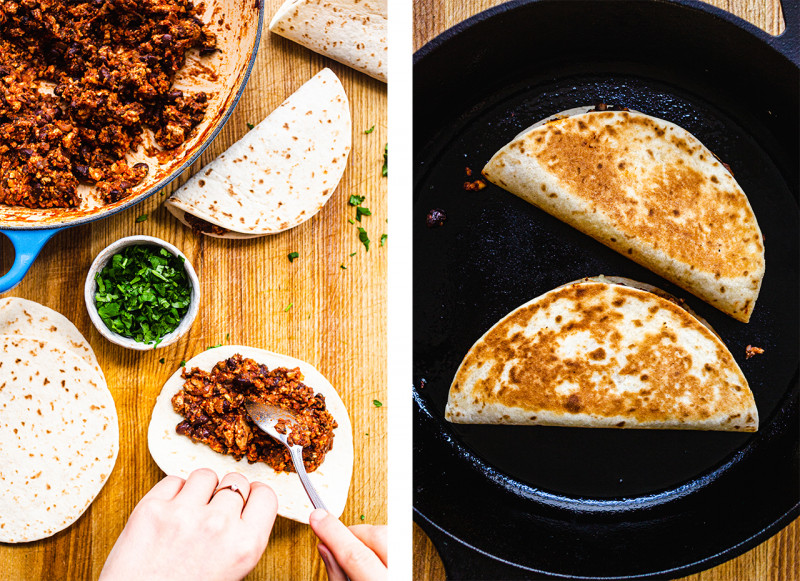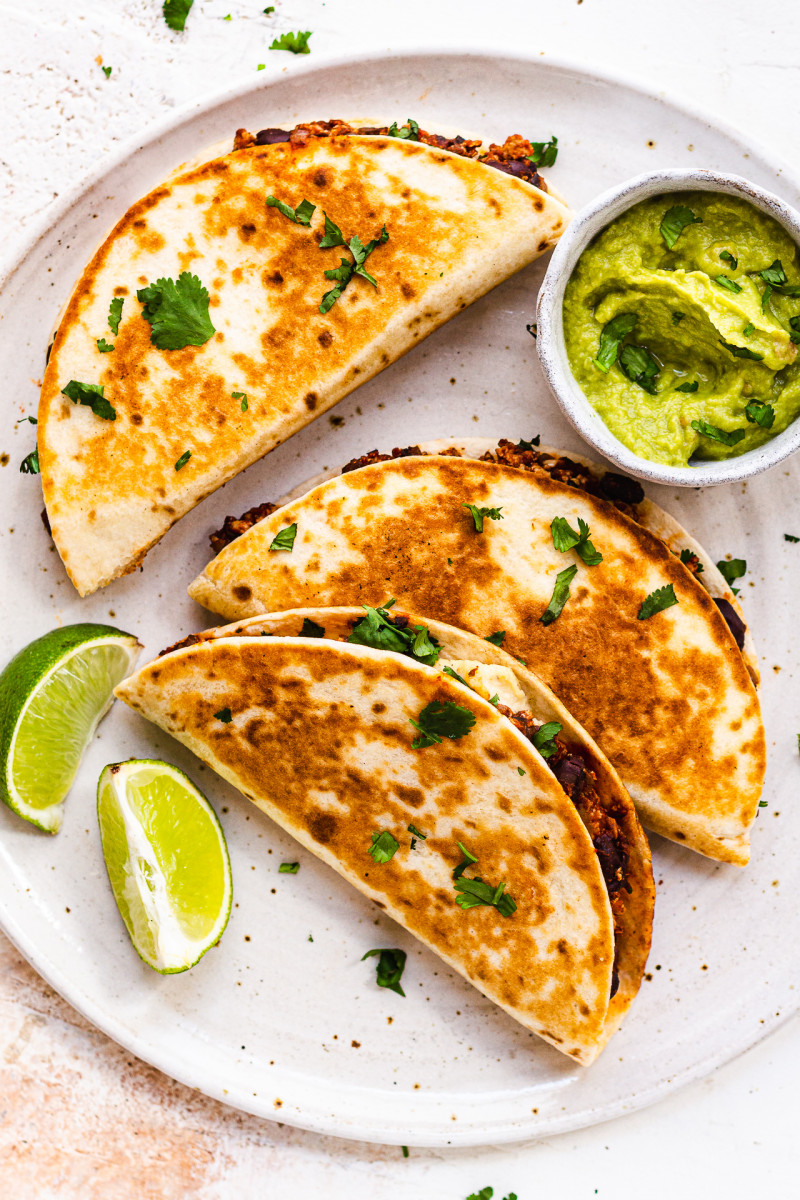 SMOKY MINCE FILLING
250 g / 9 oz mushrooms, I used chestnut/cremini
2-3 tbsp / 30-45 ml olive oil, divided
1 medium onion, finely diced
4 large garlic cloves, finely diced
200 g / 7 oz smoked tofu*
100 g / 3.5 oz (toasted ideally) walnuts or sunflower seeds
1 tsp (or more if not using smoked tofu) smoked paprika
1 tsp ground cumin
2½ tbsp chipotle paste (I used Santa Maria brand), adjust to taste
1 tsp salt, more to taste
15 ml / 1 tbsp soy sauce (or tamari if GF)
black pepper, to taste
400 g / 14 oz tomato passata
400 g / 14 oz can of black beans, drained
1 tsp date syrup or sugar (optional, adjust to taste)
REMAINING INGREDIENTS
15 cm / 6″ tacos, flour or corn (if GF)
chopped coriander
melty vegan cheese (optional)
shop-bought guacamole, to serve
hot sauce (I like Cholula), to serve
METHOD
SMOKY MINCE FILLING
Heat up 2 tbsp of oil in a large frying pan, add diced onion and sautee on a low heat until translucent, add garlic and sautee until fragrant and softened. Remove both from the pan and set aside.
Chop mushrooms into fine dice or mince in a food processor. but be sure not to overprocess.
Return the pan to the heat, add the mushrooms, season with salt and sautee until the mushrooms are dark brown, shrunk and all the excess water has evaporated.
Stir another tablespoon of oil through and continue to fry for another minute or two.
Return fried onion and garlic to the pan, add tofu torn with your hands (leave some pieces chunky), chopped walnuts, dry spices, chipotle paste (adjust to your taste), soy sauce and salt, pepper to taste.
Stir everything through, add tomato passata and about a cup (250 ml) of water. Simmer until super thick (about 40 minutes), stirring regularly.
Stir a can of drained black beans through the filling and adjust the seasoning to taste – I add a touch of sweetness (date syrup or sugar) and a good squeeze of lime.
Store in the fridge overnight to allow the flavours to deepen.
ASSEMBLY
Heat up a cast iron (or another trusted) skillet on a low-medium heat. Grab a small bowl filled with oil and a silicone brush.
Place a generous layer of filling on half of each taco, follow up with your favourite melty vegan cheese (if using) and chopped coriander. Fold in half.
Fold the taco over the filling and brush the folded over side with some oil. Place on a preheated pan and fry on low heat until golden brown (2-3 minutes). Brush the other side with oil and fry until golden.
Serve warm, alongside some guacamole and a hot sauce of choice.
NOTES
* If you don't enjoy tofu, you can use soy mince, firm (Puy or brown) lentils, ground up chickpeas or more mushrooms (meaty ones like king oyster would be perfect).
NUTRITIONAL INFO
*per 1 out of 16 tacos without vegan cheese