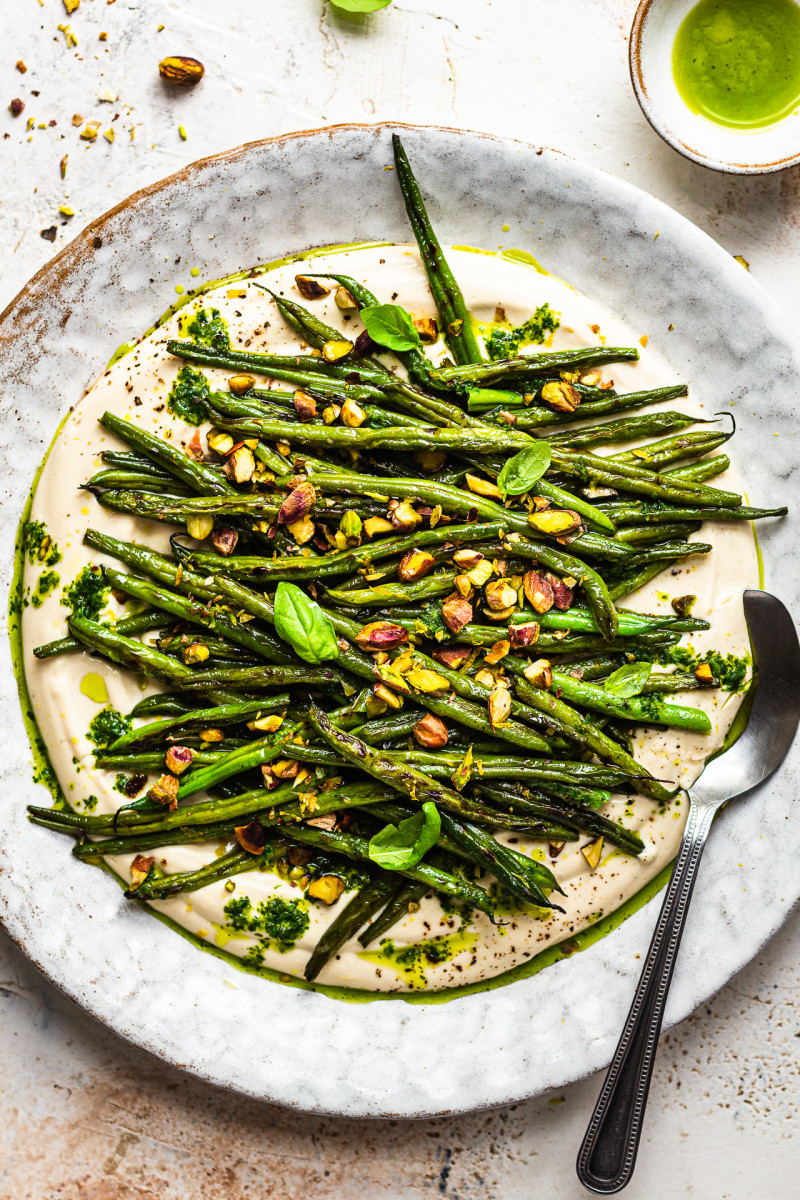 It's been so hot in the past week here that cooking is the last thing on my mind. After a bit of a washout summer, UK went into a heatwave as soon as September has rolled in.
When it gets this hot, I go into my Greek summer mode and subsist on a diet of cappuccino freddos and sorbets, but one has to eat too, right?
As green beans are very much in season now, I concocted this simple green bean platter that is easy to make, requires very little cooking and is gorgeous to look at too. It goes well with a piece of nice bread (I like toasted Turkish pide) and some other mezze dishes if you are feeling ambitious…
MORE ABOUT THE INGREDIENTS
GREEN BEANS: Green beans are the key ingredient here. I used fine green beans, but any fresh green beans would work including runner beans, which you could cut into diagonal ribbons like I did in this recipe.
PISTACHIOS: Lightly toasted pistachios offer a pop of colour and a delicious crunch. If you cannot find them, use almonds (including flaked almonds) or walnuts – both of them will work just well with the flavours in this dish.
SPRING ONIONS/SCALLIONS: I used green spring onion (scallion) tops in combination with fresh basil to create a vibrant green pesto (or oil if you strain it after making) drizzle. It adds flavour and colour to the dish. Be sure to clean those green tops very thoroughly as grit likes to sit inside them.
BASIL: I used a bit of fresh basil to balance the flavour of the oil. You want the leaves only, not the stalks.
OLIVE OIL: Olive oil is pretty self explanatory. I recommend using extra virgin for the green oil and cooking olive oil is perfectly fine for frying the beans.
VEGAN YOGHURT: Pick a vegan yoghurt with neutral flavour, which you like eating on its own. If it's quite sour, hold off on adding lemon juice (just add the garlic leaving lemon juice behind) as it may not need it.
TAHINI A couple of tablespoons of tahini improve yoghurt's viscosity and add a dose of creaminess and a hint of nuttiness. I used hulled tahini, with it lighter in colour and flavour, but if you prefer tahini made with unhulled sesame seeds you can use that too.
LEMON I used a small amount of lemon juice (just a hint as yoghurt is naturally quite acidic) and a zest of a small lemon to infuse the dish with a subtle lemon flavour.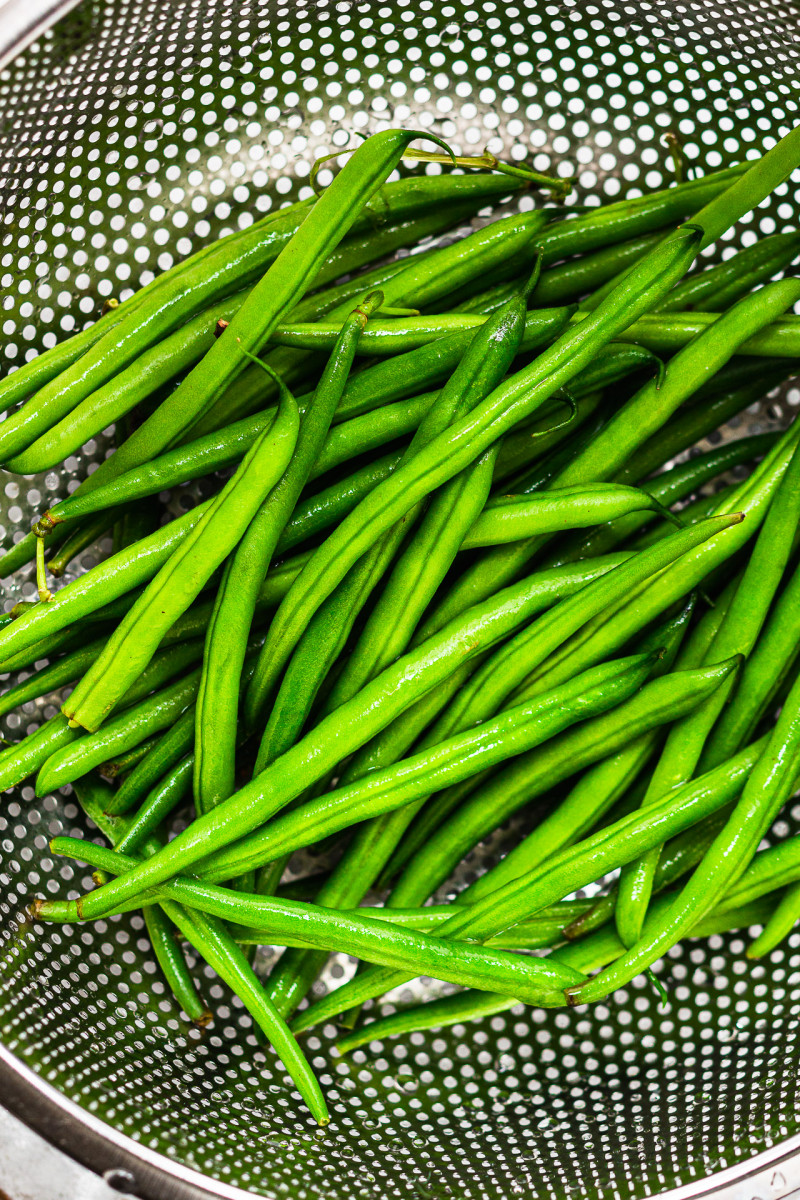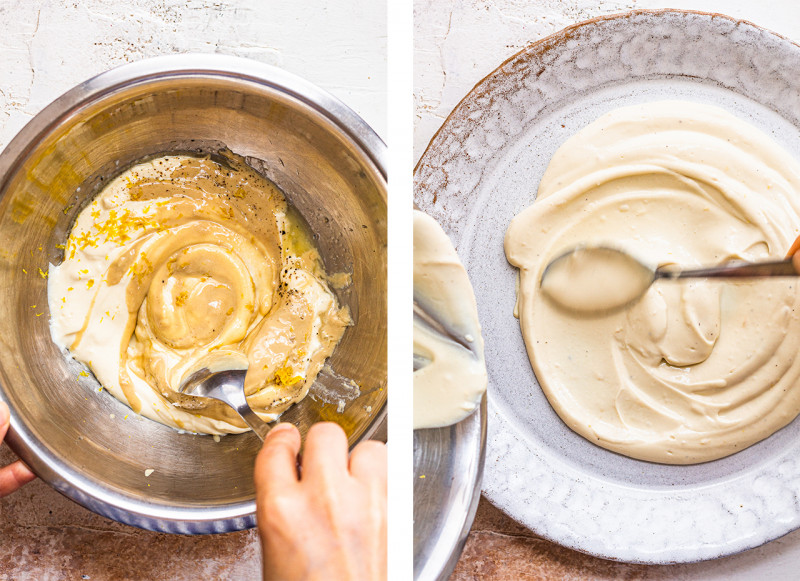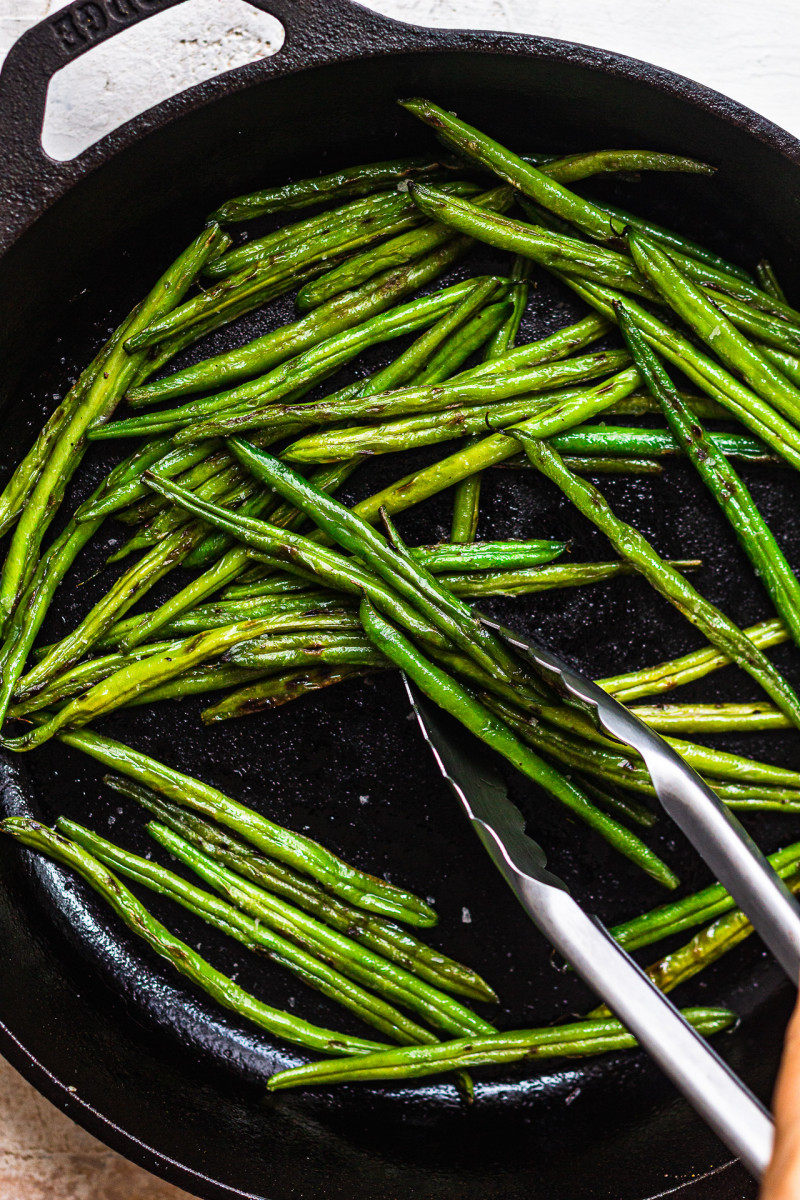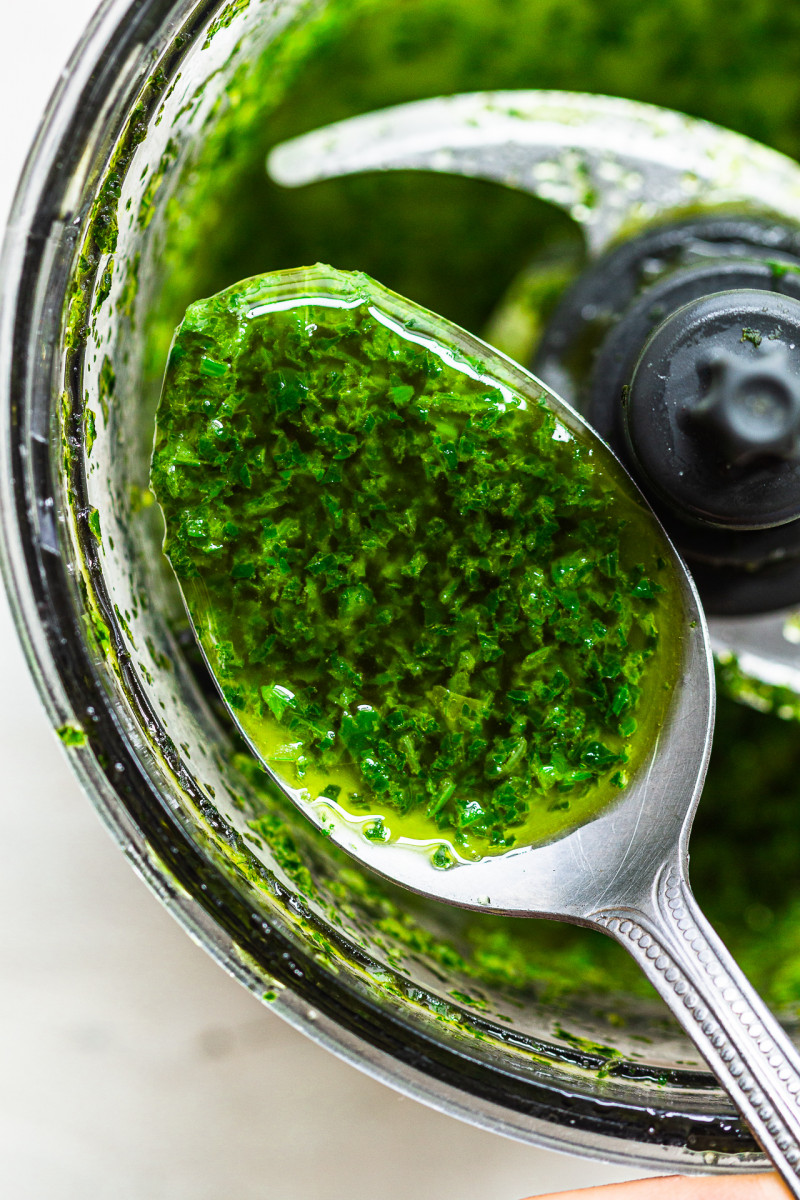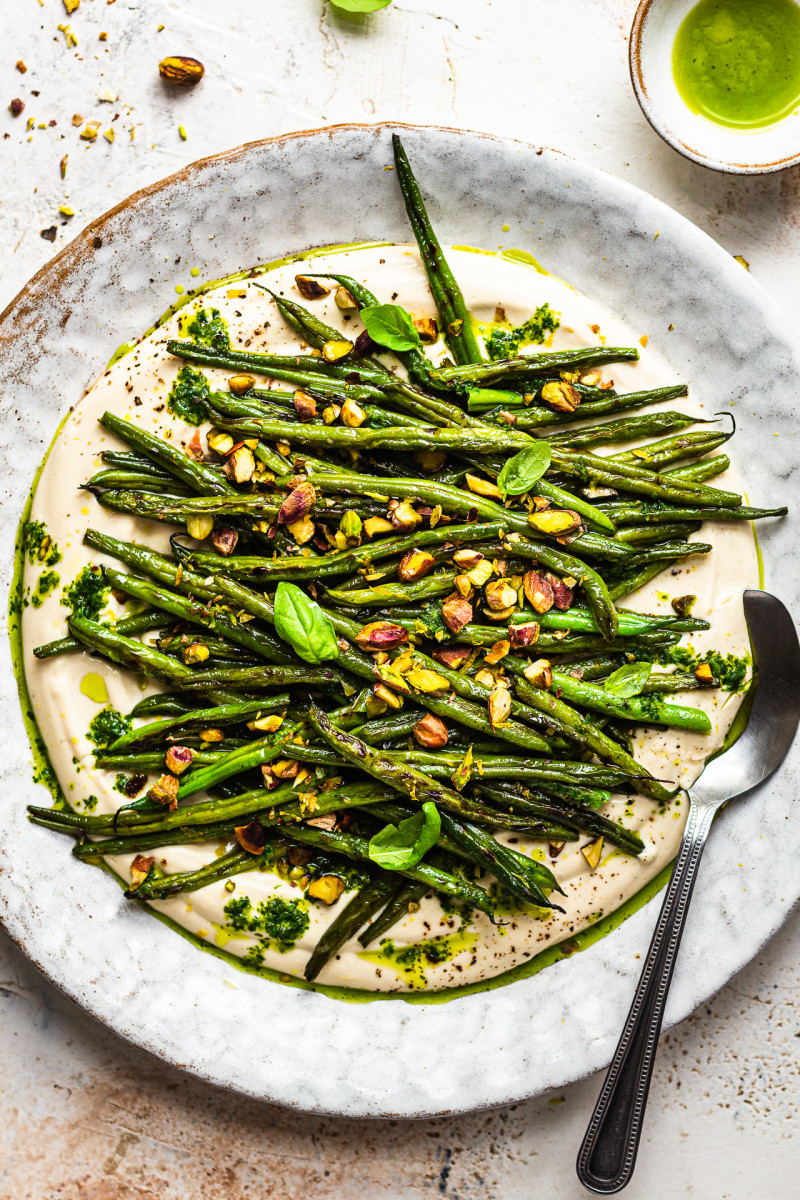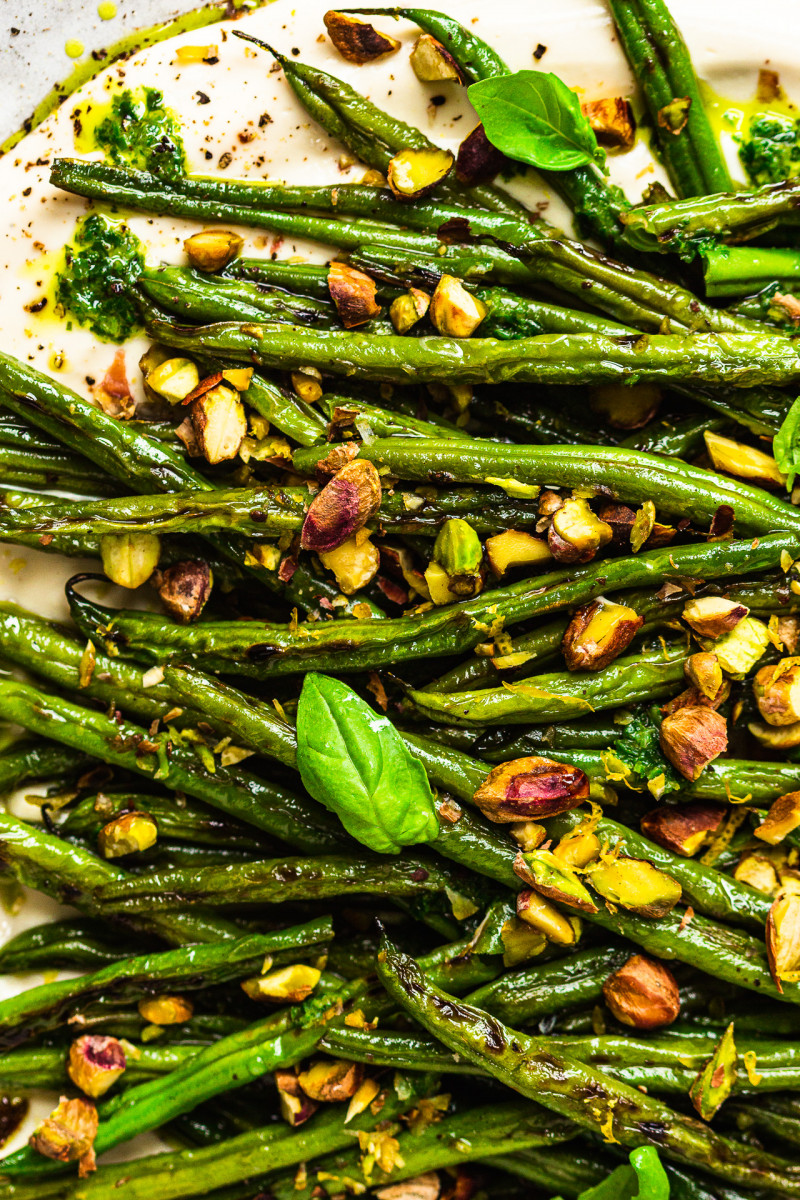 30 g / 1 oz pistachios (almonds or walnuts work too!)
250 g / 1¼ cups neutral vegan yoghurt
30 g / 2 tbsp hulled tahini
1 garlic clove, finely grated and soaked in 1 tbsp lemon juice
1 small lemon, zest and 1 tbsp juice
salt & pepper
300 g / 10 oz green beans, I used fine green beans
GREEN PESTO/OIL
15 g / 0.5 oz basil leaves (not stalks) + more to garnish
green tops from 1 spring onion/scallion, well cleaned
45 ml / 3 tbsp extra virgin olive oil
METHOD
Combine vegan yoghurt, tahini, zest of half a lemon (save the rest for plating), garlic in lemon juice and salt and pepper. Mix until well combined and set aside.
Prep the beans, wash them and dry them well.
Heat up a heavy (I used cast iron) skillet on a low heat, add pistachios and toast them until fragrant and lightly browned, tossing frequently. Remove from the pan and set aside, wipe the pan clean.
Increase the heat to medium, swivel half a tablespoon of oil in the skillet and throw in half of the beans.
Cook on a medium heat, tossing now and then, until soft and blistered in places. Remove cooked beans from the pan and carry on with the other half. Salt generously.
Transfer yoghurt dip to a serving platter, use the back of the spoon to flatten it and shape it.
Pile seasoned beans of top, scatter with chopped pistachios and drizzle with green pesto/oil (if using) or olive oil.
GREEN PESTO/OIL* (optional)
Boil a small pot of water.
Prepare a bowl of cold water with a few ice-cubes.
Place spring onion/scallion tops and basil leaves in the boiling water for a few seconds. Remove as soon as the colour becomes vibrant green (basil take about 5-10 seconds, scallions 15 seconds).
Plunge blanched greens into the ice water immediately. Remove from the water, dry on a kitchen towel.
Place dried greens in a mini food processor/chopped, add about 3 tbsp (45 ml) of extra virgin olive oil and a good pinch of salt. Whizz until well chopped.
You can strain this mixture using a fine muslin cloth to separate the oil, but I didn't bother. Store in the fridge for up to 5 days.
NOTES
*GREEN PESTO/OIL – it's best made a day ahead.