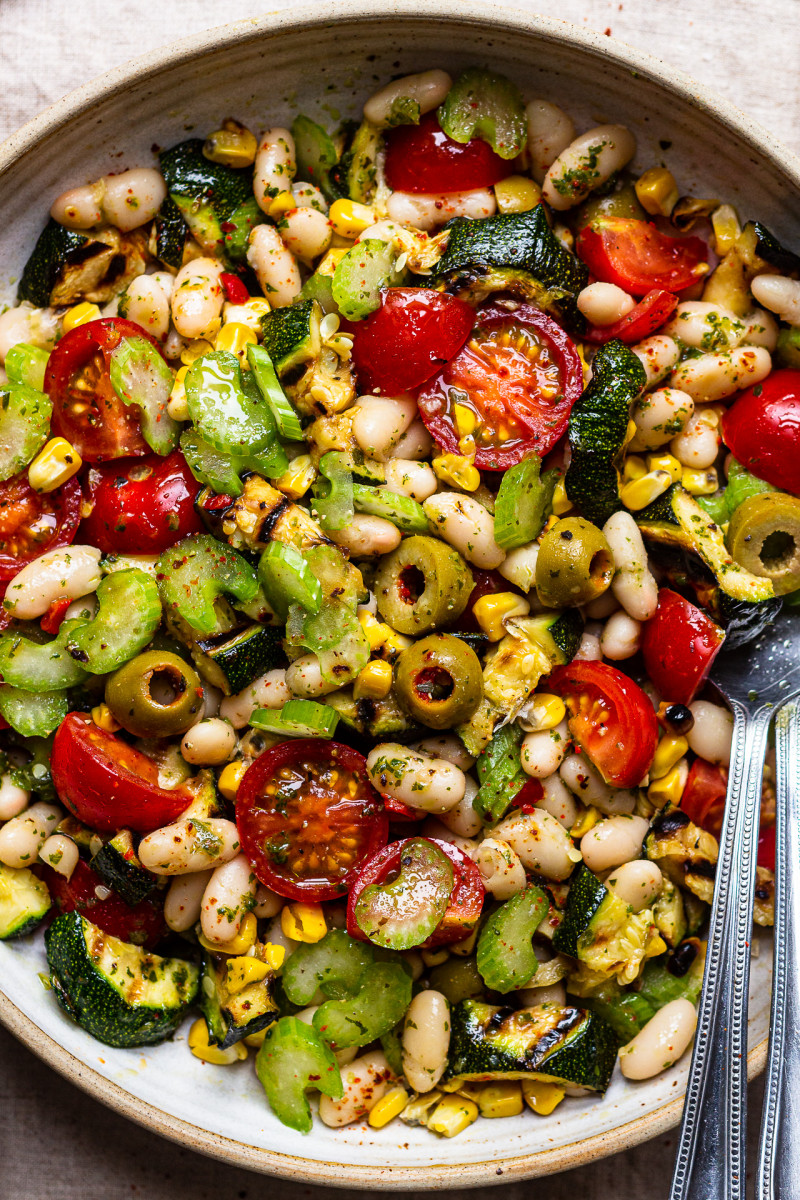 Today's recipe is a simple yet nourishing salad featuring white navy beans and a bunch of late summer vegetables. While the weather is progressively getting autumnal, we've had a few sunny days the past week so I haven't yet broken up with salad and lighter food. This white bean salad with summer vegetables has been my latest go to. It uses only a few staple ingredients, is easy to make and keep rather well so it's perfect for making in advance too.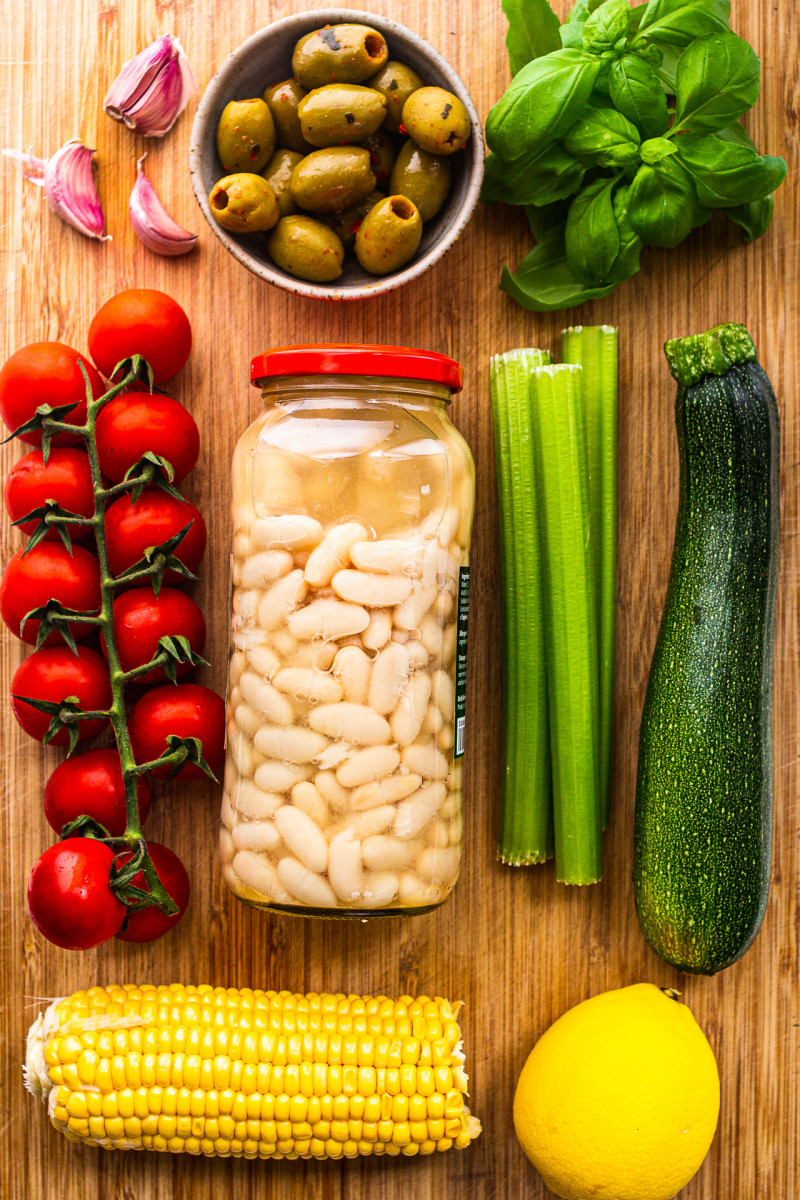 MORE ABOUT THE INGREDIENTS
ZUCCHINI: Chargrilled zucchini is probably my favourite way of enjoying zucchini and it features heavily in all my summer meals. For this salad, you want fairly thick slices charred well, they will add beautiful smoky flavour and meaty texture to this simple white bean salad.
CORN ON THE COB: Corn on the cob is my favourite late summer produce. I love charring it on my griddle pan and I usually cook four at the same time and then use them throughout the week to incorporate into salads, soups and to snack on.
WHITE NAVY BEANS: White navy beans, also known as cannellini are one of the most popular and easily accessible bean varieties. They are quite natural in flavour and rich in protein, an ideal way to bulk up your meals.
TOMATOES: Sweet, late summer tomatoes are what September is all about. I used cherry variety as it's sweeter and less watery, but any tomatoes you enjoy will work.
CELERY: I added some fresh celery for added crunch and extra nutrition.
GREEN OLIVES: I like briny flavour of olives in this salad. I went for giant green olives marinated in chilli but any olives you enjoy will work well.
LEMON Lemon juice and zest give the dressing a little zing. Use as much lemon juice as you like, I personally think that 2 tbsp is plenty here.
OLIVE OIL Extra virgin olive oil makes for a great salad dressing.
GARLIC I used one garlic clove steeped in fresh lemon juice for 10-15 minutes to give this simple dressing a bit of umami. Lemon juice takes the harshness out of the garlic, but you can skip the waiting if you don't mind raw garlic taste.
BASIL A generous handful of basil leaves add a beautiful flavour to the dressing. You can either pulverise the leaves in a mini chopped alongside other ingredients or simply chop them up really finely and stir through the salad along with the dressing.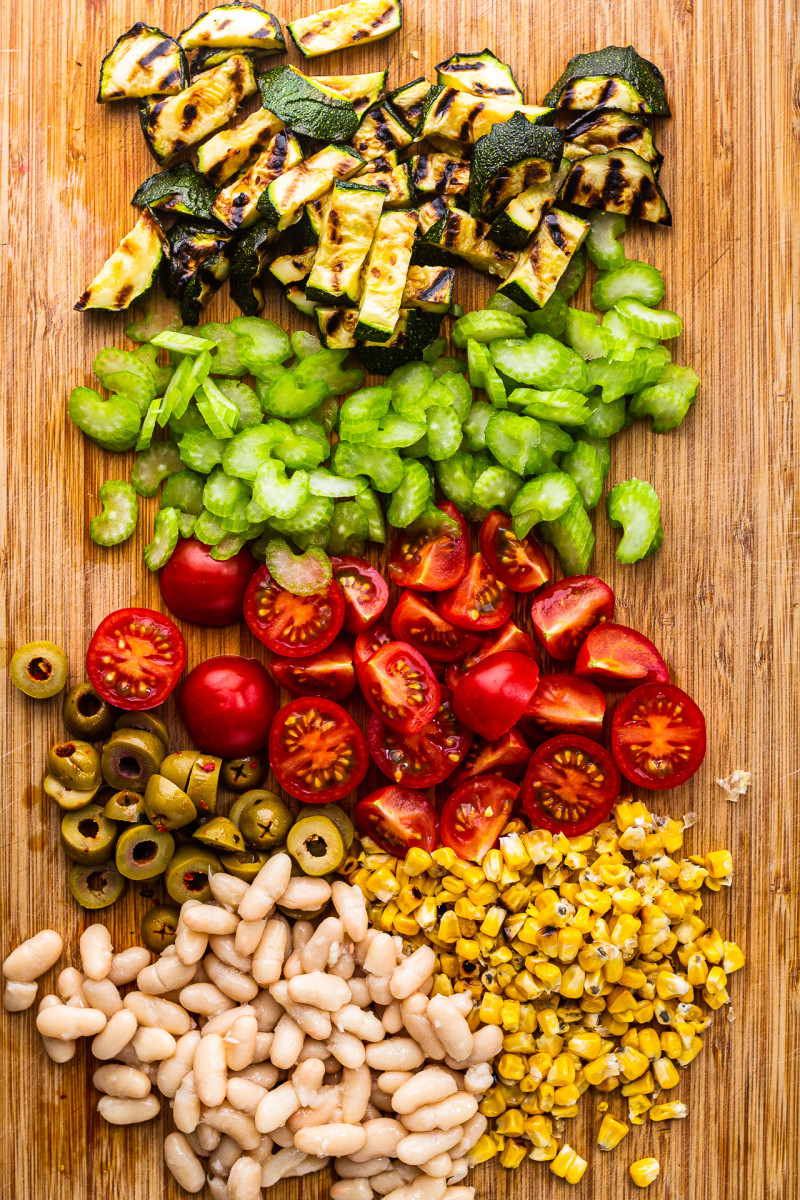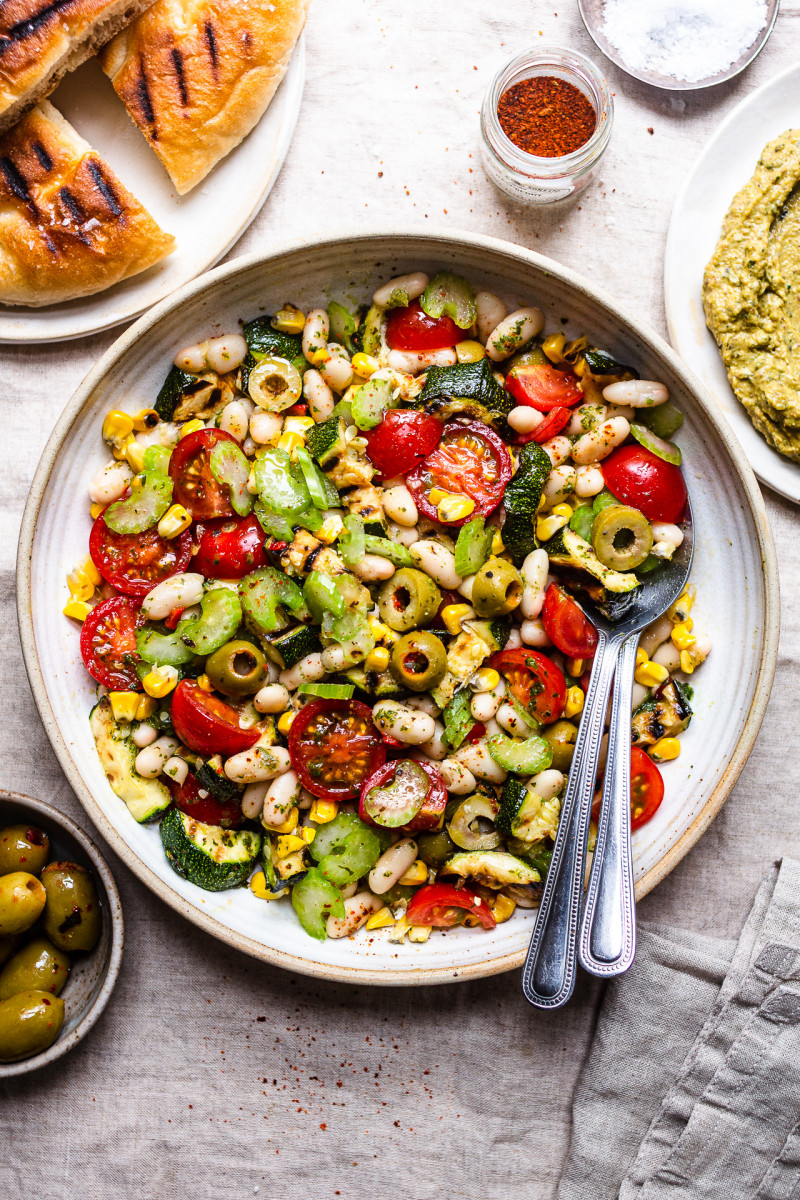 2 small zucchinis
1 corn on the cob
400 g / 14 oz white beans (cannellini), drained
200 g / 7 oz cherry tomatoes, quartered
3 celery stalks, finely sliced
12 large green pitted olives, chopped
DRESSING
30 ml / 2 tbsp lemon juice + zest of 1 small lemon
1 garlic clove, grated finely
15 g / 0.5 oz fresh basil, leaves only
45 ml / 3 tbsp olive oil, more for brushing
salt & pepper, to taste
METHOD
Preheat a griddle pan. Cut zucchini into 0.5 cm / 0.2″ thick slices on the diagonal.
Brush corn and zucchini slices with olive oil and arrange on the preheated pan. Allow them to cook undisturbed until charred on all sides – turning the corn every 3 minutes or so.
Cut zucchini slices into pieces and shave corn kernels off the cob.
Combine charred vegetables with drained beans, tomatoes, celery stalks and pitted olives in a bowl.
Stir the dressing (or dressing and chopped basil) through the salad.
DRESSING
Combine grated garlic clove and lemon juice in a small bowl. Set aside – lemon juice will take the harshness out of the garlic.
Place basil leaves, olive oil, lemon juice, garlic and lemon zest in a mini chopper. Blitz well and season to taste. Alternatively, chop basil leaves really finely and combine dressing ingredients in a small bowl.