Learn how to make vegan pie crust! This recipe yields a tender, flaky crust that's easy to make in the food processor and delicious in any pie recipe.
This vegan pie crust recipe rivals any regular pie crust I've tried. It has a perfect tender, flaky texture, and it's easy to make in the food processor with just 4 ingredients. Even beginners can pull it off!
I adapted this vegan pie crust from my all-butter pie crust, making a few minor tweaks to the recipe. For starters, I used dairy-free butter and omitted the salt because good-tasting vegan butter is always salted. Then, I reduced the amount of butter in the recipe. Vegan butter is significantly softer than regular butter, so I needed less to make a pliable dough.
It baked up beautifully into my new go-to vegan pie crust! I'm sharing my best tips for making it below. If you try this recipe, I hope you love it as much as I do.
How to Make Vegan Pie Crust
This delicious vegan pie crust recipe starts with 4 key ingredients:
Ingredients
Vegan butter – I've previously tried making vegan pie crust with coconut oil and vegetable shortening, but vegan butter yields the best results by far. Make sure to choose a type that comes in sticks—NOT a tub. Earth Balance Buttery Sticks are my favorite.
All-purpose flour – Spoon and level it to avoid packing too much into your measuring cup.
Ice water – It brings the dough together. Make sure it's very cold so that it doesn't melt the butter!
Apple cider vinegar – A small splash keeps the crust nice and tender.
Find the complete recipe with measurements below.
Making The Pie Crust
Before you start: Make sure the vegan butter is cold from the fridge! The cold butter is key for making a crust with optimal flakiness. You want it to melt when it's in the oven…not before!
Ok, so you have your cold butter. Let's make the pie crust!
In a traditional pie crust recipe, you'd work the butter into the flour with a pastry cutter or your fingers and add ice water until the dough just comes together. Though this method can work really well, I prefer one that J. Kenji Lopez-Alt developed for Cook's Illustrated in 2007. Here's how it goes:
First, thoroughly combine some of the flour with the butter. Place 1 2/3 cups of the flour in a food processor. Slice the butter into thin pats and scatter them on top.
Pulse until there is no dry flour remaining. The flour and butter will start to form clumps.
Then, pulse in the remaining flour. Scatter it on top of the mixture in the food processor and briefly pulse to form a crumbly dough.
Next, add the liquid. Transfer the dough to a large mixing bowl and sprinkle in the cold water and vinegar. Use a spatula to fold and press the dough until it comes together into a ball.
Tip: Don't hesitate to use your hands! Once the dough starts to come together, I often ditch the spatula and start kneading the dough with my hands to work in the last bits of dry flour.
You're ready to chill the dough. Divide the dough ball in half. Flatten each half into a 1-inch-thick disk. Wrap each tightly in plastic wrap and chill for at least 2 hours and up to 2 days.
Why I Like This Method
I think it's much more foolproof than the traditional technique. Fully combining some of the flour with the butter makes the dough far more pliable and easy to work with. The crust also comes out consistently tender, as you only develop the gluten in the second addition of flour.
Rolling Out The Dough
After the dough chills, you can roll it out for your desired pie recipe. This vegan pie crust recipe yields enough dough for one 9- or 9.5-inch double crust pie or 2 single crust pies.
Place the dough disk on a lightly floured surface. Use a rolling pin to roll it out to about 1/8-inch thick, rotating the dough a quarter turn every few rolls. I also like to dust the top with flour and flip the dough over a few times as I roll it out.
Tip: Make sure to move the dough around as you roll it out. If you don't rotate or flip it, it can completely stick to your work surface!
To transfer the dough to a pie dish, roll it over your rolling pin and then unroll it over the pan. Use your fingers to press it firmly into the bottom and up the sides. If you have more than a 1/2-inch overhang on all sides of the pie plate, use a sharp knife or kitchen scissors to trim off the excess dough. Roll the edges of the dough under itself so that it's in line with the edges of the pie plate. Crimp with your fingers or a fork.
Bake according to your desired pie recipe!
Find the complete recipe with measurements below.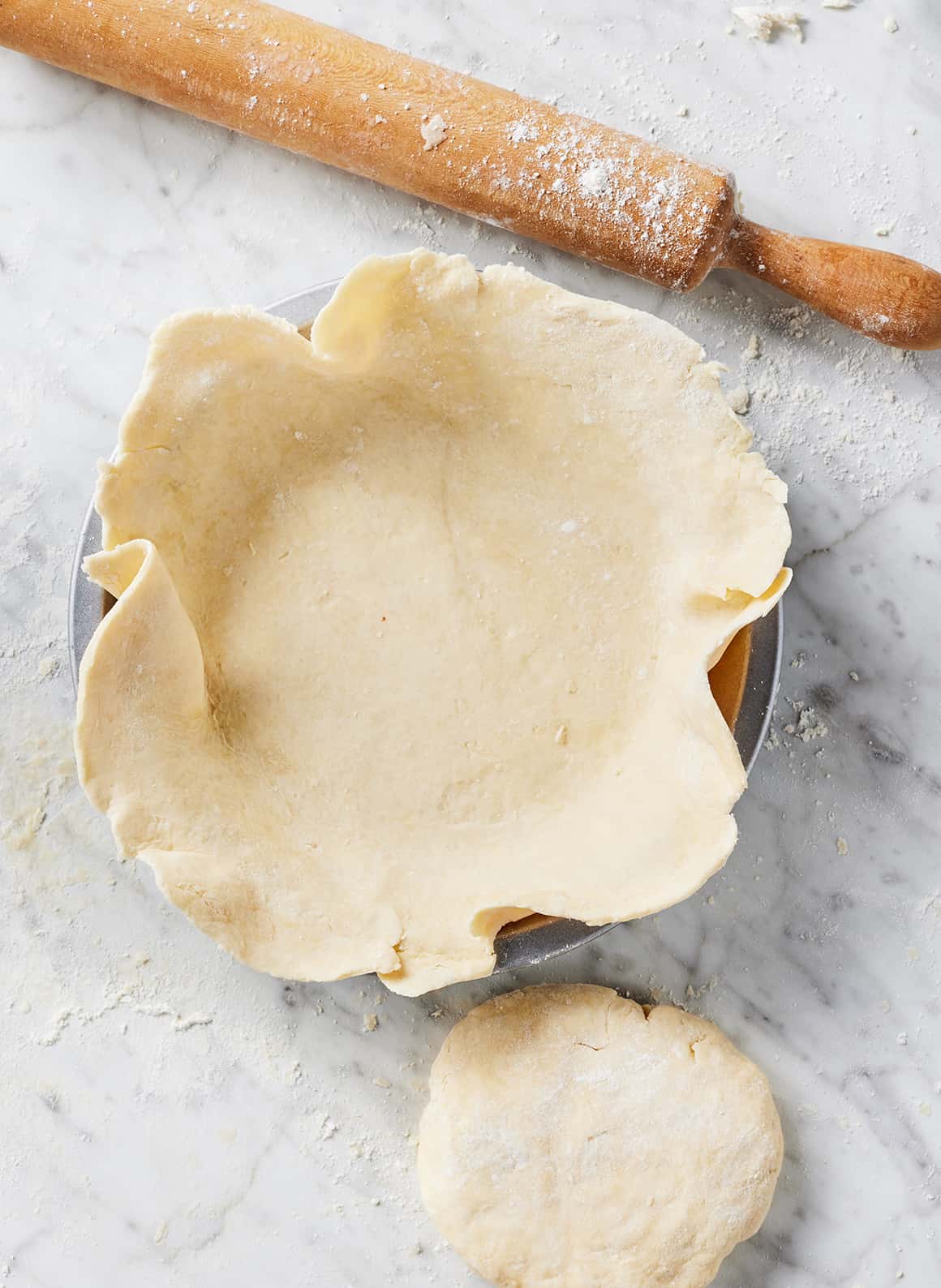 Best Vegan Pie Crust Tips
Choose the right vegan butter. Make sure that it comes in sticks—NOT a tub. I've had excellent results using Earth Balance Buttery Sticks in this recipe.
Start with cold ingredients. This helps prevent the vegan butter from melting while you form the pie dough, resulting in a flaky crust.
Chill the dough for at least 2 hours. Since flakiness is our goal, chilling the dough is essential. Don't cut the time short! You want the dough to be cold when you start rolling it out so that the butter melts once it's in the oven, not before.
Make It Ahead
This vegan pie crust recipe is perfect for making ahead!
Once you form the dough into disks and wrap them up, they keep well in the refrigerator for up to 2 days.
They also freeze well. Store the vegan pie dough disks in the freezer for up to 3 months. Transfer to the fridge to thaw before rolling and baking.
Favorite Pie Recipes
Use this easy vegan pie crust in any of these delicious pie recipes:
Looking for more plant-based treats? Check out these 30 Best Vegan Desserts!
Vegan Pie Crust
This easy vegan pie crust is tender, flaky, and delicious! Make sure to use vegan butter that comes in sticks—NOT a tub—for this recipe. I've had great results with Earth Balance Buttery Sticks. This recipe yields crust for 1 9- or 9.5-inch double-crust pie or 2 single-crust pies.
Prevent your screen from going dark
In a food processor, place 1⅔ cups of the flour. Pulse to spread evenly at the bottom of the bowl. Spread the butter pats evenly on top. Pulse until the butter is well combined with the flour and the dough starts to form clumps. There should be no dry flour remaining.

Spread the mixture evenly in the bowl of the food processor and sprinkle the remaining 1 cup flour on top. Briefly pulse until the dough becomes crumbly.

Transfer the dough to a large bowl and sprinkle the water and vinegar on top. Use a spatula to fold and press the dough until it comes together into a ball. If necessary, switch to your hands to knead in the last bits of dry flour. Divide the dough ball in half and form each half into a 1-inch-thick disk. Wrap each disk tightly in plastic wrap and chill for at least 2 hours, or up to 2 days.

To roll out the dough: Place 1 disk of the chilled dough on a lightly floured surface. Dust the top with flour, and use a rolling pin to roll it out into a large circle about ⅛-inch thick. If you invert your pie plate over the dough, the circle should be 1 inch larger than the edge of the pie plate on all sides. As you work, rotate the dough a quarter turn every few rolls to prevent it from sticking to your work surface. I also like to dust the top of the dough with flour and flip it over a few times during the rolling process.

To transfer the rolled-out dough to your pie plate, roll it over the rolling pin and unroll it over the pie plate. Use your fingers to press it firmly into the bottom and up the sides of the plate. Trim the edges of the dough so that there is a ½-inch overhang on all sides of the pie plate. Loosely cover the dough with plastic wrap and chill while you roll out the top crust.

Repeat the rolling process with the remaining dough disk, rolling it out into a large, ⅛-inch-thick circle.

Assemble and bake according to your desired pie recipe.

Makes 1 9 or 9½-inch double-crust pie or 2 single-crust pies