Whether you're seeking classic Thanksgiving recipes or something totally new, you're sure to love one (or more!) of these 50 Thanksgiving side dishes.
Roast turkey and pumpkin pie may have permanent spots on your Thanksgiving menu, but if you're anything like me, you like to throw new Thanksgiving side dishes into the mix every now and again. If you're looking for new Thanksgiving recipes, read on to find over 50 of my favorite Thanksgiving side dishes. With ideas ranging from classics like mashed potatoes and green bean casserole to inventive stuffings and soups, you're sure to find a dish (or two!) you'll love.
Classic Casserole and Stuffing Thanksgiving Recipes
If you want a classic Thanksgiving menu, these side dishes belong on your table. They include staples like green bean and sweet potato casserole, as well as a few unique twists on homemade stuffing.
Based on my mom's classic recipe, this rich, savory stuffing is my favorite part of Thanksgiving dinner. It's moist and gooey in the middle, crisp on top, and brimming with flavor from leeks, celery, and fresh herbs. Try it once, and you'll never get the boxed kind again!
You won't miss the marshmallows in this savory sweet potato casserole. I top a creamy, gingery layer of sweet potatoes with a crisp, toasty pecan crumble and plenty of fresh herbs.
No canned soup here! This from-scratch green bean casserole recipe features fresh green beans, crispy baked onions, and a rich, creamy homemade mushroom sauce.
Our kiddo LOVES this mac and cheese recipe, so it's a new staple among our family's Thanksgiving side dishes. It's insanely cheesy, so creamy, and baked with crispy breadcrumbs on top.
This hearty stuffing is made with crusty bread, fresh herbs, celery, onions, and mushrooms for an umami kick. Olive oil acts as a flavorful substitute for the traditional butter.
If having cornbread stuffing on your Thanksgiving table is a must, try this recipe for a fun twist! Mixed with poblanos and dried currants, it's delectably spicy and sweet.
Potato Thanksgiving Side Dishes
4 mashes, plus 3 delicious recipes for crispy roasted potatoes! Try any of them—among these Thanksgiving side dishes, you really can't go wrong.
I'm not exaggerating when I say that these are the best mashed potatoes I've tried! Loaded up with butter, milk, and sour cream, they're ultra-rich and blissfully creamy. Serve them topped with (more) butter or savory mushroom gravy.
Crispy on the outside, creamy in the middle, and tossed in a zingy lemon-rosemary dressing, these easy roasted potatoes are always a hit.
I make these creamy mashed potatoes without any dairy! They get their luscious texture and rich flavor from olive oil, roasted garlic, and a good splash of starchy potato cooking water.
These retro potatoes are cut into thin slices most of the way through but left intact at the bottom. They look impressive and taste DELICIOUS, with crisp edges, tender middles, and lots of garlic butter on top.
Score yourself some extra space on the stove this Thanksgiving, and make your mashed potatoes in the Instant Pot! They're smooth, creamy, rich, buttery, and SO darn convenient. One of our new favorite Thanksgiving side dishes!
Served hot from the baking sheet, these tasty taters have ultra-crispy edges. Dress them up with sprinkles of Parmesan cheese, fresh herbs, and red pepper flakes.
If you're a fan of creamy mashed potatoes, you'll love this recipe! You can't taste the cauliflower, but it makes these mashed potatoes extra fluffy, smooth, and light.
Sweet Potato Thanksgiving Side Dishes
Not one for sweet potato casserole? Try one of these Thanksgiving side dishes instead!
Jack goes crazy for regular mashed potatoes, but me, I'm obsessed with these mashed sweets. They're super smooth and creamy, and ginger and rosemary fill them with cozy fall flavor.
Good Thanksgiving recipes don't have to be complicated! With crispy skins and smooth, sweet flesh, these easy baked sweet potatoes would be a delicious addition to your Thanksgiving menu.
This easy side dish will be a sleeper hit on your Thanksgiving table. The medley of roasted sweet potatoes and humble root veggies looks unassuming, but it's incredibly flavorful, drizzled with an infused sage oil and topped with crispy sage leaves.
This simple pilaf is flecked with tender roasted sweet potatoes, shaved Brussels sprouts, dried cranberries, and herbs. It would be a fresh, festive alternative to sweet potato casserole–or even stuffing–on a Thanksgiving menu.
Vegetable Thanksgiving Side Dishes
Looking for the crispiest Brussels sprouts? The best-ever green beans? A few out-of-the-box recipes to freshen up your holiday rotation? These are the Thanksgiving side dishes for you.
A zingy lemon Parmesan dressing takes these crispy roasted Brussels sprouts over the top.
This recipe is the perfect last-minute Thanksgiving side dish. You can make it in 15 minutes, and it's fresh, bright, and delicious. Use coconut milk to make it dairy-free!
A tangy yogurt sauce and sprinkles of nutty, aromatic dukkah balance the natural sweetness of these vibrant roasted carrots.
Oven at its max? Sauté your Brussels sprouts instead of roasting them.
Sage, rosemary, and an apple cider vinaigrette add bold autumn flavor to these colorful roasted veggies.
Skip the green bean casserole this year, and add these glossy green beans to your Thanksgiving menu instead!
This creamy mash is lighter than mashed potatoes, but it's no less delicious.
Even meat lovers will fall for this velvety (vegan) mushroom gravy! It's perfect for ladling over mashed potatoes, stuffing, and more.
Roasted with honey and balsamic, these sprouts are crispy, caramelized, and packed with amazing sweet and tangy flavor.
The ultimate make-ahead Thanksgiving side dish! You can roast the beets up to 3 days before the big meal. Then, toss them with herbs, oranges, and a squeeze of lemon when you're ready to eat.
Dress up simple roasted cauliflower with lemon zest and fresh herbs, and it becomes a delectable Thanksgiving side dish! The cauliflower is good warm or at room temperature, so feel free to roast it up to a few hours in advance.
This recipe is one of the simplest Thanksgiving side dishes, and if you ask me, it's also one of the best. Featuring a lemon dressing and fresh thyme, it's bright, colorful, and easy to make.
Squash Thanksgiving Side Dishes
I can never plan a Thanksgiving menu without including a squash recipe. It's one of the most versatile, flavorful veggies of the season. Why not show it off in our autumn feast?
If you're serving vegan or vegetarian guests at Thanksgiving, this recipe would be a great one to add to your menu. The hearty stuffed squash is a fantastic meatless main, but if you're tucking into turkey, it'll make an excellent side dish, too.
This recipe falls into my favorite category of Thanksgiving side dishes: those that showcase fall produce at its finest. It's a delicious, sweet and savory mix of squash, apples, kale, and fresh herbs.
Have you tried honeynut squash? This mini butternut has exceptionally sweet, creamy flesh. Roasted with a maple glaze and served over whipped ricotta, it would be a delicious addition to your Thanksgiving table.
This ultra-creamy macaroni and cheese will be a HUGE holiday hit! Pureed roasted squash, ground sage, and nutmeg add cozy fall flavor to the luscious sauce.
Roasted with maple syrup, olive oil, herbs, and salt and pepper, this acorn squash is a simple, elegant Thanksgiving side dish.
My sesame ginger dressing adds savory, nutty flavor to these creamy wedges of roasted kabocha squash.
An easy, last-minute side dish that doesn't skimp on flavor! You only need olive oil, salt, pepper, and a sprinkle of herbs to make simple roasted butternut squash a Thanksgiving-worthy side dish.
Salad Thanksgiving Side Dishes
These Thanksgiving side dishes will add a bright pop of color and fresh flavor to your holiday meal.
Don't mistake this recipe for a plain old green salad! Even though it's easy to make, it tastes sophisticated and complex. Sweet, juicy roasted grapes mingle with nutty Parmesan and crunchy roasted almonds, and a bright lemon vinaigrette ties it all together.
This recipe is always a crowd pleaser! My easy Greek yogurt Caesar dressing fills it with tangy, briny flavor.
Nutty farro plays off sweet apples and dates, a tangy dressing, and bitter greens in this simple, yet unexpected, salad. To get ahead, cook the farro and make the dressing a day in advance.
A simpler, fresher alternative to classic green bean casserole.
For a really gorgeous Thanksgiving side dish, make this salad with as many types of beets as you can find. Filled with jeweled yellows, pinks, and reds, it'll be a stunning addition to your holiday menu.
This salad is basically fall in a bowl! It's packed with roasted squash, nutty wheat berries, dried cranberries, fresh sage… Could anything be more autumnal?
Whisk together the balsamic vinaigrette a day or two ahead of time, and this pear salad will be a breeze to assemble right before you eat.
A lightly creamy, cumin-spiced dressing adds earthy, aromatic flavor to this roasted squash salad.
Add tons of color to your Thanksgiving table with this rainbow kale salad! To get ahead, you can toss the kale with the vibrant dressing up to two days in advance. Then, sprinkle on the toppings right before you eat.
Slaw Thanksgiving Recipes
When it comes to Thanksgiving side dishes, slaws are often overlooked. But in my opinion, they're a fantastic addition to a holiday menu. They offer a crisp, refreshing contrast to heavier fare like stuffing and mashed potatoes. Plus, they're perfect for making ahead!
I bring this salad to my family's Thanksgiving dinner every year. It has 8 ingredients, it's lemony and bright, and it keeps well if you make it ahead of time. What's not to love?
This recipe only gets better if you make it ahead of time. Toss the broccoli, onion, and cranberries in the lightly creamy, tangy dressing up to 2 days in advance. Just wait to add the smoky roasted nuts until right before you eat.
If you're looking for Thanksgiving sides that are easy to pull together at the last minute, this sweet and tangy slaw is for you. It's made with just 10 ingredients and comes together in no time.
Soup Thanksgiving Recipes
Soup is a perfect way to start a Thanksgiving meal. It's simple, comforting, flavorful. And conveniently, it almost always tastes better on the second day than it does on the first. If you can, I highly recommend making these Thanksgiving recipes ahead.
Ginger, rosemary, and sage infuse this creamy butternut squash soup with warming autumn flavor.
Your guests will never guess that this creamy cauliflower soup is totally dairy-free! It's rich and velvety, but blended cauliflower – not milk or cream – creates its luscious texture.
I love the way that crunchy toppings contrast with this sublimely creamy, cozy soup. Pile your bowl with toasted pepitas or homemade croutons before you dig in!
This cream of mushroom soup is too good to hide in a green bean casserole! Savory, tangy, and rich, it's a recipe that deserves to be enjoyed on its own.
Wild rice is a Thanksgiving staple, and it shines in this lightly creamy soup. Along with the nutty rice, aromatic veggies, herbs, and miso round out its complex, crave-worthy flavor.
Rich with coconut milk and curry spices, this creamy vegan soup will add lively, unexpected flavors to a traditional Thanksgiving dinner.
Bread Thanksgiving Side Dishes
Cross that bread off your grocery list! Instead of buying it, try making your own at home. Though they might seem intimidating, these Thanksgiving recipes are all easy to make. Even if you're a novice baker, the results will be terrific.
Mashed potatoes, sweet potato casserole, green bean casserole, gravy… Just add these soft, fluffy dinner rolls to the menu, and you'll have checked every box for a classic Thanksgiving feast.
Once you try this recipe, you'll wonder why it wasn't one of your go-to Thanksgiving side dishes all along. The focaccia is chewy and rich, with extra depth of flavor from rosemary, sea salt, and roasted garlic.
They deliver everything you love about dinner rolls (they're soft! they're fluffy!) PLUS an extra kick of savory garlic flavor. Keep an eye on them once you take them out of the oven, or they might all disappear before they make it to the Thanksgiving table.
Moist, tender, and lightly sweet, this easy homemade cornbread will be a welcome addition to your Thanksgiving meal.
Like your cornbread spicy? Me too! In addition to the jalapeños, I mix in scallions and cheddar cheese for sharp, savory flavor.
You can never go wrong with good crusty bread.
And Cranberry Sauce
Because you couldn't make a list of Thanksgiving side dishes without it!
Thick, tart, and jammy, it's SO much better than the kind from a can.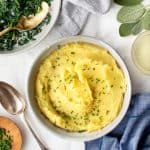 50 Thanksgiving Side Dishes: Easy Mashed Potatoes
Serves 4 to 6
Prevent your screen from going dark
Use the back of a chef's knife or a small masher to mash the roasted garlic into a paste before incorporating into the mashed potatoes. Set aside.

Place the potatoes and 1 teaspoon of salt in a large pot and fill with enough water to cover the potatoes by 1 inch. Bring to a boil and cook until fork tender, about 20 minutes. Drain, reserving 1 cup of the cooking liquid.

Use a ricer or a potato masher to mash the potatoes into a large bowl. Use a rubber spatula to fold in the roasted garlic, olive oil, ½ cup of the reserved cooking liquid, 1 teaspoon salt, and several pinches of pepper. Continue folding until creamy, adding up to ½ cup more cooking liquid if desired for creamier potatoes. Serve hot with butter, rosemary, and chives, if desired.