This homemade mac and cheese recipe will be a hit with the whole family! It's insanely cheesy, so creamy, and baked with crispy breadcrumbs on top.
If your family is anything like ours, then this baked mac and cheese recipe will be a huge hit. Jack can't get enough of it, I keep finding myself going back for more, and our kiddo has been asking for "MAC!" ever since the first time he tried it. It's creamy, it's cheesy, and it's packed with gooey noodles and crispy, toasty breadcrumbs. Seriously, comfort food doesn't get better than this.
I've been wanting to add a baked macaroni and cheese recipe to the blog for a while now. A few years back, I ran an Instagram poll about holiday sides, and so many of you said that homemade mac and cheese was one of your favorites. I hope this recipe makes it onto your Thanksgiving or Christmas table this year. If not, we can attest that it's a delicious everyday dinner too. Enjoy!
Homemade Mac and Cheese Recipe Ingredients
If you're used to eating mac and cheese from a box, get ready. This homemade macaroni and cheese is on a totally different level. Here's what makes it so great:
Macaroni, of course! This cute elbow pasta is perfect for cradling the cheesy sauce.
Sharp cheddar and Gruyere cheese – I LOVE this combo in my baked mac and cheese! The cheddar is tangy, the Gruyère is nutty, and both melt into an amazingly creamy sauce.
Butter, flour, and whole milk – These ingredients form a simple béchamel sauce, the starting point for the cheese sauce in this recipe. You'll use the butter and flour to make a roux, which will thicken the sauce. Then, you'll whisk in the milk to give the sauce rich body.
Garlic – For sharp depth of flavor.
Dijon mustard – Many classic mac and cheese recipes call for mustard powder, but because I always have Dijon mustard on hand, I add it instead. It gives the sauce delicious tang.
Smoked paprika – For a subtle smoky taste.
Coarse breadcrumbs – To make them, just pulse a couple slices of good bread in a food processor until they're coarsely ground. Once they toast in the oven, they create a crispy topping for the creamy mac and cheese.
Extra-virgin olive oil – You'll toss it with the breadcrumbs to help them crisp up as they bake.
Pecorino cheese – Ok, yes, there are three kinds of cheese in this recipe! I add the pecorino to the breadcrumb topping to give it a salty, cheesy kick.
And salt and pepper – To make all the flavors pop!
Find the complete recipe with measurements below.
What is the best cheese for mac and cheese?
It's a personal question! I think cheddar and Gruyere are the best cheeses for mac and cheese because they both have a sharp, nutty flavor and melt well.
I highly recommend using them in this recipe, but if you want to change it up, by all means, do! Any cheese that melts well would work here, such as…
Gouda
Mozzarella
Monterey Jack
Swiss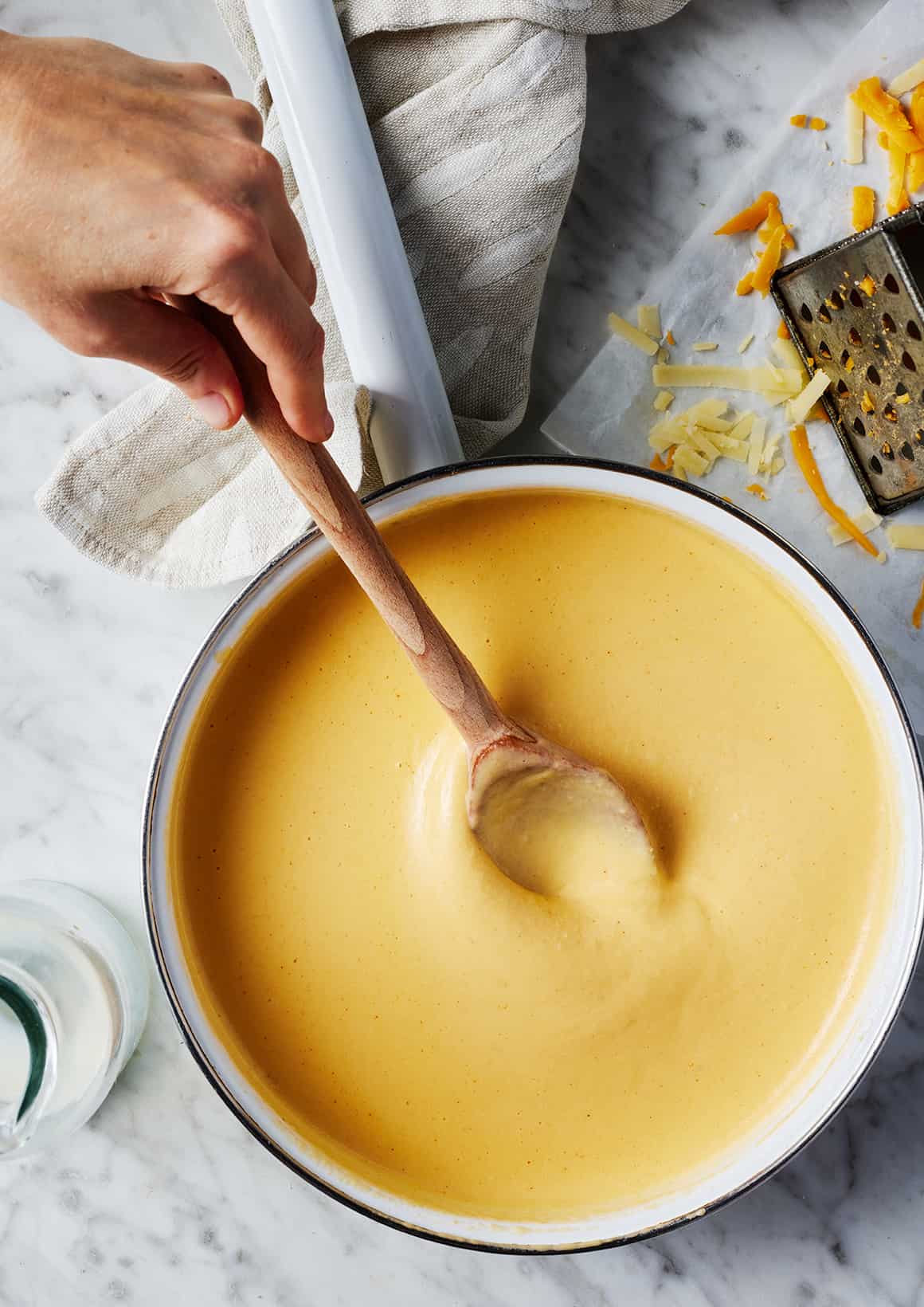 How to Make Baked Mac and Cheese
Ready to make this homemade mac and cheese recipe?
Start by prepping the breadcrumb topping and cooking the pasta. Set them aside while you make the sauce.
First, you'll make a simple béchamel sauce, a classic French sauce made from a roux and milk. To make the roux, you'll melt the butter in a large pot over medium heat. Add the flour to the melted butter, and whisk continuously until the mixture turns light brown. Slowly pour in the milk, whisking continuously.
Then, add the seasonings. Whisk in the garlic, mustard, paprika, salt, and several grinds of pepper. Bring the sauce to a simmer, still whisking continuously.
Next, add the cheddar and Gruyere cheeses, and keep whisking until the cheese is melted. Cook the sauce over medium-low heat, whisking often, until it thickens slightly, about 6 to 8 minutes. You'll end up with the creamy, cheesy deliciousness pictured above!!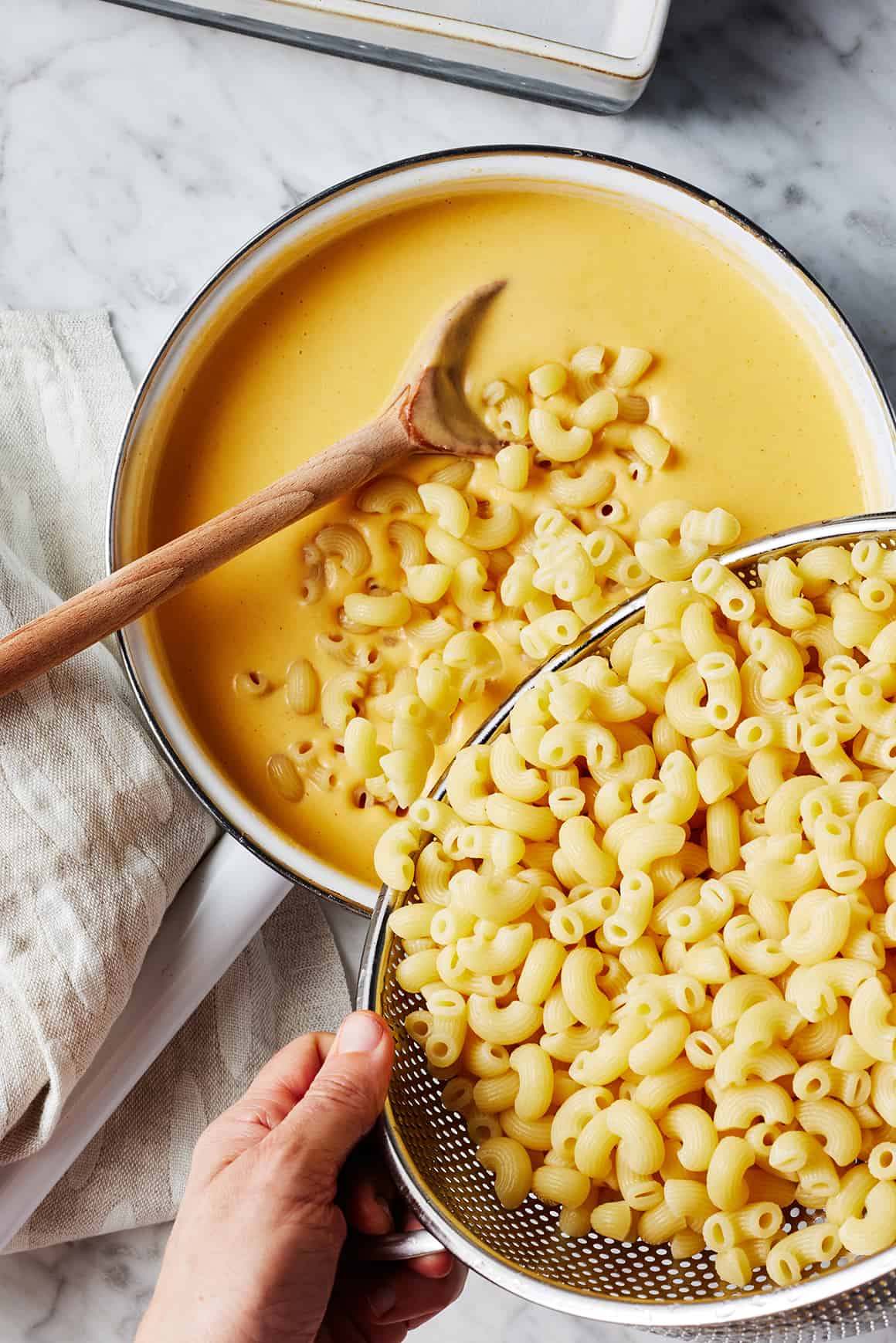 Pour the cooked macaroni into the cheese sauce…
…and stir to coat.
Then, assemble and bake. Transfer the cheesy noodles to an oiled baking dish, and sprinkle with the breadcrumb topping. Bake at 425°F until the topping is crisp and the cheese is bubbling, about 20 minutes. Serve as a main dish with a salad or roasted broccoli or as a crowd-pleasing side dish!
Storing Mac and Cheese
This mac and cheese is best on the day it's made, but leftovers will keep in an airtight container in the fridge for up to 3 days. Pop them in the microwave to reheat, or warm them in baking dish covered with aluminum foil in a 350°F oven.
Tips for The Best Homemade Mac and Cheese
Undercook the pasta. Boil it until it's a minute shy of al dente, when the noodles still have a slight bite. I typically cook them for 1 minute less than the low end of the time range on the package. They'll soften more once you mix them with the cheese sauce. If you fully cook the pasta from the start, it'll be too soft in the final dish.
Grate the cheese yourself. Pre-shredded cheese will not work here! It's typically coated in anti-caking agents that will prevent you from making a really smooth and creamy cheese sauce. For the best baked macaroni and cheese, always grate the cheese yourself.
Whisk, whisk, whisk. If you check out the recipe below, you'll see that I tell you to whisk nearly continuously as you make the cheese sauce. Whisking is crucial for evenly dispersing the roux in the milk, yielding a thick, creamy sauce without lumps. It also helps prevent the sauce from scorching on the bottom of the pot. Don't let that sauce simmer unattended!
Dig in right away. This baked macaroni and cheese will have the creamiest texture when it's right out of the oven, as the noodles will continue to absorb the cheese sauce as it sits. If you like your mac and cheese to be extra-creamy, only let it cool for a few minutes before digging in.
More Favorite Comfort Food Recipes
If you love this baked mac and cheese recipe, try one of these comfort food recipes next:
Homemade Mac and Cheese
Serves 8
This homemade mac and cheese recipe is one of our family favorites! It's insanely cheesy, super creamy, and baked with crispy breadcrumbs on top. Serve it as a vegetarian main or as a side dish with a holiday meal.
Prevent your screen from going dark
Preheat the oven to 425°F and butter a 9×13-inch baking dish.

In a small bowl, place the bread crumbs and olive oil. Toss to coat the bread crumbs, then add the pecorino cheese and toss to combine.

Bring a large pot of salted water to a boil. Prepare the macaroni according to the package instructions, cooking it a minute shy of al dente. Drain and toss with a drizzle of olive oil to prevent sticking.

In another large pot (or wash and dry the pasta pot and reuse it), melt the butter over medium heat. Add the flour and cook, whisking continuously, until the mixture is light golden brown, about 4 minutes. Slowly whisk in the milk. Add the garlic, mustard, paprika, salt, and several grinds of pepper and bring to a simmer, whisking continuously.

Add the cheddar and Gruyère cheeses and whisk until melted. Cook, whisking often, over medium-low heat for 6 to 8 minutes, or until the sauce thickens slightly. Add the cooked pasta and stir to coat.

Transfer to the prepared baking dish and top with the bread crumb mixture. Bake until the topping is crisp and the cheese is bubbling, about 20 minutes.
Recipe adapted from Alison Roman.