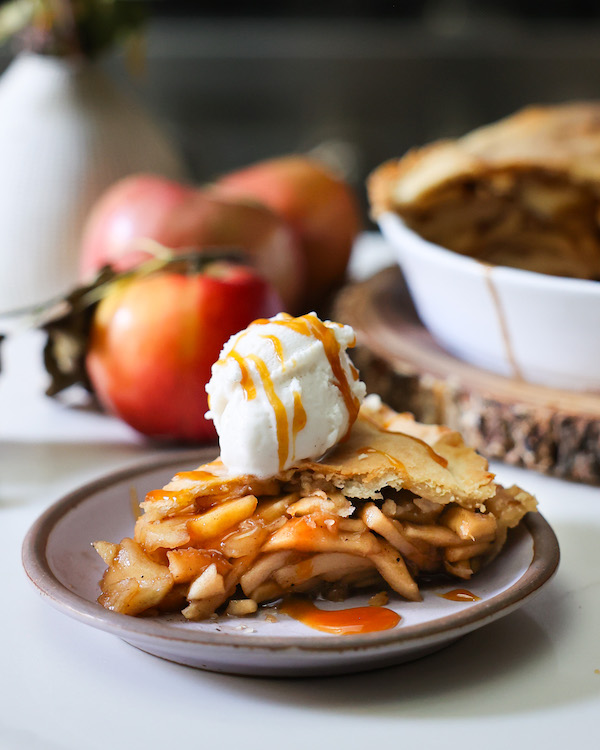 Honey, you have found the vegan apple pie recipe you've been searching for. This deep dish apple pie is spiced with cinnamon and cardamom, and topped with a silky vegan caramel made from apple peels and cores. The vegan crust is flaky and buttery, and the pie isn't overly sweet; just perfect. Grab a slice, and let's dig in!
In our family my Nana is famous for her apple pie, sweet potato pie, and mac & cheese. During the holiday season she makes these soulful treats to give as edible gifts that her friends look forward to all year. The fact that food can be the ultimate expression of appreciation and love is so beautiful to me. Perhaps that's one reason I created this vegan apple pie. For one, I missed Nana's deep dish apple pie when I became vegan. And two, because there's something so fulfilling about sharing food with the ones you love. And thirdly, there are few things I love more than the smell of my kitchen when the apple pie is baking.

Why we love this vegan apple pie
Not too much sugar, and perfectly sweet
Deep dish with layers of delightful apple filling
Elevated with a hint of cardamom, nutmeg, ginger, and allspice
Flaky vegan pie crust
Perfect edible gift
Tastes like your grandmas apple pie

What apples should you use for the perfect pie?
For the perfect apple pie it is best to use a firm and tart (or tart-ish) apple. These apples have a more complex flavor and their tartness doesn't get lost in the sugar and spice. Granny Smith apples are perfect for apple pie. I also like using Honey crisp and Pink Lady. However, any firm apple will work. I went apple picking and made this pie (pictured here) with a blend of random varietals, and the pie was sublime.

Is it better to cook apple pie filling first?
It is always better to cook the apple pie filling first. Pre-cooking the filling insures the apples will soften and their flavor will thoroughly marry with the sugar and spices. You will also have an opportunity to activate the apple's natural pectin (thickener), and add more thickener––I use potato starch––guaranteeing the perfect texture in your finished pie.
Are McDonald's Apple Pies Vegan
One of the top searched questions for vegan apple pie is this! Turns out McDonald's Apple Hand Pies are vegan, but why are you going to McDonalds anyways?! If you can manage, make your own vegan apple pie at home. It is so much fresher and tastier than one you buy from any store. Watch the video to see how I make it. It's really quite easy and fun.
Easy you say? How do you make a vegan apple pie
Step one
Prepare your pie crust. I always prefer to make my own vegan flaky pie crust at home. It's so easy. Just be sure to prep your pie dough an hour before you bake it, as it will need to set in the refrigerator before using.
Step two
Peel, core, and slice 8 medium sized apples. For a deep dish pie you should use medium apples. Place the apple slices in a large bowl and top with a generous sprinkle of lemon juice to keep them from oxidizing. Save your peels to make the apple peel caramel*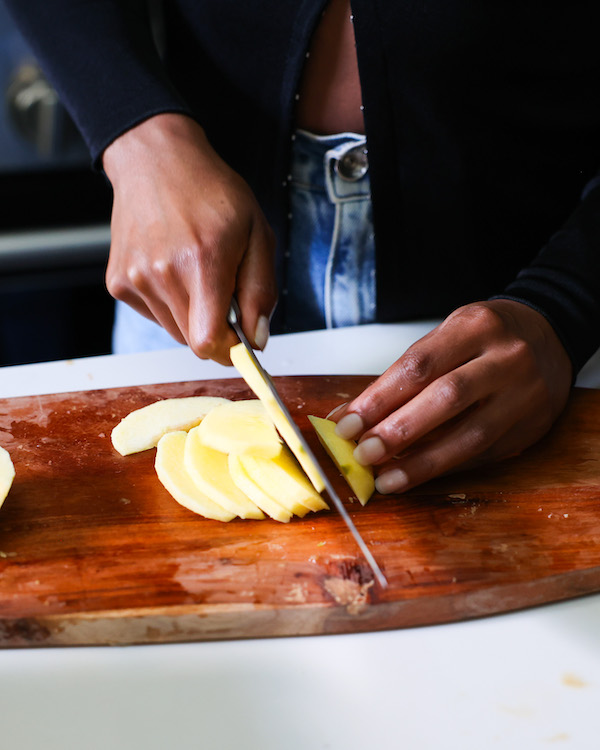 Step three
Precook the apples in a large dutch oven. Now is when you add the sugars (cane sugar and brown sugar) and spice. Apples have a natural thickener called pectic that is released when they're cooked. However, you will also add potato starch to thicken just a little more. Thickening the filling will insure an incredible texture, but also keep the filling from slipping out of the crust when sliced.
Step four
Bake that bad boy! Roll out the pie crust and place it in a pie dish. Pour the apple filling into the pie crust, add a couple cubes of vegan butter, top with another crust, and bake to perfection. Feel free to top the pie with some pretty lattice work if you know how, example here.
Step five
Let it cool then enjoy! Serve this delicious vegan apple pie with vegan vanilla ice cream and apple peel caramel––which you can make while the pie is baking. Now you have the perfect dessert for the holidays!

Tips for making it
Make your own pie crust
 I recommend a pastry cutter to blend vegan butter into all purpose flour, sugar, and salt. Check out the full recipe below.
Lemon is a must
Lemon will keep your apples from turning brown while you prep the other ingredients, but it also adds welcome tartness to the pie. About 1-2 tablespoons will do. Don't skip the lemon.
Potato starch is better than cornstarch for fruit pies
Cornstarch and arrowroot powder tend to produce a bit of chalkiness in fruit pies, while potato starch makes a smoother thickener. If you don't have it use 1 tablespoon of cornstarch instead.
Decide on your pie topping before you get started
It's easiest to cover the apple pie with a whole pie crust, crimping the edges and making slits on top to release steam. However, lattice work looks beautiful too, but will take more time. Plan ahead so you can get your pie into the oven quickly––you don't want the filling sitting in the bottom crust for too long.
Vegan egg wash it
You can create a vegan egg wash to give the top crust a nice golden brown sheen by brushing on a mixture of maple syrup and soy milk before baking. I did not do this for the photos.
You can make it gluten-free
I have a recipe for a delicious pecan pie crust below (scroll past the apple pie recipe). Made with almonds, pecans, and oats, your vegan apple pie will be just as yummy. Use the other half to make a crumble top!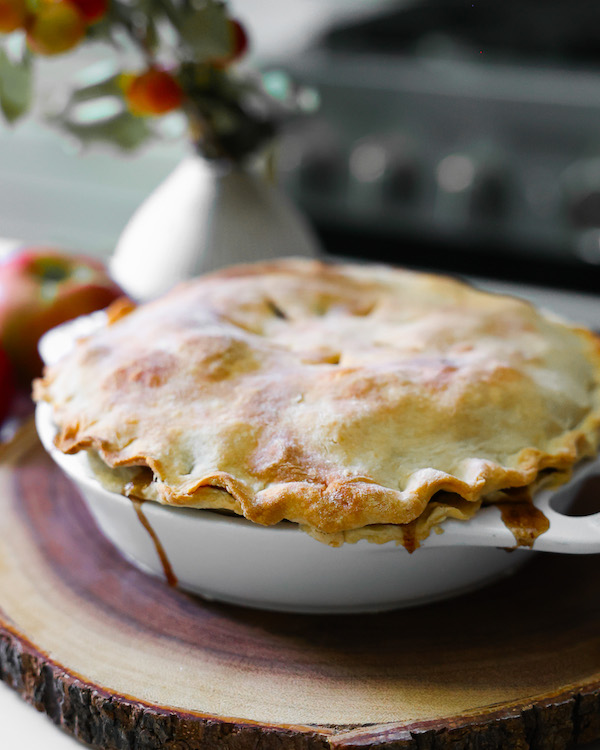 How should I store an apple pie?
Keep your apple pie in the pie pan as long as you'd like. Just cover it with plastic wrap and store it in the fridge. It should stay fresh for up to 5 days. I like to reheat slices in the toaster oven before enjoying.
Check out these other sweet treats for the holidays!
Biscoff Crumble Chocolate Bark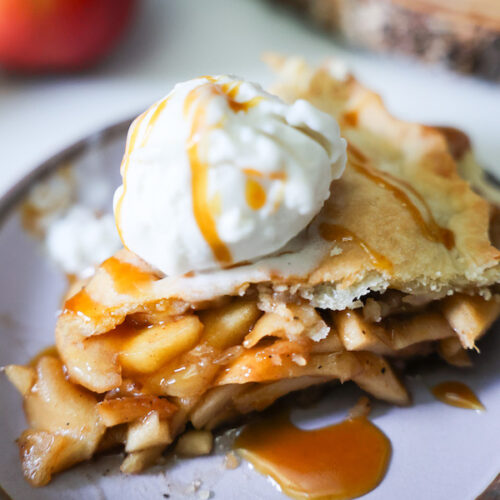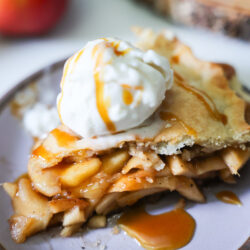 Cardamom Apple Pie
Jenné
Just a dash of cardamom elevates this traditional apple pie to new heights. Though cardamom is nota a southern spice, it plays well with cinnamon, nutmeg, and allspice and adds a cozy southern charm to this dessert. This recipe was originally published in my cookbook, Sweet Potato Soul.
Ingredients  
8

baking apples, such as Granny Smith

peeled, cored, and thinly sliced about 1/8 inch thick

1 1/2

tbsp

freshly squeezed lemon juice

1/3

cup

brown sugar

1/3

cup

cane sugar

1

tsp

ground cinnamon

1/2

tsp

freshly grated nutmeg

1/4

tsp

allspice

1/2

tsp

ground cardamom

1/4

tsp

ground ginger

1/4

tsp

salt

2

tbsp

potato starch

1/4

cup

apple cider or water

1

recipe

Flaky Double Pie Crust (recipe below)

or 2 store-bought vegan pie crusts

2

tbsp

solid coconut oil

or vegan butter
Instructions 
Preheat the oven to 400ºF.

Place the sliced apples in a large bowl, add the lemon juice, and toss to coat. Transfer them to a large saucepan and place over medium heat. Add the sugars, cinnamon, nutmeg, allspice, cardamom, ginger, and salt. Stir well. Bring to a simmer and cook for 10 minutes, or until the apples soften.

In a small bowl, stir together the potato starch and cider or water until the starch dissolves. Pour it into the apples and stir as it thickens. Remove from the heat.

Pour the apples evenly into the bottom pie crust. Top the apples with small pieces of coconut oil or vegan butter. Top with the other pie crust and crimp the edges. Make slits in the top crust to release steam as it bakes. Bake for 45 minutes or until the top of the pie crust turns golden and the edges are slightly browned. If the edges are browning too quickly, wrap them in aluminum foil.

Remove the pie from the oven and let cool for 1 hour before serving with vegan vanilla ice cream.
Apple Peel Caramel
Upcycle fresh apple peels to make sweet and rich caramel for topping apple pie, soda, pancakes, or fruit.
Ingredients  
2

cups

apple peels and cores

1/2

cup

brown sugar

1/2

cup

white sugar

dash of pumpkin pie spice or cinammon

1/4

cup

water
Instructions 
Add the apple scraps and sugar to a small pot, and stir well. Let it sit for 5 minutes.

Over medium heat, bring the apple scraps and sugar to a simmer. The sugar should melt completely within a couple of minutes.

Pour in 1/4 cup of water. Bring the syrup to a simmer, then reduce it to low heat to very gently simmer for 20 minutes.

Strain the syrup and toss the solids. Allow the syrup at least 15 minutes to cool before using. It will thicken as it cools.

Keep the syrup fresh in a jar in the fridge.
Notes
Use fresh apple peels for the best flavor.
Apple caramel will keep in the fridge for up to one month. 
Vegan Flaky Pie Crust
Jenné
This pie crust requires at least one hour to set before rolling out for use. Makes two pie crusts.
Ingredients  
2 1/2

cups

all purpose flour

1

teaspoon

salt

1

tablespoon

sugar

1/2

cup

+ 2 tablespoons vegan butter

1/2

cup

+ 2-4 tablespoons ice cold water
Instructions 
Combine the flour, salt, and sugar in a mixing bowl. Whisk to combine the ingredients.

Add the cubes of shortening and/or vegan butter, and use a pastry cutter to incorporate into the flour. Continue to mix with the pastry cutter until the mixture resembles coarse meal, almost pea sized.

Slowly add the ice water, 2 tablespoons at a time, and stir with a wooden spoon or your hands.

Once the dough begins to hold together form it into two tight balls.

Flatten them a bit (this will make it easier to roll out later), and wrap it in plastic wrap or parchment paper.

Place in the fridge for at least one hour.

Remove the chilled pie dough from the fridge. Let it sit on the counter for 10 minutes to soften.

Flour a clean, smooth stone surface and place one of the dough balls down onto it. If you don't have a stone surface use parchment paper.

Use a floured rolling pin to roll the dough flat. It should be about 1/8th inch thick, and wide enough to comfortably fit over your pie dish with at least 2 inches of extra space.

Remove the pie crust from the counter and place over a 9″ pie dish.

Fit the dough into the pie dish, and up the edges. Cut of the excess dough and use your fingers to crimp the edges.

If you are not filling to crust right away, set it in the refrigerator until ready to use.

Repeat the rolling out steps with the remaining crust.

Now you have a flaky double crust ready to use in a pie recipe that has a crust topping, or for two separate pies.
Nutty Pecan Pie Crusts
Jenné
Ingredients  
2

cups

almonds

1/2

cup

pecans

1 1/4

cup

rolled oats

1

tsp

salt

2

cups

spelt flour

or gluten free flour

1/2

cup

+ 2 tbsp neutral oil

1/2

cup

+ 2 tbsp maple syrup or agave

2

tsp

vanilla
Instructions 
Preheat oven to 350°.

In a food processor combine the nuts, oats, and salt. Pulse until it becomes a coarse meal.

Pour the mixture into a mixing bowl and stir in spelt flour.

Stir in the oil, syrup and vanilla. Stir well until it is all combined. It will be sticky.

Divide the dough and press firmly into one pie dish. Set the remaining aside to create a crumble for the top of the pie.

Poke fork holes into the bottoms of the pie.

Bake for 10 minutes before filling and baking pie.

Fill the pie crust with the apple pie filling, and sprinkle the remaining crumble over the top. Try to create some chunks to give the crumble varying texture. Bake for 40 minutes.